Trader Joe's Shoppers Are So Excited To Try Its Root Vegetable Fries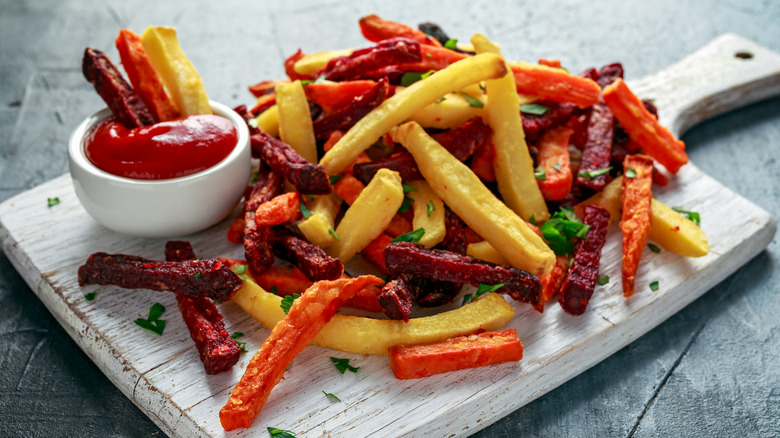 DronG/Shutterstock
Is there ever a bad time for french fries? Whether you're enjoying them as a solo snack in between meals or as an accompaniment to a wrap, sandwich, or burger, the warm, crispy potato sticks (or curls, wedges, or waffle cuts) always seem to hit the spot, which is probably why they're consistently the top seller at chains like Chick-fil-A and McDonald's (via Eat This, Not That!).
Yes, the world's love affair with french fries is certainly real, and rightfully so — what other food out there tastes just as good plain as it does smothered in cheese or gravy? And while we would never speak ill of the salty side dish, we also recognize that it can be fun to switch things up every once in a while — and also try some healthier options. So, when Trader Joe's fan Instagram account @traderjoeslist alerted followers this past weekend of a new fry option being sold at the beloved grocery store, we couldn't help but be intrigued.
"ROOT VEGETABLE FRIES," the Instagrammer captioned a post on Saturday, January 29, that also included two photos of the frozen product, which consists of roasted sweet potatoes, carrots, beets, and parsnips that are cut in the traditional french fry style. "Bake or toss in the air fryer for a culinary fry experience!" the Insta post added. You don't have to tell us twice!
Trader Joe's new Root Vegetable Fries are a blank slate for seasonings
Having amassed nearly 25,000 likes since the post was shared, it's safe to say we aren't the only ones intrigued by a recent post about Trader Joe's new Root Vegetable Fries, which are sold in one-pound bags for $3.99 (via Reddit). Additionally, the comments section on Instagram has also been flooded by shoppers expressing their excitement to pick up a bag. "Ok I need this," one person said. "These I'll buy if I see them," promised another fan.
Many took note of the product's promising nutrition facts, while others applauded the short-and-sweet ingredient list that consists of nothing more than the four veggies that the product is comprised of: roasted sweet potatoes, carrots, beets, and parsnips. "Finally a clean product with clean ingredients!!!!!" one person noted.
One thing to keep in mind if you're planning on adding Root Vegetable Fries to the cart during your next Trader Joe's shopping trip is that they come completely void of seasonings — something that Reddit user @ciderlover32 said made for a bit of a lackluster dining experience. "They crisped up nicely and I really appreciated that I could eat the entire bag for a reasonable number of calories. But they tasted, well, plain," they said in their review of the product. However, on the bright side, this also means that you can customize these fries to your liking. Make sure to hit the spice aisle during your next trip to TJ's, or grab some parsley, which @traderjoeslists says will give the french fry alternative an "extra gourmet touch!"