Subway Is Giving Away Autographed Sandwiches From NFL Players. Here's How To Get One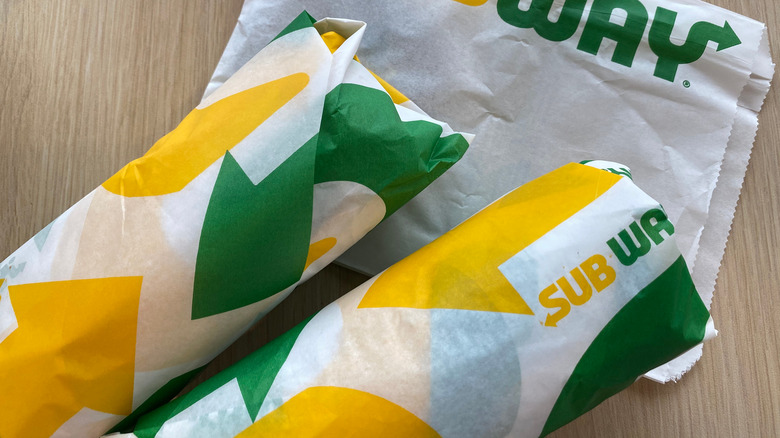 Prachana Thong-on/Shutterstock
In honor of the upcoming Super Bowl LVI, Subway has gotten into the football spirit with a unique opportunity for NFL fans to grab the autograph of one of their favorite NFL players, as per PR Newswire. As an added bonus, those autographs will adorn specialty sandwiches created by those same players. The only thing is, autograph collectors need to be in Los Angeles, California to get their hands on one.
Subway's unique new sandwiches are available nationwide through The Vault, which is a digital-only menu that Subway released solely on its website and app. And, on February 5 only, as a teaser for the Super Bowl festivities, Subway has created a physical "Vault" at the Super Bowl Experience Presented by Lowe's in Los Angeles, which the brand says is an "immersive and multisensory experience that brings to life the creation of these new sandwiches." 
Present in the physical "Vault" will be three NFL stars: Marshawn Lynch, Russell Wilson, and Trevor Lawrence. Fans who happen to stop by the Los Angeles event will have the opportunity to get an autograph scrawled across the sub of the athlete's own design, not to mention taste the creation if they choose. Let's just hope fans who want to keep that autograph are able to get the signature on a portion of the sandwich wrapper that isn't covered in sauce.
What's on Subway's new 'Vault' sandwiches?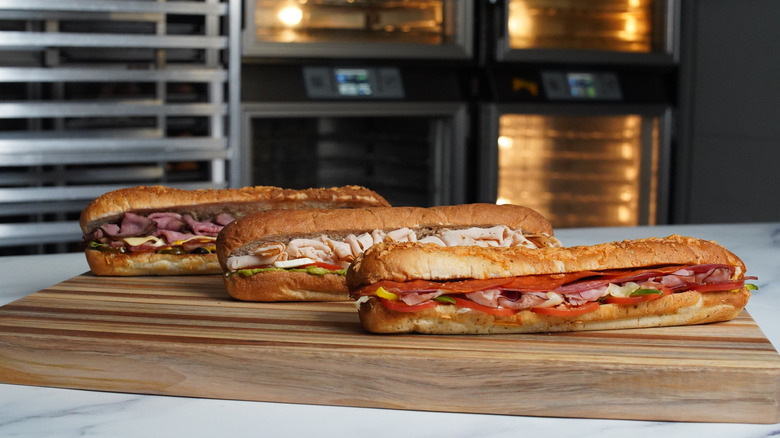 Subway
So, what exactly did pro football stars Lynch, Wilson, and Lawrence decided to include in their signature sandwiches? Each athlete has crafted a unique combination of ingredients. Wilson's signature offering is, of course, "The Dangerwich," a meat-packed sub, featuring pepperoni, salami, black forest ham, and bacon, as well as a few flavorful additions such as provolone cheese, banana peppers, and a classic yellow mustard and mayonnaise condiment combination, according to PR Newswire.
Lynch brings a sandwich aptly called "The Beef Mode" to The Vault, playing off his "beast mode" moniker, and as the sandwich's name suggests, it's piled high with roast beef. Like Wilson, he selected Italian Herbs & Cheese for his bread option, and also topped off the roast beef with a variety of ingredients including hickory smoked bacon, lettuce, tomatoes, black olives, red onions, jalapenos, yellow mustard, and Baja Chipotle sauce.
Lawrence appears to have gotten in the California spirit with "The Sunshine Sub," his simple yet seemingly tasty offering that features oven roasted turkey, mozzarella cheese, avocado, and tomatoes on Hearty Multigrain bread.
This isn't the first time that the sandwich chain has brought in a big NFL name to entice fans — after all, Subway became an official sponsor of the league in July 2020. Let's just hope this football collab goes smoother than when the brand had fans wondering Tom Brady's Subway endorsement was the real deal.