Shake Shack's Valentine's Day Creation Isn't What You'd Think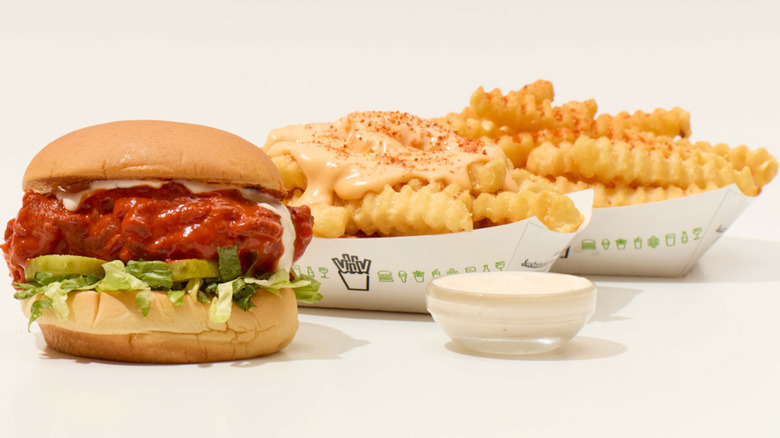 Shake Shack
Shake Shack has generated its fair share of food news in the past year or so. In 2021, the chain collaborated with Milk Bar — the Christina Tosi bakery chain known for serving such creations as Cereal Milk ice cream and cake truffles — to create two new shakes, the Chocolate Birthday Cake and Cornflake Chocolate Drizzle. Another collab saw Shake Shack veering away from burgers and nuggets to create a chicken-based item, the Southern Smoke Chicken Sandwich with the help of a regional chef. The brand later combined the sweetness of honey and the heat of habanero peppers to form the Hot Honey Chicken Sandwich as part of a summer-themed menu (via the Shake Shack blog).
It appears that Shake Shack knows a thing or two about match-making, at least when it comes to flavor pairings. But its newest effort may have some customers scratching their heads. The chain is cooking up something different for those celebrating Valentine's Day this year, and it's apparently hoping single customers will want to get a look and participate in this limited-time promotion.
According to a statement received by Mashed, in collaboration with the popular delivery service, DoorDash, Shake Shack has served up a dating app in honor of Valentine's Day. But this isn't a typical attempt to find love. It's about loving chicken sandwiches and promoting one chicken sandwich, in particular.
The Shack is shaking things up with love and sandwiches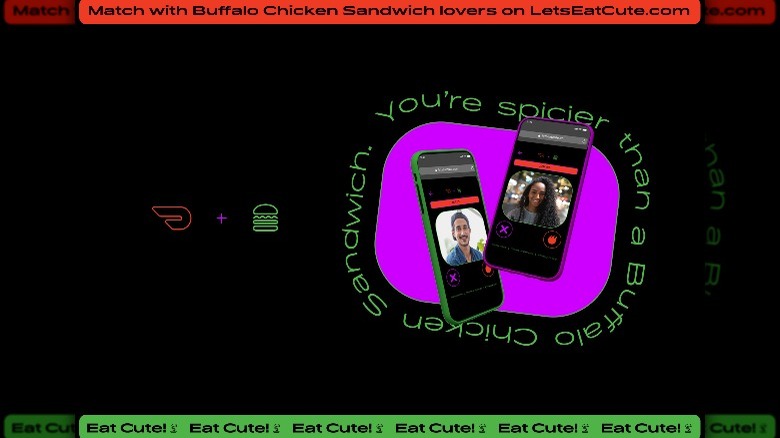 Shake Shack/DoorDash
As explained in the statement sent to Mashed, DoorDash found that chicken sandwiches sell very well in February, cracking the top-10 list of most ordered items. So DoorDash and Shake Shack decided to make the love connection between chicken and V-Day even stronger. The partners want singles to "spice up their love life" with the Shack and DoorDash's new app, "Eat Cute." 
The idea is for singles to find a match based on "their shared love" of Buffalo Chicken Sandwiches, a new addition to Shake Shack's menu. According to the Shake Shack blog, the chain thinks this sandwich should make "Buffalo wing lovers rejoice." Its contents are described as "crispy, hand-breaded chicken breast covered in our Buffalo sauce, topped with our ranch sauce over pickles and shredded lettuce on a toasted potato bun." 
The promotion began on February 3 and runs through February 15. Customers can visit LetsEatCute.com, build a profile and try to find their fellow chicken-loving match. After a match is made, they are given a code to order a Buffalo Chicken Sandwich for free via DoorDash. Those using the app will also be entered to win a $5,000 DoorDash gift card.