Everything You Need To Know About Shake Shack's New Southern Smoke Chicken Sandwich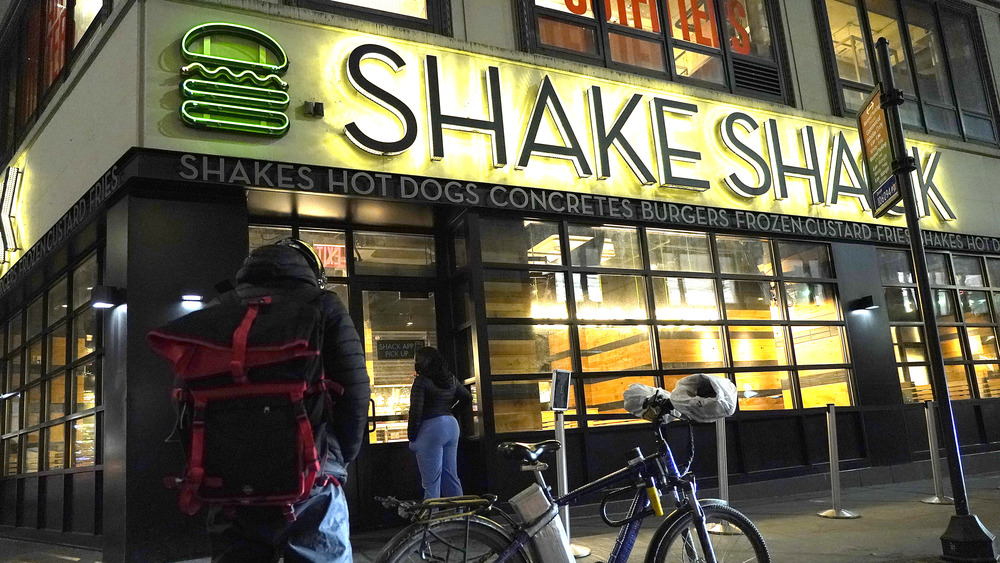 John Lamparski/Getty Images
Shake Shack has a history of selling fast food classics beyond your standard burger and fries. The chain has incorporated a solid chicken sandwich and fried chicken bites into their regular menu, alongside hot dogs and other items you might expect. They even made waves recently with the introduction of a limited-time Korean-style fried chicken sandwich. If you can't get enough of the fried chicken options from Shake Shack, just wait until you hear about the upcoming Southern Smoke Chicken Sandwich, the chain's latest offering that guarantees to shake up their menu in the best possible way!
According to a statement sent to Mashed, the restaurant chain plans to team up with a series of regional chefs over the course of 2021 as part of their "Now Serving" Regional Chef Collaboration Series. To kick things off, Shake Shack is partnering with Houston chef Chris Shepherd to create the Southern Smoke Chicken Sandwich. The new sandwich features a crispy chicken breast alongside Shepherd's spicy bacon jam, pickled jalapeño mustard, cherry peppers, and shredded lettuce, making for a truly unique fast food fried chicken sandwich experience. The money even goes to a good cause — the proceeds from the limited-time chicken sandwich go to Shepherd's crisis relief organization, Southern Smoke Foundation. If this new sandwich has you pumped up, wait 'til you hear what else Shake Shack has in store!
When can I get my hands on this sandwich?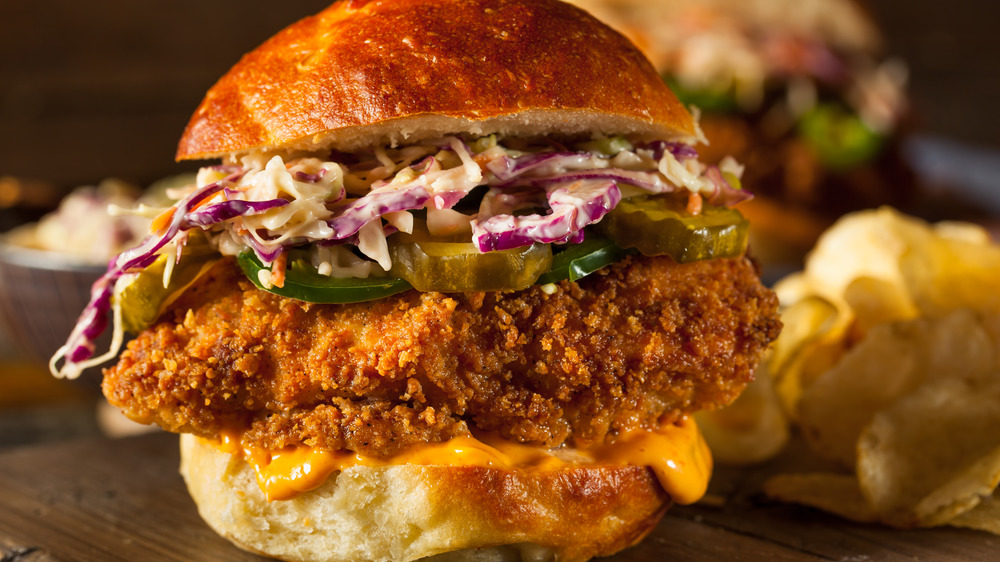 Shutterstock
If you already feel yourself drooling over the description of Shake Shack's upcoming fried chicken sandwich collaboration, some lucky diners won't have to wait long until they can try one themselves. According to the statement, the sandwich will appear on Shake Shack Houston menus March 4th, giving the city just enough time to get properly psyched up for the release! The "Now Serving" series will also feature new items from Pinky Cole in Atlanta and New York on April 8th, Junghyun Park in New York on May 6th, Sarah Grueneberg in Chicago on June 17th, Dominique Crenn on July 22nd in San Francisco, and finally back to New York for JJ Johnson's collaboration on September 23rd. While the word's still out on what each of these chefs plan to bring to the Shake Shack menu, we're expecting great things, given how good Shepherd's Southern Smoke Chicken Sandwich sounds.
If you're based in or near Houston, make sure to plan a Shake Shack run in the coming days to get a taste of this chicken sandwich, once we move into April who knows if we will see the creation again — and you don't want to get left in the dust. Keep your eyes peeled for the Southern Smoke Chicken Sandwich and keep following Shake Shack for more limited-time menu collaborations coming this year. Hopefully you'll spot one in a city near you!