TikTok Can't Wait To Try These Ingenious Mixing Bowls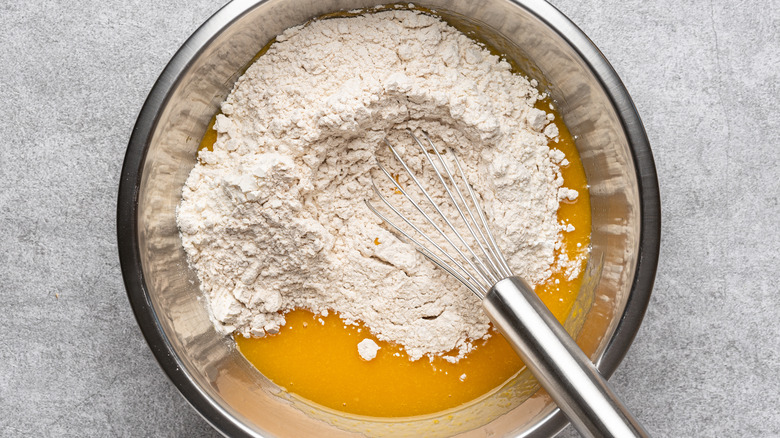 Alena_Kos/Shutterstock
We may receive a commission on purchases made from links.
If you scroll through TikTok, you're likely to find plenty of recipes and food hacks, and many of them go viral. For example, there's this creative recipe for a salmon bowl that uses up your leftovers and a delish potato dish that takes 15 hours to make. TikTokers also offer new ways to use kitchen appliances, such as the crockpot or air fryer. With all of the food and kitchen content, it's no surprise that people are using the popular app to recommend new gadgets that make cooking easier.
TikTok user, @teresacaruso, posted a video detailing a set of mixing bowls you can buy on Amazon, and other TikTok users are excited about them. So what makes these mixing bowls so special? In the post, Caruso explains that this set of bowls comes with lids, and the largest bowl comes with an opening for grater attachments, so you can grate ingredients directly into the bowl or use a mixer mess-free. Plus, the bowls have a non-slip bottom.
What TikTok users saying about these mixing bowls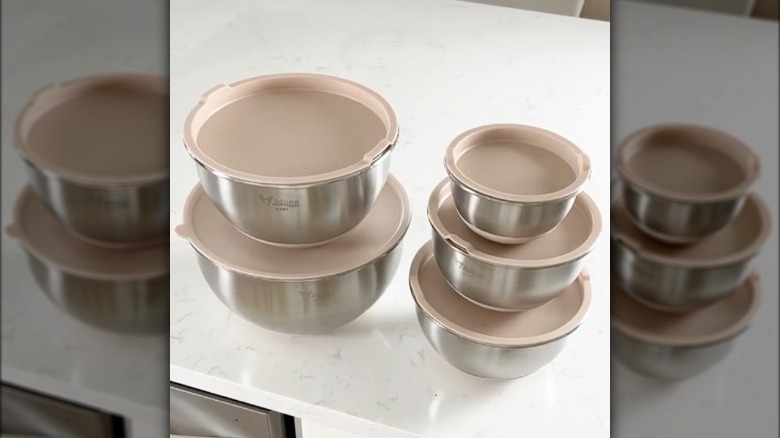 You'll find rave reviews on the mixing bowl set in the comment section of this TikTok, which has already garnered an astounding 3.3 million views. One person said "I got these as a wedding gift and LOVE THEM" and another shared, "I have these in red and love them." Some of the platform's users are planning on giving these as gifts. One person shared "Okay, these bowls with the attachments are a cooks dream. My mom will love these!"
Although there was plenty of praise for the bowls, some people who seem to already own them mention that the lids aren't airtight. One person claimed to have returned the bowls because of this snag.
If you're planning to get a set of these mixing bowls, enjoy baking some of the best cake recipes that you can make for any occasion, from fruit-filled to rich and decadent. And if you happen to be new to the baking world, here are some helpful tools beginner bakers should own.