Why The Song In Pepsi's Super Bowl 2022 Commercial Sounds So Familiar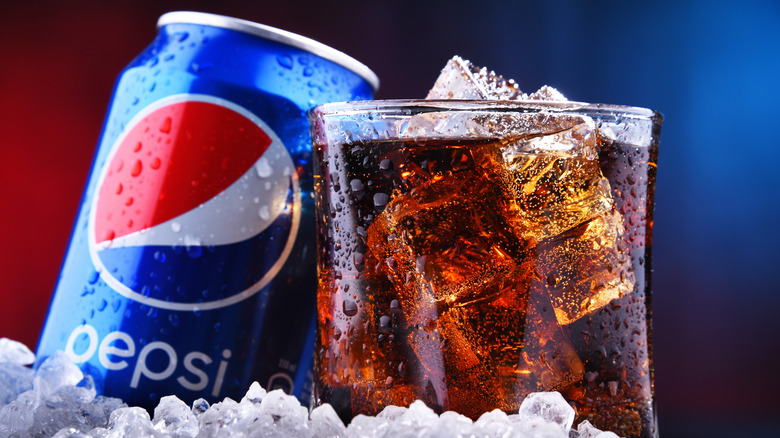 monticello/Shutterstock
The latest addition to Pepsi's Super Bowl commercials lineup has some serious replay value. The 2022 ad is packed with NFL legends Eli and Peyton Manning, Victor Cruz, and Jerome Bettis as they embark on the road to the Super Bowl in a massive school bus. Along the way, the trio stops to pick up some PepsiCo and Frito-Lay drinks and snacks, only to run into sports analyst and former Steelers quarterback Terry Bradshaw, whom they end up strapping to the roof of the bus with duct tape for the ride (via YouTube).
The entire commercial is a hoot, but what makes it a standout is the ending, during which all the star athletes passionately belt out a tune with a familiar hook that might cue some viewers to start singing along themselves. No, it's not one of the heavy metal or rap tracks that one might assume to be the music of choice for football players. The song is actually "good 4 u," the smash 2021 single by teen pop star Olivia Rodrigo. The ear worm of a tune, which draws musical inspiration from pop-punk anthem "Misery Business" by Paramore, per Insider, is pretty much made for belting at the top of your lungs whenever and wherever it comes on. In that sense, watching a group of football stars sing it at the top of their lungs into a Mountain-Dew-turned-microphone is not only hilarious, but super relatable.  
Olivia Rodrigo's "good 4 u" was one of the world's biggest song's in 2021
In the short nine months since its May 2021 release, "good 4 u" has broken several records and remained incredibly popular. It spent six consecutive weeks at number one on the Rolling Stone Top 100 chart, beating out Mariah Carey's legendary "All I Want For Christmas Is You." It was also "the fastest solo song by a female artist to surpass 1 billion streams in Spotify history," per Chart Data on Twitter. Moreover, "good 4 u" inspired countless TikTok videos and was even featured in an ad for Facebook. Rodrigo performed the track live on several national television programs, including the MTV Video Music Awards and Saturday Night Live. So even if you weren't one of the people contributing to those billion Spotify streams, there's a chance you've heard the song somewhere.

And even if you can't relate exactly to the song's lyrics, feel free to let loose and rock out when the ad comes on this Sunday from the comfort of your couch. Terry Bradshaw — who, in case you need a reminder, once had a singing career himself – seems right in his element belting out the song with a huge smile on his face as he sits duct-taped to the top of a bus.