TikTok Is All Over Giada De Laurentiis' Creative Leftover Pasta Recipe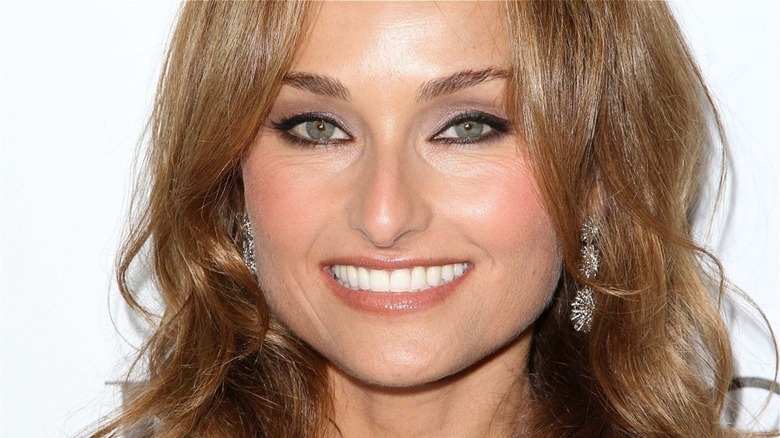 s_bukley/Shutterstock
Students of TikTok University, rejoice! Your favorite professor just announced a new class! Better still, it's a dual-enrollment course on two of the world's most well-loved subjects: pizza and pasta. After Giada De Laurentiis joined TikTok, she has apparently paid close attention to her student evaluations. Want TikTok dance trends? She's on board. Love to see some mom-kid bonding in the kitchen? Watch De Laurentiis making pizza with her daughter, Jade, and just try not to call your mother immediately. And if you tell Prof. D'L that your two favorite things are pizza and pasta...well, you better believe that she's going to write a whole new curriculum, just for you.
As far as social media channels go, TikTok does seem to suit De Laurentiis' personality down to the ground. Not only does the smiley, sunny chef always seem to be dancing around the kitchen while she cooks, but she has a sense of humor about herself (as evidenced by another recent video, one that De Laurentiis captions "glamour gone," in which she removes all her hair extensions for the camera). And having a sense of humor about one's self sounds like a useful tool for surviving TikTok. But in a how-to video in honor of national pizza day, De Laurentiis leans on another crucial pillar of the TikTok community: the cooking hack.
Is it pasta? Is it pizza? Who cares?
"Have leftover pasta?" De Laurentiis asks in her recent TikTok video. "Make pizza di spaghetti." Over a typically charming video, shot in De Laurentiis' rad new kitchen, the chef explains how to take leftover pasta and turn it into something new...something from another page of the Italian culinary playbook: pizza. Adding eggs and parmesan to a bowl of leftover spaghetti, De Laurentiis puts the newly bound creation into a frying pan and cooks it until the bottom is golden brown. She uses a dish to flip the pasta and cook the other side, creating a veritable pie of pasta, easy to cut and serve with a bit of marinara. The video has over a million views, and people have plenty to say about De Laurentiis' pizza spaghetti – which De Laurentiis called her favorite recipe from her cookbook, "Happy Cooking."
"My Nona used to makes this for me ! Love it !" commented one fan, and they weren't the only person walking down memory lane. "My mom made this all the time when we were kids. Over 65 years ago. Loved it then, love it now," wrote another happy follower. While one user lamented, "I live in a family of 6...there will never be left over pasta.." many commenters did agree that this easy recipe would be a creative way to turn yesterday's spaghetti into tonight's Pizza á la Giada. At TikTok University, every day is a school day.