Aldi Just Swept The Product Of The Year Awards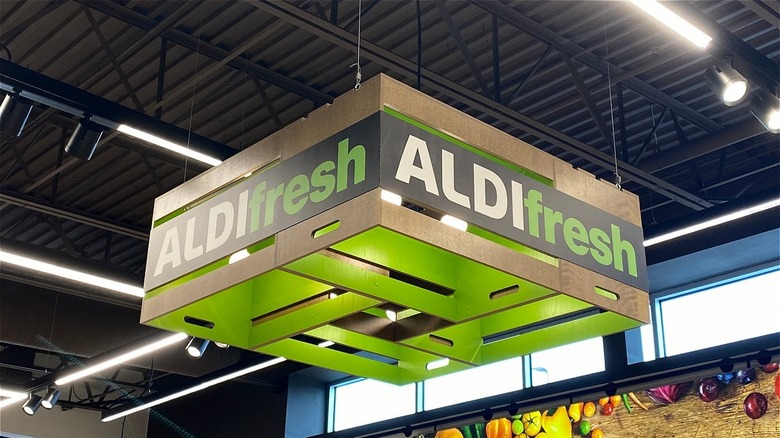 Kevin Chen Images/Shutterstock
Correction 3/9/22: A previous version of this story listed Aldi's Stonemill Everything Bagel Seasoning as having won the best dip and condiment award; the seasoning won the award in 2021, not 2022.
In case you need another reason to shop at Aldi – the discount supermarket chain just clinched seven commendations at the 2022 Product of the Year awards. For those who religiously shop at the grocery store, this may come as no surprise. After all, you know all about the amazing deals, underrated snacks, and wine that Aldi has to offer. But, for people who don't regularly visit Aldi, or may have never stepped foot in one, this may be shocking to hear — especially considering Aldi didn't just win one award, they won seven.
The chain's grand sweep at the Product of the Year awards wasn't unexpected. Here's why: Aldi saw a 3.4% increase in foot traffic between November 2020 through April 2021, based on analytics firm Placer.ai, as noted by Forbes. Aldi's percentages beat those of Albertson's, Publix, and Trader Joe's, as well as Whole Foods, Safeway, and Kroger, all of which saw decreases in foot traffic during that same time period, per the article.
In 2020, Aldi was also named America's fastest growing supermarket by Progressive Grocer. And the brand has also had tremendous international success, particularly in the United Kingdom. According to The Guardian, Aldi saw a 0.4% rise in Christmas sales, and it was the "only major supermarket" in the U.K. to see such a sales increase. Green Queen reported earlier this month that Aldi also had a 500% rise in vegan food sales in January 2022 alone. Needless to say, the brand is beloved by fans around the world and it's paying off — even more so now with these new awards.
Aldi took home 7 awards for Products of the Year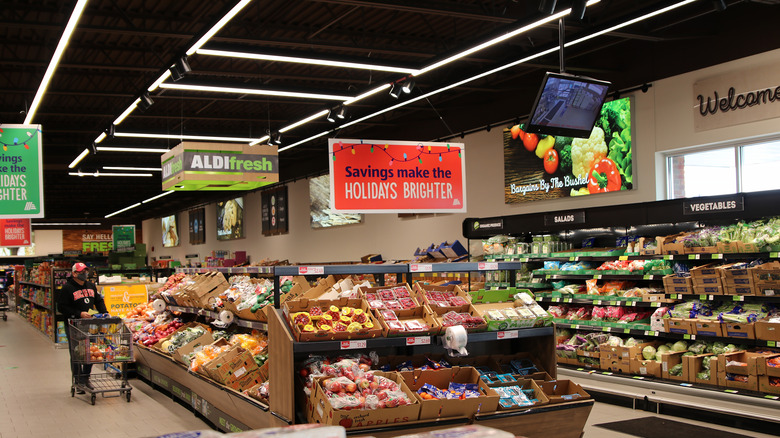 Eric Glenn/Shutterstock
Product of the Year just announced its list of 2022 winners, and Aldi really stole the show. The winners, which are awarded the honor based on a quantitative study of consumer votes, are broken down into 40 categories, per Product of the Year's website. Some of those categories include skin care, bakery items, alcoholic beverages, cheeses, meatless options, and coffee and tea. Aldi won seven of those categories.
To no astonishment, the grocery chain won best alcoholic beverage for its Peaks and Tides Pinot Noir from the Sonoma Coast, which is an Aldi exclusive. The next category Aldi won was in the bakery division for its L'oven Fresh Bagged Garlic Knots; many find that these knots are perfect for pizza night. In a similar nod, Aldi's Specially Selected Brioche or Maple French Toast Bagels won for best breakfast product. 
If you shop at Aldi primarily for its cheese selection then this next award will feel like a win for you, too. The store won best cheese product for its Emporium Selection Cracker Cuts, which are available in extra sharp white cheddar, extra sharp yellow cheddar, and gouda. Aldi's fifth product award was for best convenience meal with the Park Street Deli Hawaiian or Coconut Thai Chicken being named the category's knockout. Last but not least, Aldi won best salty snack for its Clancy's Pub-Style Pretzels. While winning seven Product of the Year awards is a big honor, it actually comes at a hefty price.
Aldi will have to pay a $500,000+ winner fee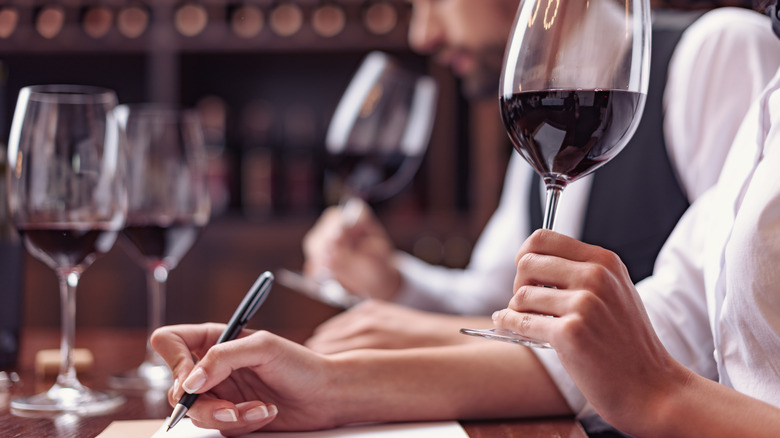 LightField Studios/Shutterstock
As Product of the Year so proudly states on its website, being crowned "Product of the Year is not simply an award, it is a powerful merchandising tool for marketers." Albeit, it comes at a steep price for that reason.
For this year's Product of the Year awards, entries were submitted back in April 2021. Rules state that products must "be launched after January 1, 2020, have national distribution, and demonstrate a meaningful level of product and/or packaging innovation." Step two was a thorough inspection conducted by press and industry professionals to confirm that all entries meet the requirements. If a product did make it to the next round, the supplier would then be charged a non-refundable $8,000 finalist fee. (Product of the Year states this "helps offset" step three, which is a value of $28,000.) 
In step three, 40,000 consumers sample and rank products via a quantitative study by Kantar. Scores are awarded based on product appeal, satisfaction, advocacy, purchase interest, uniqueness, relevance, and excitement. The winners are revealed at the end of November, at which point, winners must pay an additional $68,000 in order to use Product of the Year licensing as well as other marketing incentives. Assuming retailers get dinged per entry, Aldi will likely be looking to pay a fee totaling $532,000 for all seven awards (including finalist and winner fees). Product of the Year justifies the fee because of its marketing analysis, national PR campaigns, and the increase in sales that being associated as a Product of the Year item can generate.