Padma Lakshmi's Valentine's Day Post For Ina Garten Has Fans Cracking Up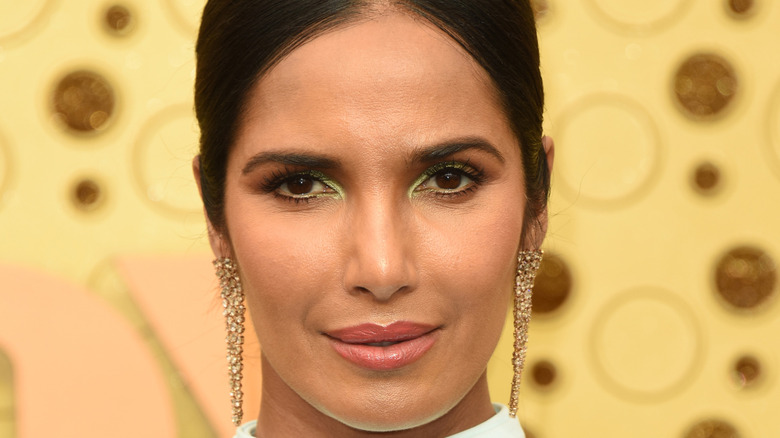 Kathy Hutchins/Shutterstock
Padma Lakshmi may be best known for co-hosting "Top Chef," hosting "Taste the Nation," and for writing five books (via Padma Lakshmi's website), but she's a fairly prolific social media poster, too. In the past, she's shared everything from tours of her parents' farm to high school throwback photos and even some original recipes. But on Valentine's Day this year, she had a special post for one of her friends, Ina Garten, also known as the Barefoot Contessa. 
In Lakshmi's Instagram post, she shared a photo roll of three Ina Garten memes. The image, of Garten smiling while holding a rose from a rose bush outdoors, was the same on each slide, but the meme text overlaying the image changed. The first said, "I love you more than Ina loves good vanilla," the second said, "If you can't get chocolates infused with the tears of virgin Dutch milkmaids, store bought is fine," and the final said, "You're the Jeffrey to my Ina." Garten herself even commented on the post, saying she had a wonderful time hanging out with Lakshmi the day before and wished her a Happy Valentine's Day. But Garten wasn't the only one to comment on Lakshmi's post — fans of both stars had things to say, too.
Fans loved the funny Ina Garten memes
Lakshmi's Instagram post gathered more than 15,000 likes. Some fans gave praise for Lakshmi, with one even saying that she's "the queen of culinary memes." Others chimed in with their own Garten-themed jokes. "I love you more than roast chicken," said one, a reference to the one dish Garten can't live without, while another person commented, "If you can't get your crab from the little shop out in the Atlantic near Atlantis, then I guess store bought will do." Other fans swooned over the reference to Garten's husband of more than 50 years, Jeffrey.
This isn't the first time Lakshmi has posted about Garten. Earlier in February, Lakshmi shared happy birthday wishes for Garten on Twitter, along with a gif of Garten making her infamous jumbo-Cosmopolitan when she crashed the Today show. It seems like the pair's friendship is going strong. In reply to Garten's comment on her Valentine's Day post, Lakshmi told the Barefoot Contessa, "Will call you when I'm back from filming!" So maybe we'll see more Garten posts from Lakshmi soon.