Here's How Trisha Yearwood Makes Grilled Cheese Even More Delicious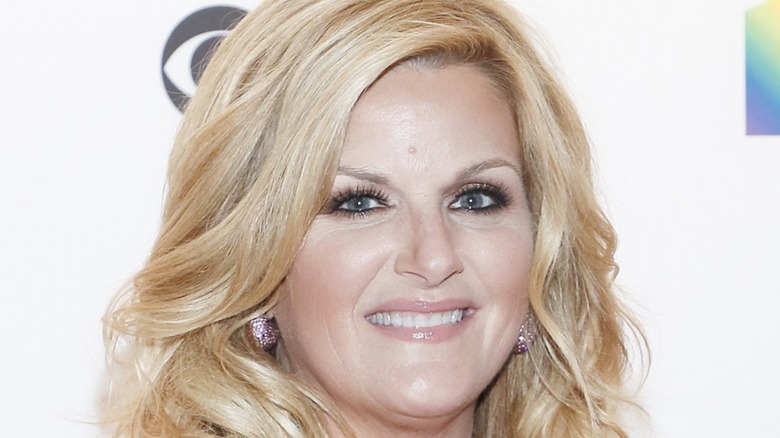 Paul Morigi/Getty Images
Trisha Yearwood is all about making a recipe her own, which is exactly what she does with her grilled cheese sandwich. We realize it's difficult to improve upon this classic sandwich: perfectly grilled bread made toasty and golden by the butter its fried in, stringy, melted cheddar cheese that drips onto your fingers with each crunchy bite. It just doesn't get much better, but Yearwood may have the secret recipe for the grilled cheese sandwich that makes it even more delicious. That said, if you are a grilled cheese purist who believes you don't mess with this sandwich's basic ingredients, you may want to borrow the advice from Lemony Snicket and "A Series of Unfortunate Events" and look away. But for those who love to change things up, even with the grilled cheese, Yearwood has a recipe for you.
During an episode of her "Trisha's Southern Kitchen," Yearwood demonstrated how she "elevates" her grilled cheese by adding some nice winter vegetables to it, along with a spread made from mustard, mayo, and a little horseradish which Yearwood confesses is a "nod to her dad." It also will give your taste buds a little "kick." The country music artist also revealed she likes to use a nice sourdough bread, which definitely gets our seal of approval. But she explains, "I keep saying it's what you like but this is really make it your own."
Cabbage, carrots, and baby spinach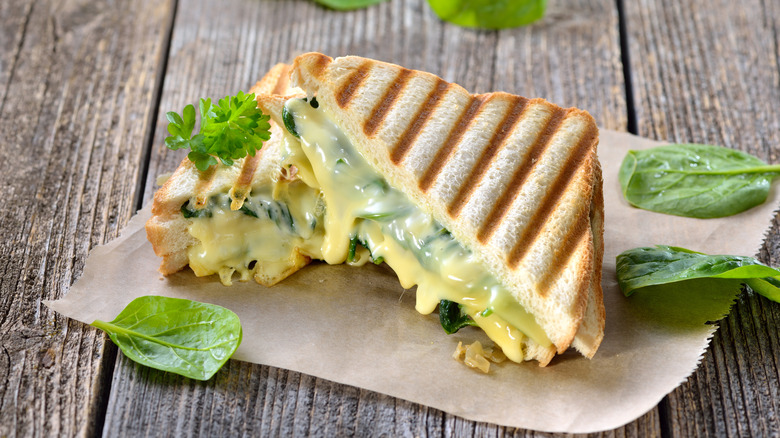 Karl Allgaeuer/Shutterstock
Yearwood truly loves this sandwich and joked in this segment of her show that if you invited her to a party and served grilled cheese, she would come over every day. Noted! She shared she uses fontina cheese, and notes that it is a "mild cow cheese" that melts really well. But again, Yearwood encourages lovers of this ultimate comfort food to use the cheese they have and love. Of course, aside from the preference of cheese and bread, the chanteuse adds a beautiful mixture of chopped green cabbage, grated carrot, and baby spinach that has been tossed with olive oil and vinegar to her grilled cheese, and it is these veggies that have us salivating.
Yearwood notes that when it comes time to grill your sandwich, it takes patience. In fact, you are going to want to ensure you have a good 30 minutes to devote this sandwich, according to the recipe. But it's clearly worth it because the end result is the wonderful added texture and taste of these fresh veggies wrapped in the melted cheese flanked by that toasty bread.
But Yearwood isn't the only chef who likes to riff on the grilled cheese. Per Food Network, Ree Drummond mixes things up from time to time by adding bacon and apples to her take on this sandwich, while per "Barefoot Contessa" Ina Garten adds mango chutney. It really is about making it your own.