Ina Garten's Cookbook Sneak Peek Has Instagram Drooling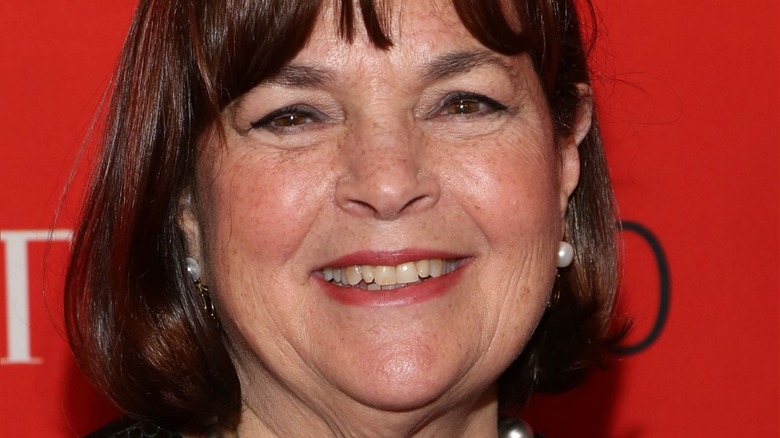 Taylor Hill/Getty
Since her first cookbook came out in 1999, Ina Garten has released many more (via Delish), most recently "Modern Comfort Food: A Barefoot Contessa Cookbook" during the height of the COVID-19 pandemic in 2020 (via Eating Well). The beloved chef has helped many fans get through the pandemic with her relatable Instagram presence, surprising quarantine cooking confessions, and comforting recipes. During the early days of the pandemic, she went viral on Instagram with a video of herself making a massive cosmopolitan cocktail. Recently, in response to actor Reese Witherspoon sharing healthy habit ideas on Instagram, the "Barefoot Contessa" star fired back in a hilarious way. "That sounds great but I'm probably not doing any of those things! LOL!!" she wrote (via TODAY), suggesting instead that people should drink even more large cosmos, stay in bed in the mornings, and spend more time with people they love.
With this advice, Garten has been busy as ever over the past year, teasing several new projects. In early 2021, she posted an Instagram photo of roasted asparagus to give fans their first-ever sneak peek of a new cookbook (via SheKnows). And Garten also has a new show in the works called "Be My Guest," which premieres on March 26, 2022. But Ina Garten's most recent mouthwatering teaser for her new book has left fans on Instagram clamoring for more from the "Barefoot Contessa" chef.
Ina Garten's fans are excited for a her new cookbook
On her Instagram page, "Barefoot Contessa" chef Ina Garten shared a photo of a colorful charcuterie board complete with two kinds of cheese, ham, eggs, fresh figs, toasted bread, and more. In her caption for the photo, she wrote, "I love photoshoot days! This is a Ploughman's Lunch Board for the next cookbook. I'm guessing it will actually be lunch!"
In the comments, fans were very excited for the sneak peek at Garten's next project. "A dream lunch!!!!" one commenter wrote, with heart-eyes emojis. Another user, an account dedicated to cooking every single Ina Garten recipe, commented "Counting down the days!!!" One commenter asked which cheeses Garten included, and the Barefoot Contessa herself replied that she was enjoying Stilton and Montgomery's Cheddar, an artisanal cheese from the English countryside (via Neal's Yard Dairy).
In another reply to a comment on the post, Garten revealed the book will come out in October 2022. And since the Ploughman's lunch — one of the essential British foods you need to try — is typically served with refreshing drinks like ales or ciders, maybe Garten is planning a twist on the classic and enjoying one of her famous cosmopolitan cocktails with this meal.