Ina Garten Has A Surprising Quarantine Cooking Confession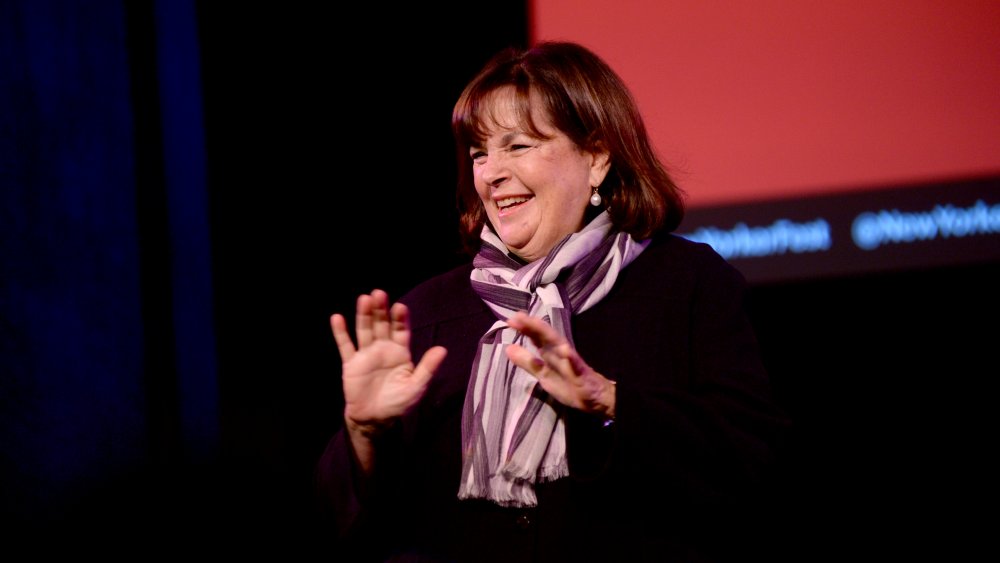 Brad Barket/Getty Images
Tom Hanks and Rita Wilson had our quarantine music needs covered (via Insider). During the month of April, we consoled ourselves listening to their Spotify list, "Quaruntunes." Celebrity chef Ina Garten, on the other hand, kept our kitchens in working order. As supermarkets emptied, as we racked our pantries for the canned goods we'd forgotten that we'd purchased, as we took out the yeast we'd bought but never expected to use, we turned to The Barefoot Contessa's Instagram.    
There, we found a safe space in the recipes we were craving. Ina Garten soothed our quarantine crazies with tantalizing recipes for roasted broccolini and melted cheddar and waffle iron hash browns. She consoled us with the suggestion of ramen chicken noodle soup, large chunks of chicken, carrots, and greens reaching out of our computer screens, tickling our tastebuds (if only virtually) as if to say everything was going to be all right. 
And yet, even as the celebrity chef was comforting us, she's now revealed that she was in need of comfort herself. Traces of her own search for support can be found in the frequent pictures of bouquets of flowers that Garten started posting on her Instagram around the end of March. "Quarantining is really hard emotionally and it's only just begun to sink in. Little things like fresh flowers can make such a difference," she wrote next to a vibrant arrangement of orange tulips. 
Ina Garten revealed her quarantine struggles on Today's Sunday Sitdown
Like the rest of us, Garten took the COVID quarantine hard. In an October interview with Sunday TODAY's, Willie Geist, she admitted that "Around the middle of May, I was like, curled up in a ball in bed." It got so bad that it affected her vocation as a chef. "I lost the reason why I cook," Garten said, "I would never cook for myself. I cook because I love to take care of people."
To pull herself through, The Barefoot Contessa relied on friends and cocktails. Remember the giant cosmopolitan she made for her Instagram?  "You have to shake it for thirty seconds," Garten explained, during the demo, "You have lots of time, it's not a problem... during a crisis, you know, a cocktail hour can be almost any hour." Words of wisdom, Ina Garten, and we thank you for them. 
She also kept busy preparing for the release of her new cookbook, Modern Comfort Food, set to come out October 6, 2020 (via Instagram). Why a book about comfort food? Geist asked Garten. "It was going to come out right before the election, and no matter what side of the aisle you were on, I think people were going to be really stressed," Garten replied. We don't know every recipe in the cookbook, but Garten has given her Instagram followers at least one easter egg. Included is a hot, spiced, bourbon-infused, apple cider. A perfect election night drink.