Carrot Cake Baked Donuts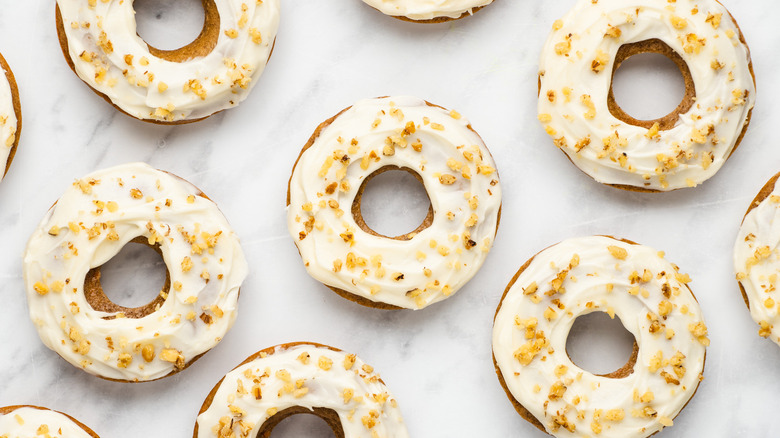 Catherine Brookes/Mashed
There's nothing quite like a homemade donut. And when you serve them fresh out of the oven? The result is absolutely amazing. This yummy recipe provides instructions for a carrot cake donut that is a mix between cake and a donut. It has a tasty, sweet base with a smooth, creamy frosting that adds another layer of sweet flavor. Just add some chopped walnuts on top, and you have the perfect breakfast or dessert.
Recipe developer Catherine Brookes of Blue Sky Eating came up with this delicious recipe, and there is so much to love about it. "Making donuts is always fun and much more simple than you'd think. The sweet and spicy flavors of carrot cake and creamy frosting are so great in this round, light, and fluffy form," Brookes raves. "They'd be great for a party. You could even scale up the recipe and pile them into a donut tower." 
Keep scrolling to find out how to make these incredible donuts! 
Gather the ingredients for baked carrot cake donuts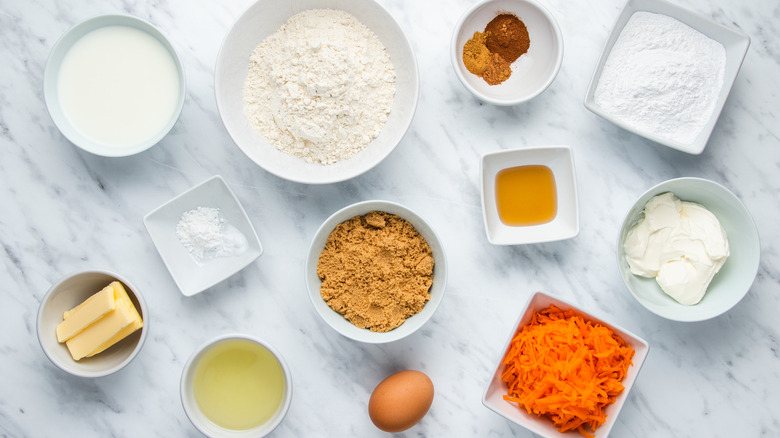 Catherine Brookes/Mashed
Ready to start? The first thing you will need to do is head to the grocery store and grab all the necessary ingredients. Start with some all-purpose flour. You will also need quite a few things in the spice aisle, like cinnamon, ground ginger, and nutmeg. As with most recipes for baked goods, you will need baking powder, baking soda, and brown sugar.
Next, pick up a large egg, some vegetable oil, and milk. Moving down the list, get a little vanilla extract and grated carrots (or pick up two medium carrots and grate them yourself). You will also need cream cheese and butter. Last but not least, purchase powdered sugar, and if you'd like to top your donuts with walnuts, pick up a bag of those, too.
Grease the donut pans and whisk dry ingredients together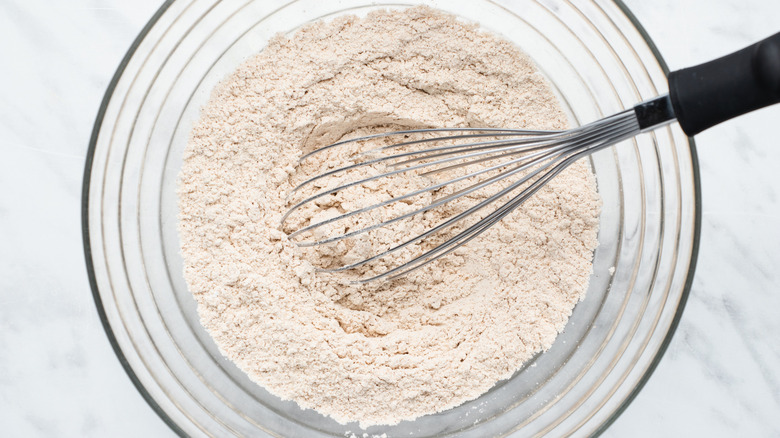 Catherine Brookes/Mashed
Let's get down to business! First, grab two, 6-hole donut pans and grease them with butter or nonstick spray. Once you do that, turn the dial of your oven to 350 F and let it get nice and hot while you do the rest of the prep work. 
Then, grab a bowl and start tossing in your dry ingredients. Begin with the flour and add the cinnamon, ginger, and nutmeg. In addition, you'll need to add the baking powder and baking soda; use a whisk to combine them well.
Mix the wet ingredients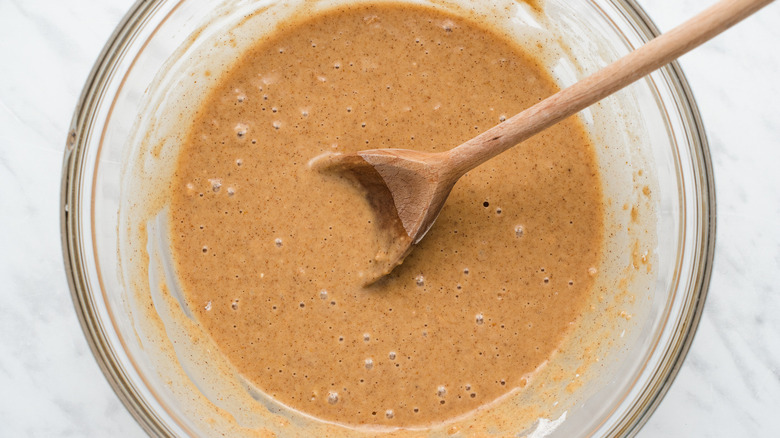 Catherine Brookes/Mashed
Now, take out a separate bowl and start adding some of the wet ingredients. Start by tossing in the brown sugar, oil, and the egg. The next thing you'll need to add is vanilla extract. Use a whisk to combine all of the ingredients together. Pour in the milk, and whisk again to combine.
Now, grab the bowl with the flour mixture and gently fold it into the wet ingredients until everything is well-combined. 
The last thing you'll need to add to the batter is your grated carrot. Stir well to incorporate.
Fill the donut pans and bake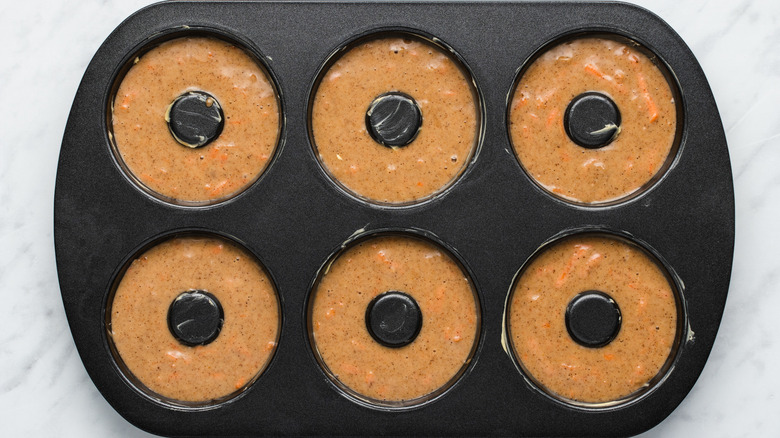 Catherine Brookes/Mashed
Grab your greased donut pans. Spoon the batter into the donut holes and fill each one about ⅔ of the way full.
Pop the donuts in the oven for about 10 minutes, until they have a nice golden brown color and start to rise. Remove the donuts from the pan by tipping them upside down on a wire rack and tapping the base. One they are safely on the wire rack, let them cool for about an hour.
When we asked Brookes about the possibility of using an air fryer, she didn't suggest it. "[It's] not something I've tried. As they're baked, not fried, the texture it much [more] like cake rather than a fried donut," she shared.
Make the frosting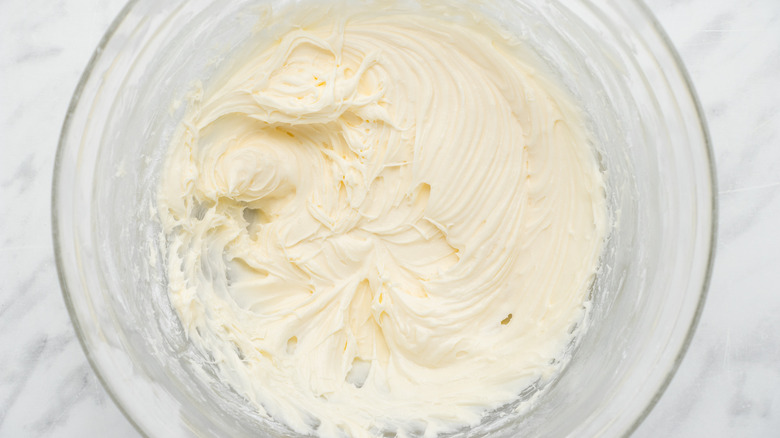 Catherine Brookes/Mashed
This frosting is creamy and delicious, and it takes just a little bit of time to put together. Take out a mixing bowl and add the butter and cream cheese. If you have the chance, make sure to let them sit at room temperature before using, as that will make them easier to mix. Then, add about ½ teaspoon vanilla extract. Using an electric whisk, beat the ingredients together until they are smooth and creamy.
The last thing you need to do is sift in the powdered sugar, about ⅓ cup at a time. Continue mixing until all the ingredients are well-combined.
Add the frosting and enjoy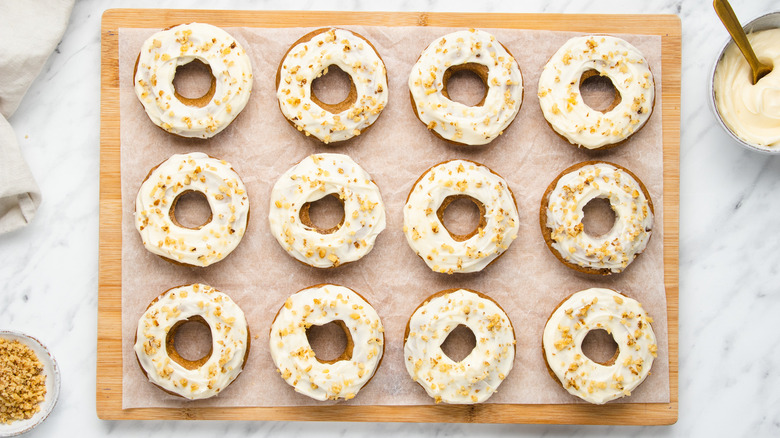 Catherine Brookes/Mashed
Once your donuts have completely cooled, use a small spoon to scoop the frosting onto the tops. If you'd prefer, you can just dunk the top of the donut into the frosting bowl, twist it, and pull it out. Then, sprinkle some walnut pieces on top, if you'd like. If you don't love walnuts, you can omit them. These would be great with a cup of coffee or a nice cold glass of milk. 
If you have some leftover, don't sweat it! "Leftovers should stay good for 2 days at room temp in an airtight container," Brookes shares. 
We hope these donuts are a hit at your next get together! 
Carrot Cake Baked Donuts
Who needs carrot cake or deep fried donuts when you can make a (slightly healthier) baked carrot cake donuts recipe? It's easier to make than you think.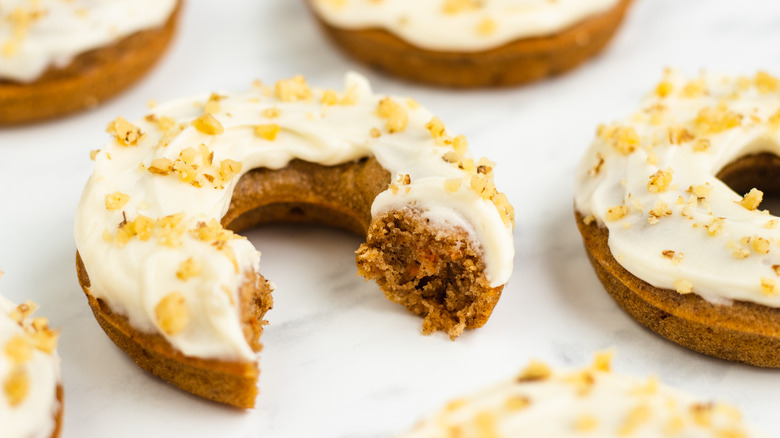 Ingredients
1 ⅓ cups all-purpose flour
1 teaspoon cinnamon
½ teaspoon ground ginger
¼ teaspoon nutmeg
1 teaspoon baking powder
¼ teaspoon baking soda
½ cup light brown sugar
1 large egg
¼ cup vegetable oil
⅔ cup milk
1 teaspoon vanilla extract (divided)
1 cup grated carrot (approx. 2 medium carrots)
2.5 ounces cream cheese
3 tablespoons butter (at room temp)
1 cup powdered sugar
Optional Ingredients
2-3 tablespoons crushed walnuts for decoration
Directions
Grease 2, 6-hole donut pans and preheat the oven to 350 F.
Whisk together the flour, cinnamon, ginger, nutmeg, baking powder and baking soda in a medium-sized bowl.
In a separate bowl, whisk together the brown sugar, oil, egg, and ½ teaspoon vanilla extract.
Add the milk and whisk again to combine.
Add the flour mixture to the bowl with the wet ingredients and gently fold together until just combined.
Add the grated carrot and fold through.
Spoon or pipe the mixture into the greased donut pan. Each space should be approximately ⅔ of the way full.
Bake for 10 minutes, until risen and golden.
Remove the donuts from the pan by tipping it upside down onto a wire rack and tapping the base. Leave the donuts to cool completely before adding the frosting (approximately 1 hour).
Add the butter, cream cheese and ½ teaspoon vanilla extract to a mixing bowl and beat with an electric whisk until smooth and creamy.
Sift in the powdered sugar about ⅓ cup at a time, beating with the whisk until combined after each addition.
Use a small spoon to smooth some frosting on top of each donut, or simply dip the donut in the frosting, twist it, and pull it out.
Sprinkle some crushed walnut pieces on top for decoration, if desired.
Nutrition
| | |
| --- | --- |
| Calories per Serving | 220 |
| Total Fat | 10.6 g |
| Saturated Fat | 3.7 g |
| Trans Fat | 0.2 g |
| Cholesterol | 31.0 mg |
| | |
| --- | --- |
| Total Carbohydrates | 28.7 g |
| Dietary Fiber | 0.8 g |
| Total Sugars | 17.1 g |
| Sodium | 98.7 mg |
| Protein | 2.9 g |