Homemade Vanilla Extract Recipe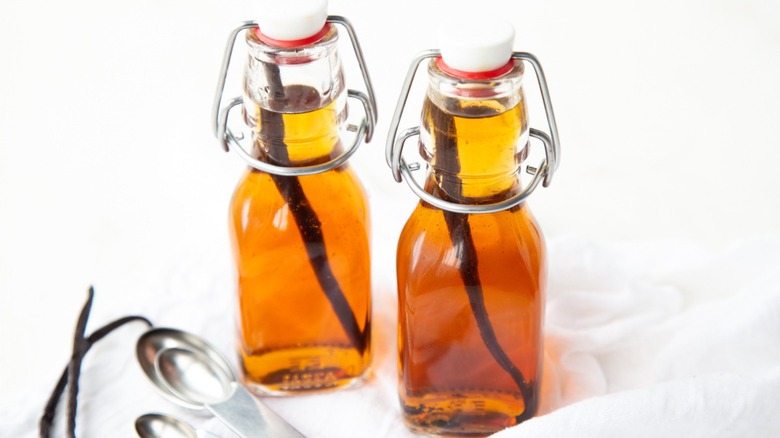 Kate Shungu/Mashed
If you do a lot of baking — or even a little — you already know that the one ingredient you absolutely can't do without is vanilla extract. The problem with vanilla, though, is that it's just so crazy expensive! If you're wondering why the price is so high, it all has to do with how the vanilla plants are cultivated, which is a difficult, labor-intensive process. Sure, there are cheaper substitutes for vanilla, including imitation vanilla extract, but sometimes you just want the real deal. Well, we have good news for all you DIY fans out there! Recipe developer Kate Shungu of Gift of Hospitality has the perfect homemade vanilla extract recipe for all of your baking needs. "Making your own vanilla extract is super economical," Shungu says. "This recipe makes about 3–4 small jars of vanilla, and costs about the same as 1–2 jars of store-bought extract."
It's not just the price that gives homemade vanilla an advantage over the store-bought kind, though. "Store-bought vanilla can taste somewhat bitter if you put a drop on your tongue," Shungu explains, noting that her homemade version tastes like a smooth brandy. Something tells us that you'll be returning to this homemade vanilla extract recipe again and again — keep reading to learn how to make it.
Gather the ingredients to make homemade vanilla extract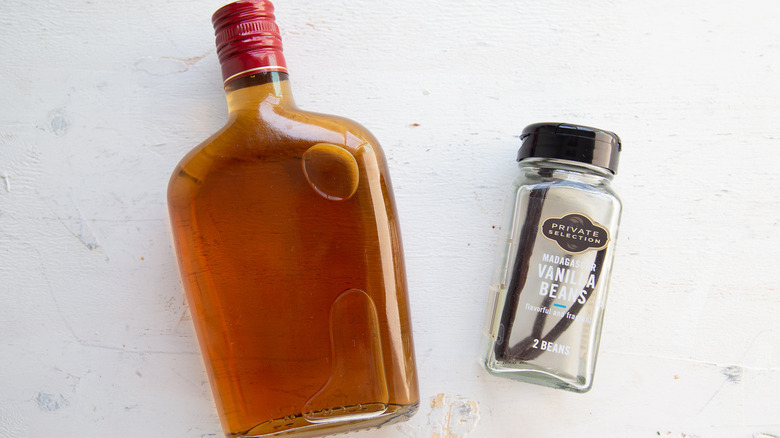 Kate Shungu/Mashed
This recipe calls for just two ingredients: a small bottle of brandy and a couple of whole vanilla bean pods. "I used Madagascar beans because that's what my grocery store had," Shungu explains, adding that you can "use whatever vanilla beans that you like or that you can find."
If you can't find or don't care for brandy, or happen to have some other types of liquor around the house, this ingredient can easily be swapped out, too. "You can make this with bourbon, rum, or vodka," Shungu notes. Not only can you use it as an extract, but it will also double as infused booze for cocktail making!
Split and soak the vanilla beans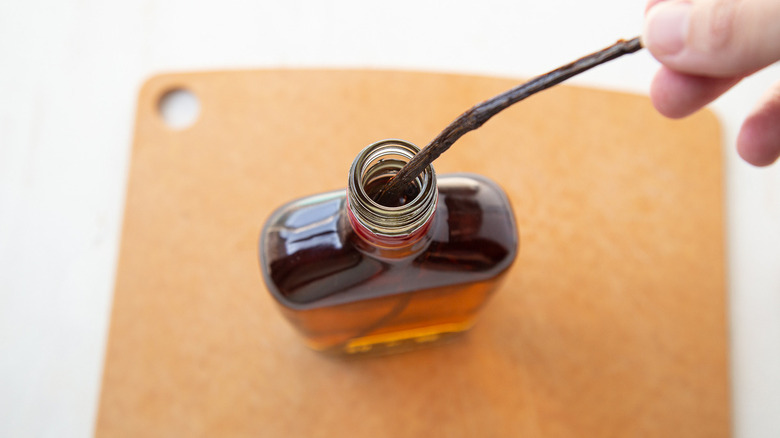 Kate Shungu/Mashed
In order to make this recipe, you'll need to put in all of five minutes worth of work, tops. Open the package of vanilla beans and extract two of the precious pods. Take a sharp knife and use it to cut a slit down the middle of each bean so that the seeds are exposed. It is not necessary to scrape the seeds out of the pod, but the seeds do need to be exposed to the brandy. Open the brandy bottle, drop in the beans, then screw the cap back on. Done! Well, all but for the waiting.
This DIY vanilla needs to sit for at least a month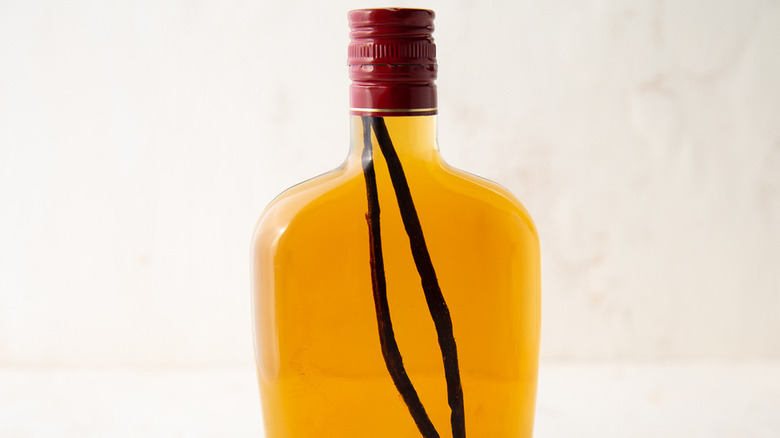 Kate Shungu/Mashed
While the homemade vanilla goes together in practically no time, it will take quite a lot of time — a full month, at the least — before it is ready to use. The reason for this, according to Shungu, is that the flavor from the vanilla beans needs plenty of time to infuse in the brandy. She suggests that "a kitchen cabinet is a good storage place" for the vanilla as it's infusing. A very bad place would be your liquor cabinet, since someone (maybe you) might wind up using the brandy to make cocktails, instead. (A vanilla-flavored brandy Alexander would probably be pretty amazing, though.) If you want to let the vanilla sit longer than a month, that's okay, too. Shungu says that "the vanilla will actually grow stronger in flavor over time!"
Homemade vanilla makes a great holiday gift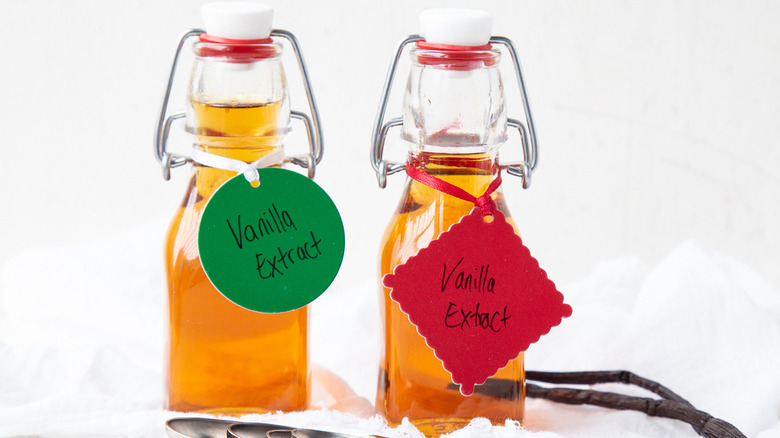 Kate Shungu/Mashed
After a month, your homemade vanilla extract is ready to go, and you can use it in all sorts of baked goods. But why keep it limited to only your kitchen? As a matter of fact, this vanilla extract makes a wonderful gift, you just have to plan ahead so it'll be ready in time for the holidays. "I made homemade vanilla extract one year a month before Christmas, and then gave out jars to a few family members who like to bake," Shungu explains, adding that it was a big hit: "They really enjoyed it!"

If you, too, have baking enthusiast on your gift list, they're likely to welcome a gift of homemade vanilla. Shungu suggests packaging it in a gift bag or basket, perhaps with some measuring spoons and a cute holiday-themed spatula. She says this presentation would make for "an inexpensive yet thoughtful item that you could give for the holidays or even a hostess gift." Whether you choose to make homemade vanilla extract to give as gifts or to keep in your own pantry, this useful little liquid is sure to be a hit this holiday season.
Homemade Vanilla Extract Recipe
Recipe developer Kate Shungu has the perfect homemade vanilla extract recipe for all of your baking needs — and it only takes two ingredients to make.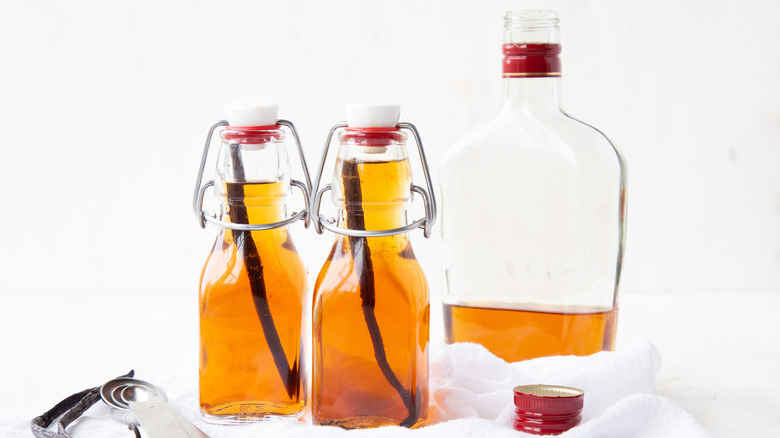 Ingredients
2 vanilla beans
1 (375 milliliters) bottle brandy
Directions
Cut a slit down the length of each vanilla bean to expose the seeds.
Place the vanilla beans in the brandy and screw the cap back on tightly.
Allow the vanilla to sit for at least one month to allow the beans to infuse the brandy.
Transfer the vanilla extract to smaller bottles, if desired, and use it for baking.