TikTok Is Fascinated By This Adjustable Pan Handle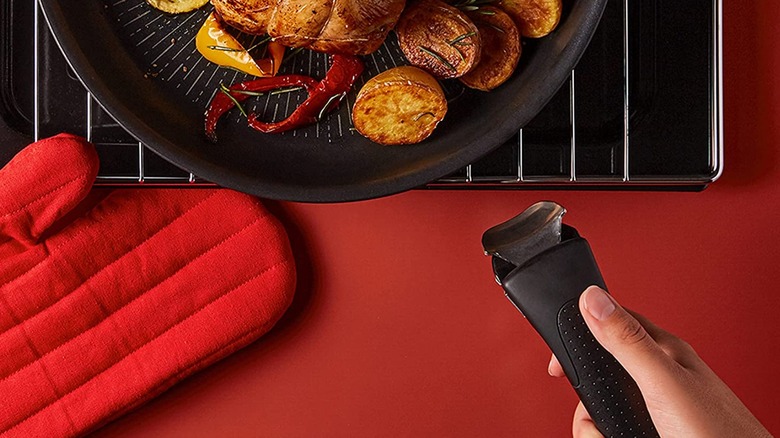 T-Fal
We may receive a commission on purchases made from links.
Whether you're a home cook or a professional chef, if you spend a fair amount of time in the kitchen, you understand the value of a good set of pots and pans. Which type of cookware you choose depends on your own preferences, along with what you'll be using it for. Stainless steel pans, for instance, heat evenly and don't react with food, so they're ideal for braising or sautéing (via Consumer Reports). Nonstick pans, on the other hand, are better for finicky foods like eggs or pancakes thanks to their smooth surface. And who could forget cast iron skillets, which everyone loves for roasting or browning meat (among many other things!). Along with all of the different choices when it comes to material, there are also tons of popular kitchenware brands, from Le Creuset to All-Clad.
While you can stick to traditional cookware, leave it to TikTok to introduce the world to a game-changing pan: one that has an adjustable handle. Foodie TikToker @owen.han recently shared a cooking video in which he used a very unique pan that has everyone talking. Here's the exact pan featured in the clip, along with what makes it oh-so-special.
The handle of the pan is removable
All TikToker @owen.han wanted to do was post a quick tutorial of his chicken cordon bleu sandwich. However, despite how delicious his creation looked, the video received a lot of attention for another reason entirely: the pan that he used to cook with. Fans watched as he attached a handle to the side of the pan, slid it into the oven, and then unclipped the handle. "I need that pan in my life!" one of the many commenters wrote. Fortunately, Owen provided the pan details in his caption. Made by T-Fal, it's from the popular cookware brand's Ingenio Expertise line. The set comes with a variety of pots and pans in different sizes, all with a removable handle that T-Fal says can hold up to 10 kilograms. The pans feature a non-stick coating and are designed to be easy to stack and store (hence, the handle you can clip on and off).
The Ingenio Expertise pans have mixed reviews on Amazon. "The removable handles are remarkably well designed: with one hand you can quickly snap them in any spot along the rim of the pots or pans," one fan says, adding that the handle can easily carry a heavy pot of water. However, some people aren't so sold on the product. Their primary complaint is that you can't put a lid securely on the pots and pans when the handle is attached.