Fans Love That Gordon Ramsay Brought His Son To The Hell's Kitchen Set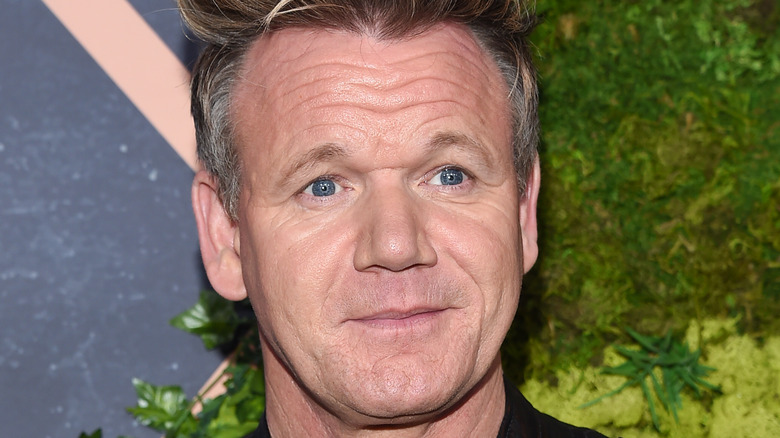 DFree/Shutterstock
Gordon Ramsay may be known for his surly and demanding persona on his many television shows. In particular, many an aspiring chef has been at the receiving end of his anger and inventive insults when they mess up a dish or the entire dinner service on "Hell's Kitchen." However, since the birth of his fifth child, Oscar, in 2019, Ramsay has also been showing his sweet side with regular posts of his youngest child, much to his fans delight. Whether it's a photo of the cute toddler literally filling his dad's shoes, enjoying hot chocolate time, or a video of him learning his ABCs, fans can't get enough of little Oscar, as evidenced by their many likes and comments
In a recent Instagram post, Ramsay shares several pictures of Oscar and him at work, with the caption, "Hells Kitchen season 45 host spent time on set today with the old host! Welcome to the Hells Kitchen son @oscarjramsay don't mess it up please! Dad x." The post has racked up more than 200,000 likes and 1,000 comments as of the time of this writing.
Fans can't get over how adorable Oscar is joining his dad at work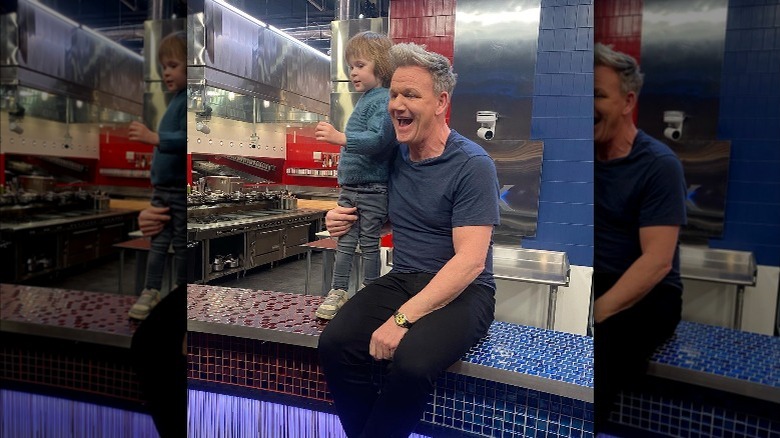 Instagram
While some fans debated whether little Oscar looked more like his famous dad or his mom, most fans agreed that the toothsome toddler was "cute" and "adorable." Some fans were a little confused how they seemed to have missed so many season of "Hell's Kitchen," only to realize later that Ramsay was referring to Oscar as a future host down the line. Fans were excited by the prospect that there might be that many more seasons of "Hell's Kitchen" and that they are filming for another season currently. "Hell's Kitchen" season 20 last aired in September 2021 and Fox has renewed the long-running series for Seasons 21 and 22, according to TV Line.
None of Ramsay's other kids have so far followed in his footsteps into the culinary field as a chef, though Tilly might come the closest as a host of her own BBC cooking show (via Parade). Perhaps little Oscar will carry on his dad's legacy. Oscar certainly seems to already have the Ramsay scowl down pat, as evidenced by this post when his mom was late with his porridge, or this post when he was uncertain about an ice cream flavor. Only time will tell if Oscar will also use some of his dad's signature lines like "where's the lamb" and "RAW" or whether he will develop his own creative zingers.