This Is Prue's GBBO Handshake, According To Giuseppe Dell'Anno
On "The Great British Bake Off," Paul Hollywood's handshake is a desired seal of approval for contestants, and an acknowledgment of excellence from the judge, according to The Sun. Giuseppe Dell'Anno, winner of Season 12 of GBBO, did receive a handshake from Hollywood, as well as a few kind words in the finale. "You can see the heart and soul that goes into his baking. He's done an incredible job," Hollywood said (via Vulture).
The show's other judge, Prue Leith, is a bit more subtle with how she shows contestants that she adores one of their bakes. Some fans on Reddit believe that Leith's version of Hollywood's handshake is when she takes an extra bite of one of the bakers' delectable creations. However, Dell'Anno has other thoughts, telling Vulture that the "Prue hand pat" — a gesture he treasured — signifies her approval. "A couple of times when she wanted to tell us we've done a particularly good job, she tapped the top of our hands very gently ... when you're there and you receive it, it's as strong of an approval as Paul's handshake," Dell'Anno said.
Should Prue Leith have an official gesture of approval?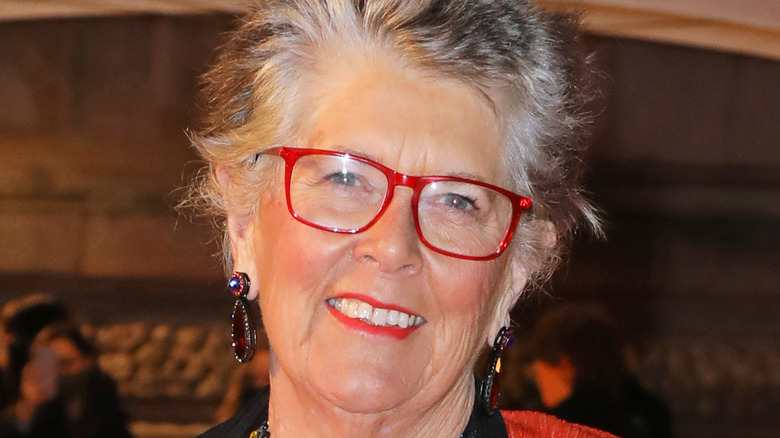 David M. Benett/Getty Images
GBBO winner Giuseppe Dell'Anno may think Prue Leith's hand pat provides just as much validation as Paul Hollywood's handshake. However, the debate over whether Leith should have a more significant gesture of approval equivalent to Hollywood's handshake, and whether or not the lack of such a gesture signifies a gender inequality, is not lost on him. He thinks such an issue was never "deliberate" and Hollywood's handshake developed organically (via Vulture). 
Some Twitter users disagree, however. In one Twitter thread, a user — the life editor of Huffington Post UK — wrote that Hollywood's handshake and the lack of a Leith equivalent reminded them of an unequal dynamic between men and women in the workplace. After another user responded in agreement, the original Tweeter wrote "Right!? I think she needs her own thing. Maybe not a handshake, maybe Prue's dance of approval. Or a catchphrase. Or she whips a shot from under the table and screams 'cheers!' Maybe I'll send these ideas to the production team for next year."
Whether any new approval gestures make their way into future seasons, the handshakes and pats continue to be a hot topic.