GBBO Fans Think This Is Prue's 'Hollywood Handshake'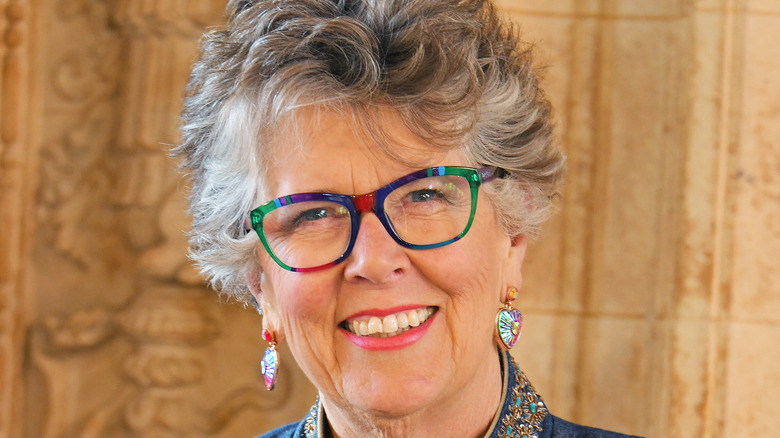 David M. Benett/Getty Images
Every eager contestant on "The Great British Bake Off" longs for one of Paul Hollywood's signature handshakes, a coveted seal of approval from the judge and a sure sign of baking success. Hollywood's handshakes are now an iconic part of the show — even though he didn't give out his first until Season 3, explains Starcasm. His habit became more noticeable in Season 6, when Hollywood shook the hand of a contestant to congratulate him on a bread creation and fellow judge Mel Giedroyc said, "Oh, the handshake." Later, when winner Nadiya Hussain got her handshake, she exclaimed, "Handshake! I got a handshake!"
And thus, a legendary form of feedback was born, the anticipation for which carries on into more recent episodes of the show in Season 12. But "GBBO" fans are claiming that Hollywood isn't the only judge with a signature seal of approval. The series' other dessert critic extraordinaire, Prue Leith, has her own way of showing she's enjoyed a particular bread, cookie, or cake, they say.
Prue Leith's two bites show just as much admiration as Paul Hollywood's handshake
So, what is a sure-fire sign that Leith likes a dessert? One Reddit user posted a hot take in the "GBBO" subreddit suggesting that Leith's equivalent to the Hollywood handshake is when she says, "I'll take another bite of this." "Hear me out," the Reddit user wrote. "While we all appreciate the dramatic and surprising handshake of Paul, the lesser appreciated honor is Prue's extra bite. Subtle, rare, and classy." The user is referring to the fact that Leith often abstains from eating more than a taste of each dessert on the show, which is something she spoke to the Daily Mail about and has recently faced criticism for, reports Hello!. However, many comments on the Reddit post focus on what an honor it is for contestants to hear that Leith is enjoying their creations.
One commenter wrote that they love that Leith has "her own way of appreciating excellence." Another pointed out another moment of approval: when "she takes a bite then exclaims then shimmies." A final commenter wrapped it all up like a warm loaf of bread, writing, "When she 'can't resist another bite,' you know you've done something right."