Simple Steamed Asparagus Recipe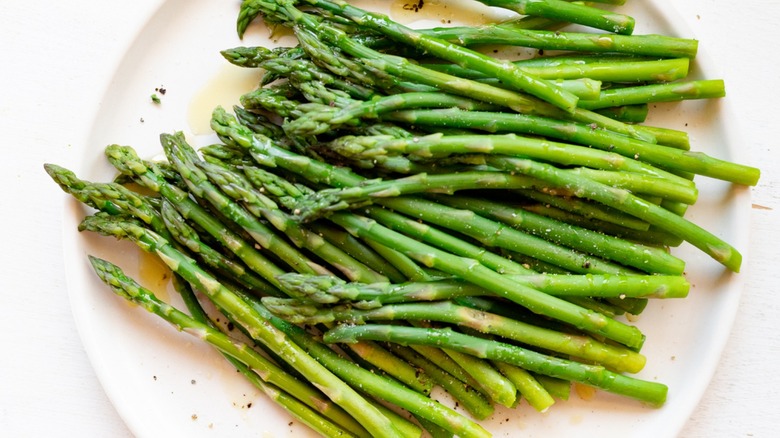 Sher Castellano/Mashed
Spring is a strange time of year, with the weather flipping between hot and cold, pollen filling the air, and the days getting longer and longer. Sure, the first sign of spring might well be a red, red robin, but in many parts of the country that poor old robin is quite likely to find itself bob-bob-bobbin' through several inches of snow the very next day. There's one place, however, where you're sure to see a more reliable sign of the impending season, and that's in your grocery store's produce aisle.
As recipe developer Sher Castellano points out, "Asparagus is [one of] the first signs of Spring for many," something she says makes it "the ultimate transition vegetable from cold to mild weather." She prefers to cook asparagus by steaming it since, as she explains, this cooking method "keeps it tender and crisp without overcooking and [keeps it] a vibrant bright green." No matter what Spring looks like where you live, there's no doubt that you'll enjoy the brightness of this steamed asparagus recipe.
Gather the ingredients for steamed asparagus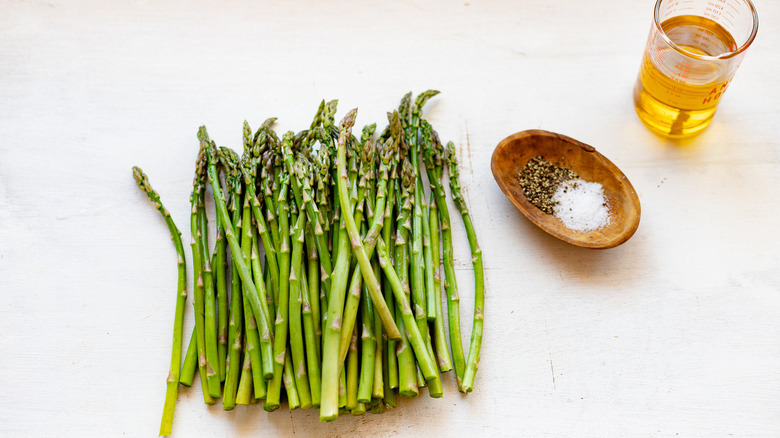 Sher Castellano/Mashed
The only ingredient you truly need for this recipe is asparagus, but you may also want some olive oil, salt, and pepper for serving. Be sure to trim the woody bottoms off of the asparagus stalks before you begin cooking.
Set up a steamer basket on your stovetop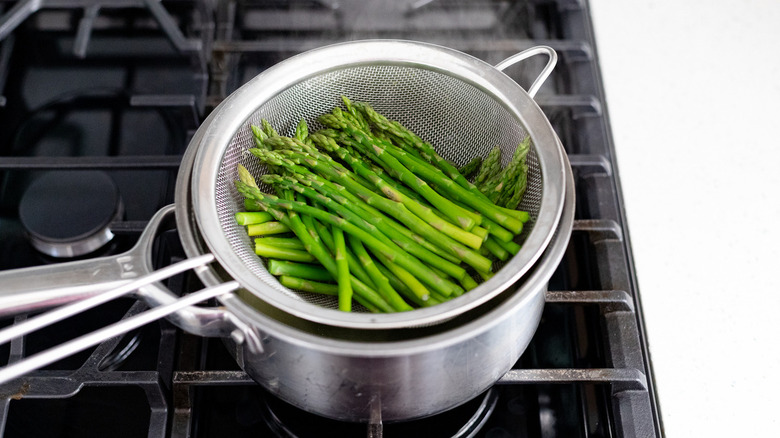 Sher Castellano/Mashed
Pour an inch or two of water into a large pot — Castellano says that the water level needs to be right below the steamer basket you're going to be using. If you don't have a dedicated steamer basket, don't worry. She also tells us, "Steamers can include traditional stainless steel baskets, bamboo baskets or mesh sieves — get creative!
Heat the water to a boil. While the water is heating, put the asparagus in the steamer basket. If it fits in a single layer, great. If not, make sure the asparagus in the subsequent layers faces the opposite direction from the asparagus in the previous layer. This arrangement, Castellano says, will "allow the steam to flow." Once the water is boiling, put the basket in the pot and cover it.
Steam the asparagus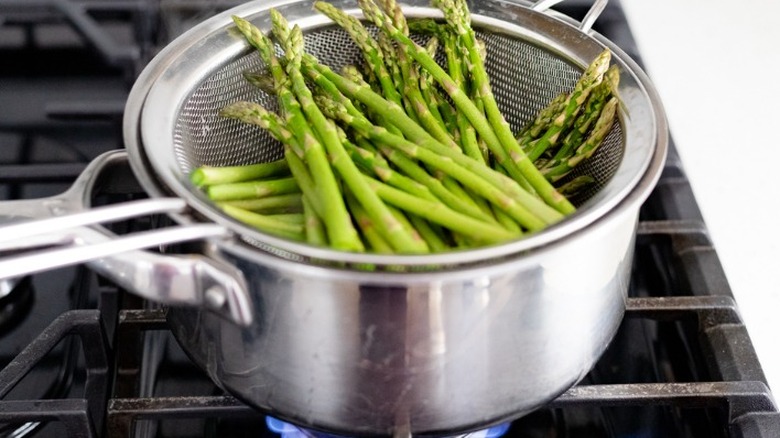 Sher Castellano/Mashed
Steam the asparagus until it's bright green and tender, something that should take about two minutes for thin stalks or up to four minutes for thicker ones. If you've layered your asparagus, flip the stalks around about halfway through the cooking time.
Serve the asparagus
Sher Castellano/Mashed
When the asparagus is done, take it out of the steamer and arrange it on a serving plate or plates. You may, if you like, drizzle it with olive oil and/or sprinkle it with salt and pepper before serving. Castellano also tells us that "steamed asparagus would be great with [a] fresh lemon squeeze and/or garlic butter." Simple, healthy, and fresh — it doesn't get much better than that!
Simple Steamed Asparagus Recipe
This simple steamed asparagus comes together in a breeze and offers bright, fresh flavors.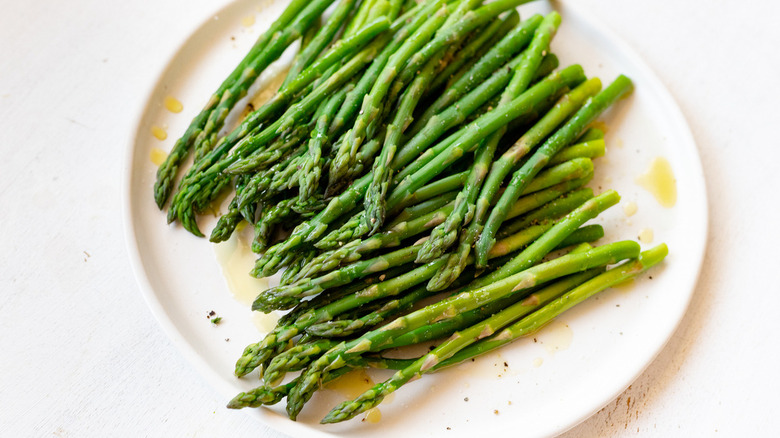 Ingredients
Optional Ingredients
olive oil for serving
salt, to taste
pepper, to taste
Directions
Trim the woody bottoms off the asparagus, about 1 to 2 inches.
Fill a pot with 1 to 2 inches of water and bring to a boil.
Fill a steamer basket with the asparagus in a single layer or alternating layers in different directions.
Once the water is boiling, add the steamer basket to the pot and cover. Cook asparagus until bright green and tender – for thinner asparagus this will take approximately 2 minutes, and for thicker asparagus this can take up to 4 minutes.
Remove the stalks from the steamer basket and arrange them on a serving plate.
Drizzle asparagus with olive oil and/or sprinkle with salt and pepper, if desired.