Roasted Asparagus Recipe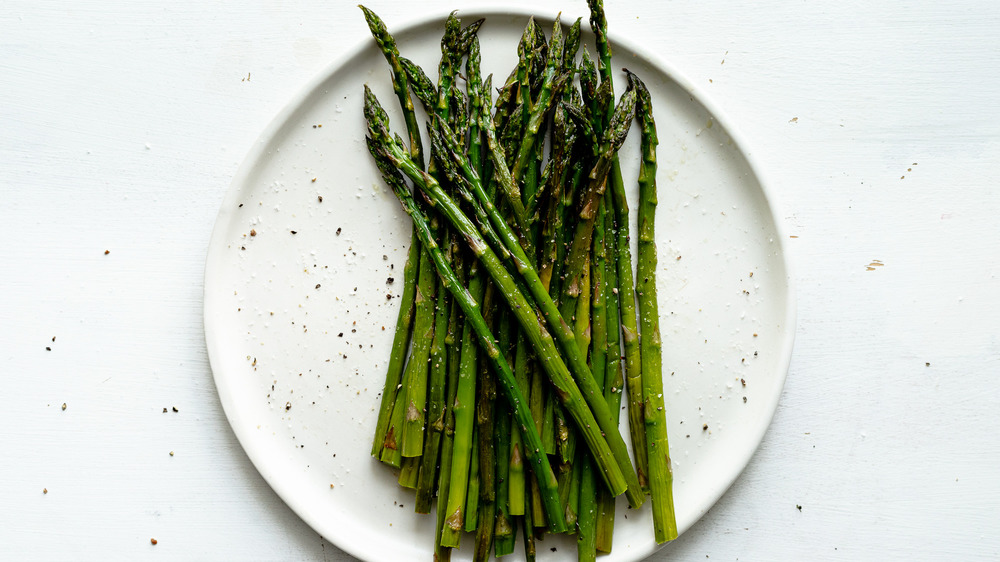 Sher Castellano/Mashed
Asparagus can be a divisive food. While plenty of people don't have a strong opinion on the vegetable, many absolutely adore it, while others loathe those slender green spears with a passion. Might it be, however, that someone who says he or she doesn't like asparagus has simply never tried it when cooked properly? This tasty and delightfully simple recipe makes the perfect litmus test. 
Chef and recipe developer Sher Castellano says: "This recipe, when followed exactly, is nearly impossible to screw up." And it yields a delicious dish "[that]  goes with everything," Castellano adds. "Serve it with hardboiled eggs, a piece of meat, or in a grain bowl with tons of fresh herbs."
Whether roasted by the large batch for a family holiday dinner or whipped up quickly for a weeknight meal, this asparagus recipe will take you less than 20 minutes from start to finish, and less than five minutes of that time is hands-on work. Just make sure you choose your asparagus carefully when you're at the grocery store or farmer's market. According to Food Town, you should "look for asparagus stalks that are firm to the touch, able to stand up straight, and with a smooth texture, [and that's] rich in green color, softly fading to white at the bottom of the stalk."
With a few good spears at the ready, let's get cooking!
Health benefits of asparagus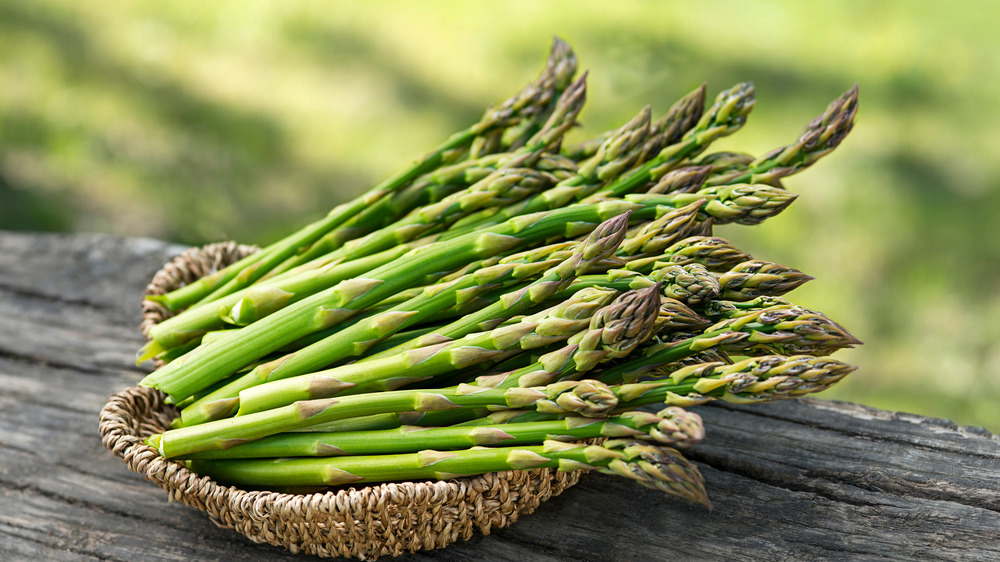 Shutterstock
OK, actually before we get cooking, let's talk about the benefits of asparagus that go beyond its excellent taste and texture (when it's cooked properly). According to Healthline, a half cup of cooked asparagus delivers a good dose of Vitamins C, A, and K. It's also rich in folate, a B vitamin that helps with brain functions and generating new cells. Asparagus is also good for blood pressure, digestive health, and providing antioxidants, which are chemicals that fight cell damage from things like pollution and other stressors, such as illness or drinking alcohol. The veg also low in calories and extremely low in fat, but it delivers a bit of protein along with all those nutrients.
Gather your ingredients and pre-heat the oven for roasted asparagus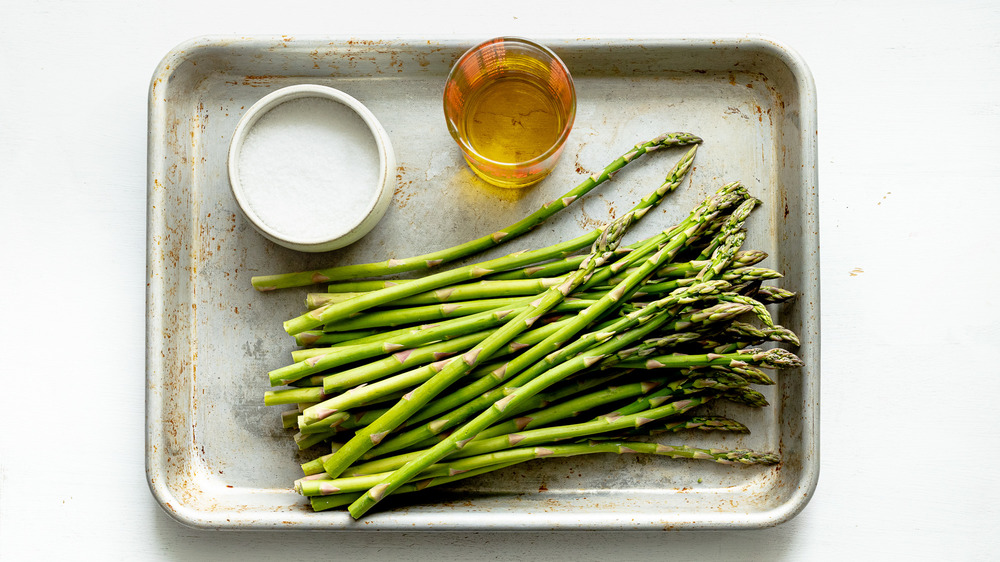 Sher Castellano/Mashed
Simple is the name of the game on this one. All you need for this roasted asparagus recipe is one pound of asparagus, ideally with spears on the more slender side (look for a thickness between the diameter of a standard #2 pencil and a Sharpie marker), one tablespoon of olive oil, and one-fourth of a teaspoon of salt. 
Before you start the (minimal) prep for this recipe, pre-heat your oven to 450 degrees Fahrenheit. By the time the oven gets that hot, you will be done with the rest of the prep and have time to spare.
Prep the asparagus for raosting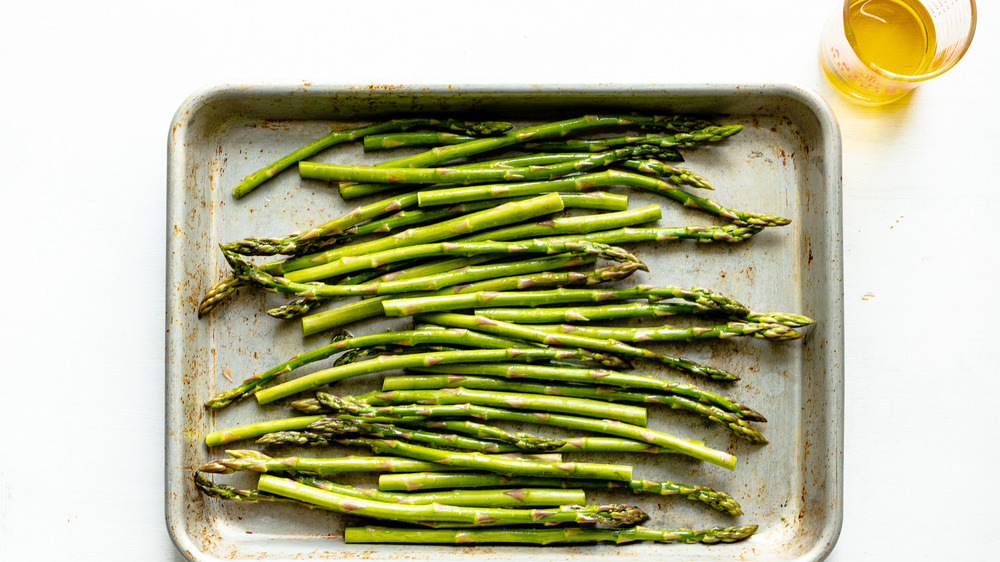 Sher Castellano/Mashed
Wash, dry and trim the ends off of the asparagus spears, removing any white or very pale green sections from the bottom of each piece. Now spread the asparagus out in a single layer on a baking sheet (you can use a large oven safe glass pan as well) and drizzle on the olive oil. 
You can sprinkle on a bit of salt now, too, saving most for after the dish has cooked, or you can save all of the salt to be added to the asparagus after they have finished roasting. Either way, that's it, your pre-cooking prep is already done.
Roast the asparagus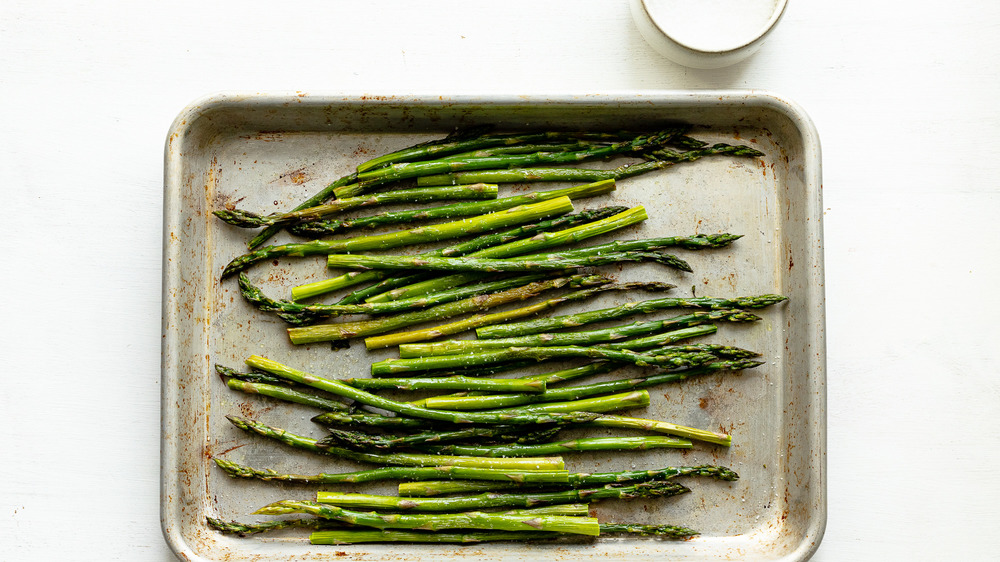 Sher Castellano/Mashed
Pop the baking sheet into the oven and roast the asparagus at 450 degrees Fahrenheit for 12 minutes, or for 15 if the spears are on the thicker side. Castellano says you'll know the veggies are done roasting when the "stems are bright green and tender and the tops are crispy and golden." 
"Be careful not to overcook or the stems will become mushy," she adds. Once the baking is done, sprinkle on the salt and serve ASAP, as this is a dish best served fresh. If you do have leftover, Castellano advises you to eat them cold. "Refrigerated asparagus tends to get soggy and reheating will only make it soggier."
Roasted Asparagus Recipe
Roasted asparagus is an easy, healthy and simple recipe that anyone can make. Here's how to prepare this side dish in less than 20 minutes of cooking and prep.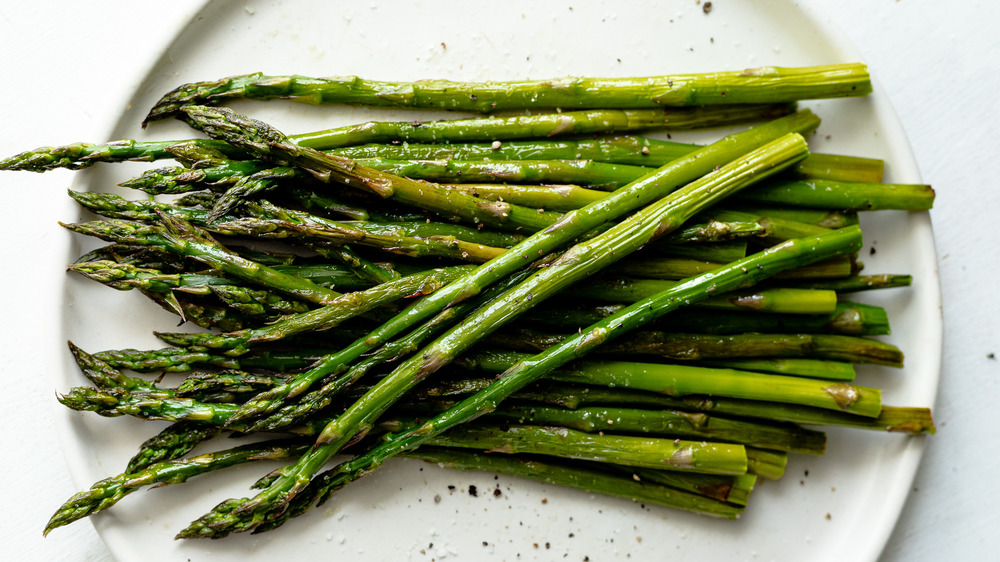 Ingredients
1 pound asparagus
1 tablespoon olive oil
¼ teaspoon fine sea salt
Directions
Preheat oven to 450 degrees Fahrenheit
Wash, dry, and trim the ends off the asparagus
Spread the asparagus in a single layer on the tray and drizzle the olive oil over it
Roast for 12 minutes (15 minutes for thicker spears) or until stems are bright green and tender and the tops are crispy and golden
Sprinkle on the salt and serve
Nutrition
| | |
| --- | --- |
| Calories per Serving | 53 |
| Total Fat | 3.5 g |
| Saturated Fat | 0.5 g |
| Trans Fat | 0.0 |
| Cholesterol | 0.0 mg |
| | |
| --- | --- |
| Total Carbohydrates | 4.4 g |
| Dietary Fiber | 2.4 g |
| Total Sugars | 2.1 g |
| Sodium | 147.7 mg |
| Protein | 2.5 g |