Why Duff Goldman Isn't A 'Fan' Of Ruby Chocolate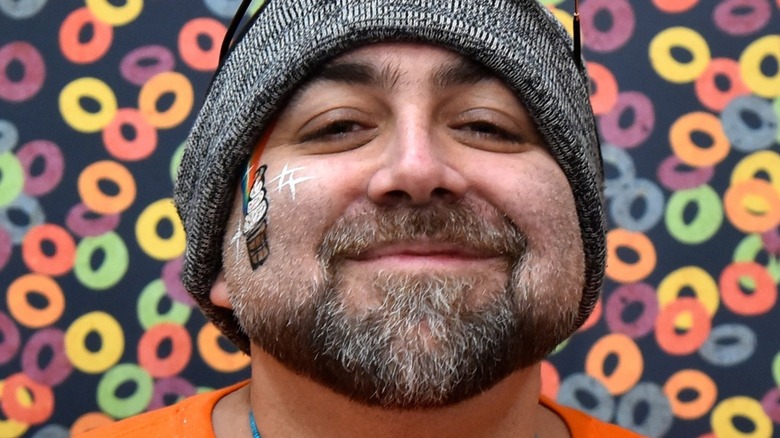 Kris Connor/Getty
After white chocolate was invented by Nestlé in the 1930s, more than 80 years passed before a new naturally colored chocolate was invented. So what finally broke the drought? Enter ruby chocolate.
Introduced in 2017 by Swiss cocoa company Barry Callebaut after more than a decade of research, its bright pink color isn't achieved using food dye — ruby chocolate is made from cocoa beans that contain naturally high levels of reddish-pigmented polyphenol compounds, also found in similarly colored foods like strawberries and red wine, per Healthline. And its flavor follows in turn, as Food Network reports that it's fruity and tangy with bright berry notes.
Ruby chocolate has been quickly adopted by brands like Magnum, whose mini ruby chocolate ice cream bars Aldi shoppers are loving. However, not everyone is convinced. Chocolate expert Angus Kennedy, for example, told Business Insider that ruby chocolate shouldn't be a true "fourth variety" along with white, milk, and dark, alleging that it just tastes like raspberry-flavored white chocolate. And on Twitter, Food Network host Duff Goldman also revealed he has mixed feelings about the trendy new chocolate variety.
Here's what Duff really thinks about ruby chocolate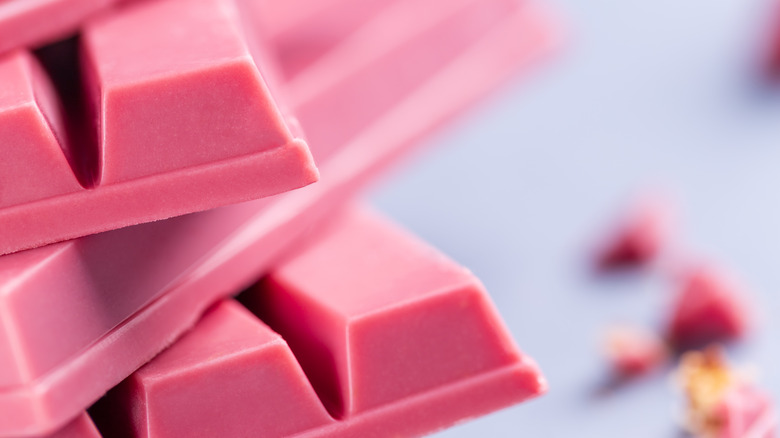 Cegli/Shutterstock
In response to a question on Twitter about ruby chocolate, "Ace of Cakes" star Duff Goldman shared that he's not the biggest fan of the bright pink confection. "I'm not a huge fan of ruby chocolate, tbh. I know it's fancy and has an interesting flavor profile and all, but if [I] want chocolate that's not milk, dark, or white, I'm getting butterscotch chips," he wrote, capping off his proclamation with a shoulder-shrug emoji.
His chocolate cred is real — the pastry chef Goldman idolizes most is Jacques Torres, a pioneer of the bean-to-bar craft chocolate movement. Plus, if anyone knows their way around uniquely colored desserts, it's Goldman. On a 2021 episode of "The Kelly Clarkson Show," he showed the singer how to make mini Christmas tree cakes using green-dyed chocolate (via Facebook). And true to his Twitter word, his delicious Food Network recipe for bourbon-spiked blondies features butterscotch chips. So maybe we should follow Duff's advice and take ruby chocolate with a grain of salt — like, say, pink Himalayan salt?