Aldi Shoppers Are Loving These Mini 'Ruby Chocolate' Ice Cream Bars
In the last few days, fans of Aldi have noticed that the store has begun to stock Magnum's Mini Rubies, an ice cream coated in ruby cacao. On Instagram, @aldi.mademedoit presented a picture of the box, asking if any followers had tried this type of Magnum product before. In response, users were divided. Two different people, for example, gushed about how they loved the sour-yet-sweet cherry-like taste of ruby chocolate. However, another wrote, "Ruby chocolate is awful, it tasted like sour white chocolate. I threw it out." So, the new item, though pretty, seems to fall just short of the marmite category of divisiveness. 
On Reddit, reactions to the Magnum Mini Rubies were more uniformly positive. As one fan wrote, "They're the best, never seen them at Aldi tho!!! Hopefully mine has them." According to other users on Reddit, the boxes can sell for $4.99 in Southern California, or as low as $3.98 in Buffalo, New York. According to Magnum's website, the Mini Ruby flavor comes in sets of six and is also available at Target. 
Ruby chocolate is not a pink-colored gimmick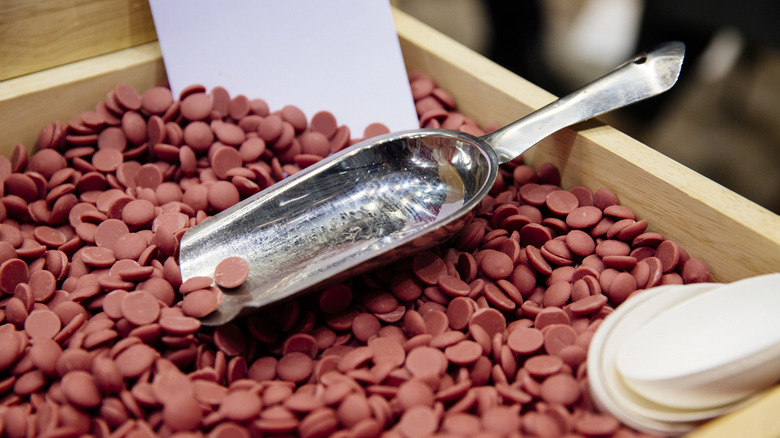 Bloomberg/Getty Images
In the caption for their post, @aldi.mademedoit admits that they "have never even heard of ruby cacao but, what ever it is I need it!" Similarly, the division between those who love and those who loathe the Magnum Mini Ruby centers on one's reaction to ruby cacao.
Notably, the sour cherry taste that people have described ruby chocolate as having is due to the fact that it's a different type of chocolate, and not the infused millennial trend that many have probably assumed it to be. The Food Network explains how in 2017, the Swiss chocolate company Barry Callebaut revealed the first new type of chocolate since 1930. They discovered that cacao beans growing in Ecuador, Brazil, and the Ivory Coast reacted to their environment by developing a fruity flavor.
Dame Cacao notes, however, that further details about ruby cacao have been held as a trade secret. They add that even years later, about half of the chocolate experts they know still suspect that the pink coloring is some kind of stunt and not a genuine innovation like white chocolate. Still, even if you're simply interested in the Magnums for the novelty of pink cacao ice cream, Aldi has readied itself to satiate your curiosity.