Moe's Menu Items, Ranked Worst To Best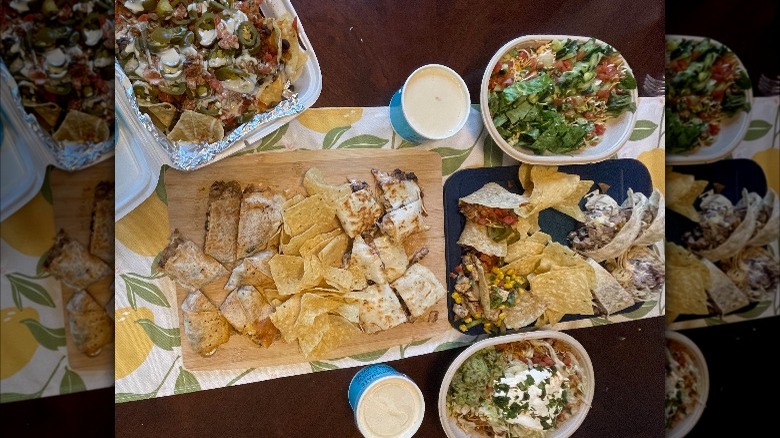 Alex Darus/Mashed
Fast-casual restaurant concepts like Chipotle and Taco Bell may be some of the most prevalent U.S.-based Tex-Mex chains, but Moe's Southwest Grill has experienced a similar rise in popularity. The company opened its first location in Atlanta, Georgia back in 2000, and has since grown to include more than 700 locations in all 50 states. The distinct atmosphere at Moe's is established the moment that customers walk through the doors. Moe's employees yell "Welcome to Moe's" every time someone enters the restaurant to make sure customers don't forget where they're dining. 
Unlike other popular brands, Moe's doesn't have a mascot. In fact, the restaurant name isn't inspired by someone named Moe. Moe's stands for Musicians, Outlaws, and Entertainers, exemplifying the brand's edginess and inspiration from pop culture. "Music is more than background noise to us," Moe's website reads, indicating Moe's customizable menu is equal in importance to the atmosphere of their restaurants. 
Moe's menu also stacks up against other major Tex-Mex chains. The queso is arguably the most buzz-worthy item, but there are plenty of other dishes worth trying. Moe's menu features the staples, like burritos and quesadillas, paired with more one-of-a-kind offerings. Mashed headed to Moe's to order one of everything on the menu to determine what's worth trying and which items you can skip. 
Moe's Salad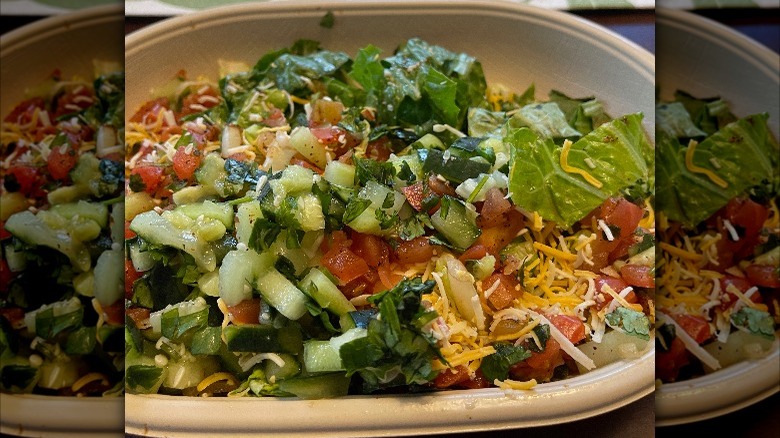 Alex Darus/Mashed
Frankly, it seems silly to go all the way to Moe's and order a salad. It's nearly sacrilegious to order a plain bowl of vegetables immediately after the staff loudly welcome you into the establishment. There are plenty of fast-casual restaurants like Panera Bread or Sweetgreen that make amazing salads, but it just isn't the focus of Moe's menu. Moe's salads feel like bowls of burrito toppings, without containing any satiating carbs. Customers can add protein options like meat or beans to their salad, but we went with a veggie-heavy option to get a sample of the basics. 
Our Moe's salad included romaine lettuce, shredded cheese, pico de gallo, diced cucumber, cilantro, and Southwest vinaigrette. The dressing was the standout on the plate, but this was an otherwise forgettable entree. It's much better to just order a burrito bowl with a rice base, as the salad felt like it was missing substance. The burrito bowl also makes you feel like actually eating something Tex-Mex, not just a bowl of nondescript toppings.
Tofu Taco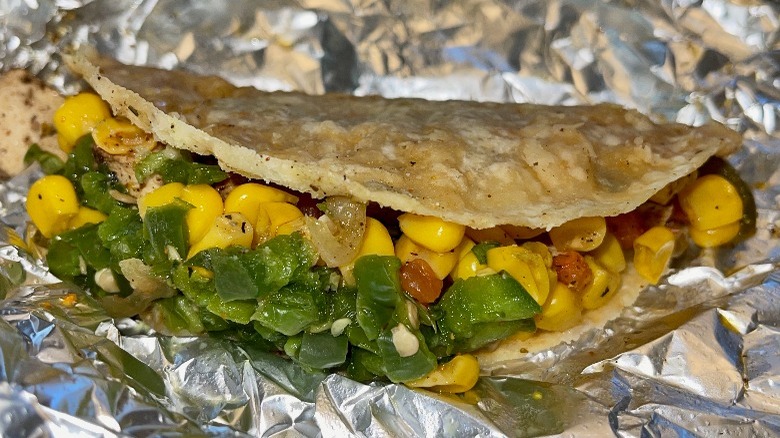 Alex Darus/Mashed
Moe's tacos aren't a much-raved-about item, so we were excited to sample the brand's take on a common fast food menu item. Unfortunately, the crispy tacos Moe's is shelling out are pretty disappointing. We ordered Moe's to-go, so it may have affected the consistency of the taco shells. They were ultimately soggy and fell apart when we tried to pick them up, which is basically the tell-tale sign of a bad taco. It's wrong to have to eat this handheld staple with a fork. 
Additionally, the tofu may be nice for someone looking for a meatless protein, but the texture was off-putting. The plant-based protein also would have benefitted from having a crispy exterior to help alleviate some of the sogginess of the dish. 
Our tofu taco also included grilled onions and peppers, corn pico de gallo, fresh jalapeños, and Southwest vinaigrette, all of which were delicious. 
Pork Taco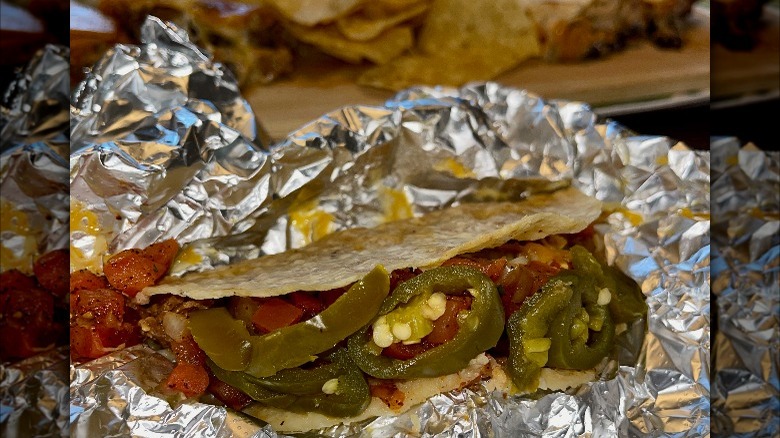 Alex Darus/Mashed
While the pork protein was tastier than the tofu, this taco also fell victim to having an unappetizing consistency. The pork was accompanied by shredded cheese, pico de gallo, pickled jalapeños, and chipotle ranch. Again, all of the toppings together were well-balanced and full of flavor. 
Other Moe's menu items are just more satisfying in the texture department, which is why the tacos are a pass. It's important to note that you can purchase a soft-shell taco for an additional fee, but it almost seems like that should be the norm as it would be a better vehicle for these ingredients. 
We would like to try the tacos again while dining in at Moe's, as they might fair better fresh off the line. If you are also planning to take your Moe's order to-go, a burrito or a quesadilla might be a better way to enjoy these otherwise delicious ingredients. 
Adobo Chicken Stack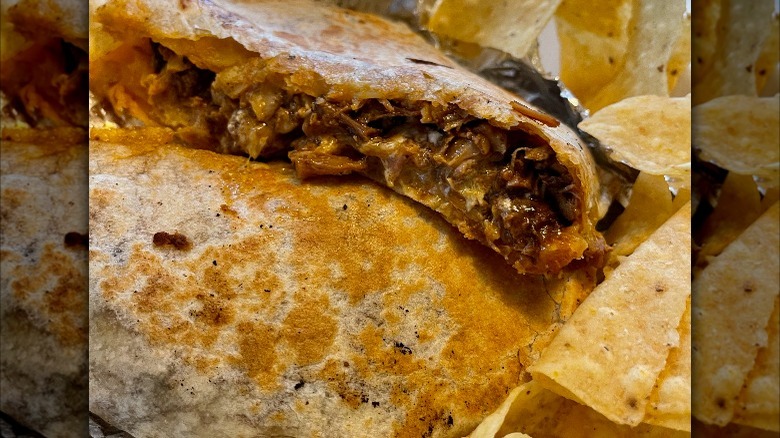 Alex Darus/Mashed
Moe's "Stack" menu items are essentially the chain's response to Taco Bell's popular Crunchwrap Supreme. A Stack is basically a quesadilla wrapped around two corn shells, filled with whatever ingredients your heart desires. We opted to include black beans, Adobo chicken, shredded cheese, queso, and sour cream. It doesn't sound like a lot of ingredients, but this was one of the biggest items out of everything we ordered. 
The Stack would be ranked higher on the list if we included almost any other protein. It was good as anticipated — the Crunchwrap formula is pretty fool-proof. However, the Adobo chicken just isn't the best meat option on the Moe's menu. If this stack featured spicy chicken or even the well-seasoned ground beef, it would have been a more satisfying meal. If you're headed to Moe's and in need of something super filling, the Stack is a solid option to try with your personal protein of choice. 
Ground Beef Nachos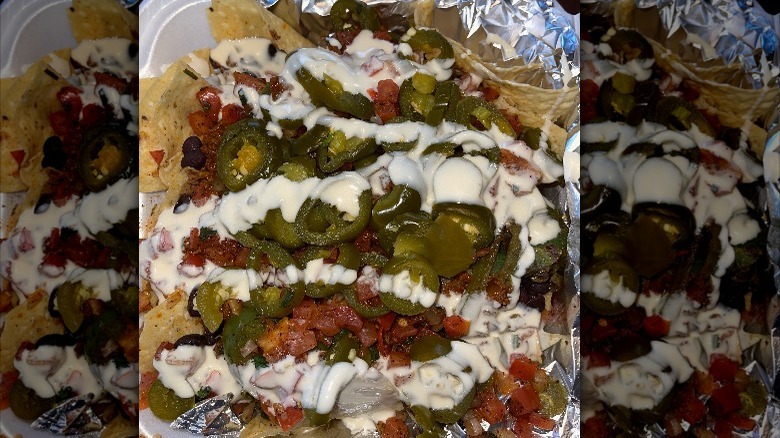 Alex Darus/Mashed
Speaking of Moe's ground beef, it was one of the most pleasant surprises on the menu. We opted to include the beef on some classic nachos, which was definitely a crowd-pleasing option for a sharable plate. These nachos included black beans, beef, grilled peppers, pico de gallo, pickled jalapeños, and queso, all of which were delicious. Honestly, if you added almost any of the options for toppings on these nachos, it would still be difficult to eat just one. 
Moe's also get props for how it packages its nachos to-go. The queso is included on the side so that you can pour it on the chips yourself. This method ensures that every bite is perfectly coated with melty cheese, which is the most important part of good nachos. The packaging also solves the issue of eating nachos with toppings that aren't evenly distributed. Pro tip: if you are eating these nachos at home, dump the container out on the plate so that the toppings get mixed up prior to dousing it with Moe's famous queso.
Moe's Steak Burrito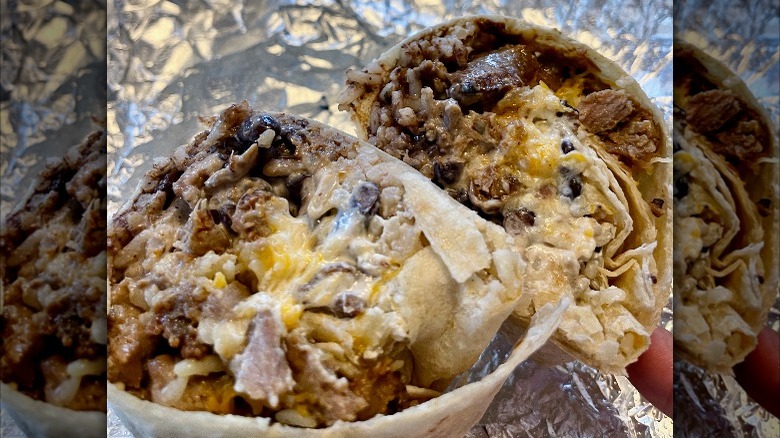 Alex Darus/Mashed
You really cannot go wrong ordering a classic burrito at Moe's. No matter what you put inside, it's always going to be delicious. The burrito is the sun that fast casual Tex-Mex chains orbit around, so it kind of has to be a solid menu item. 
Moe's Homewrecker burrito is pretty much a no-brainer option, as it includes fresh guacamole that rivals Chipotle's. We opted for a steak burrito with cilantro-lime rice, black beans, shredded cheese, and sour cream. It's also always delicious to add queso, but if you order it on the side, the burrito is also the prime menu item for dunking in the cup of cheese. 
The only reason Moe's burrito isn't the top item is that there are a few underrated gems that more people should know about. It seems like the majority of people who have dined at the chain have likely tried a burrito or burrito bowl. So if you fall in that category, it's worth trying other things, but you also can't go wrong with the classics. 
Spicy Chicken Bowl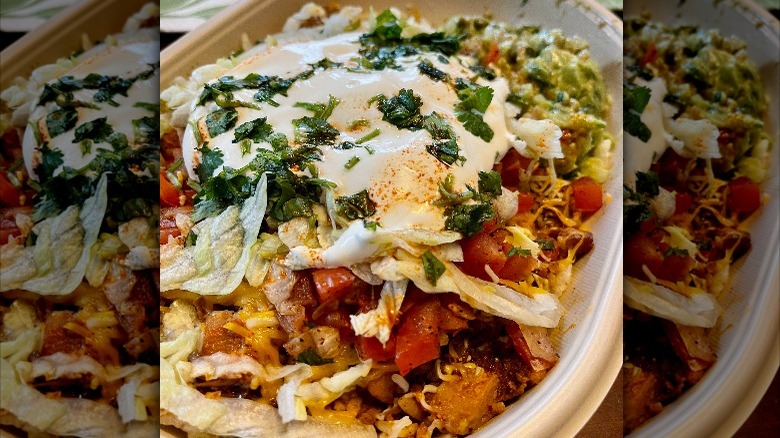 Alex Darus/Mashed
Our trip to Moe's Southwest Grill occurred when the restaurant was serving spicy chicken as a protein for a limited time only, and it was a welcomed surprise. We opted for the spicy chicken bowl, loaded with the most ingredients out of anything we ordered. The bowl included seasoned rice, pinto beans, shredded cheese, pico de gallo, shredded lettuce, cilantro, sour cream, hard rock & roll sauce, and guacamole. 
As previously mentioned, the guacamole deserves more praise. It's fresh, well-seasoned, and tastes good with almost anything on the menu. Be warned before you order this special offering — the spicy chicken really is spicy. When paired with the hard rock & roll sauce, you will be reaching for your drink every few bites because your mouth will be one fire. However, it's a prime example of good pain, as the flavors are so well-balanced that you will be willing to withstand the heat. 
Side of Queso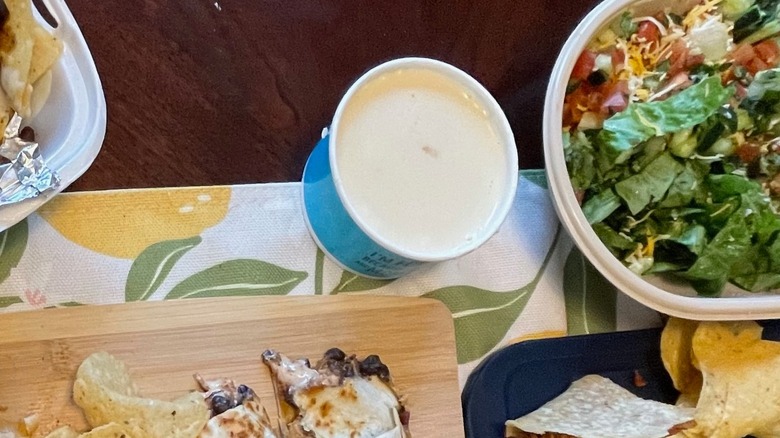 Alex Darus/Mashed
It would be a crime to rank the menu items at Moe's and not include their one and only queso. It absolutely lives up to the hype and tastes good on whatever you eat it on. At Moe's, it's totally acceptable to dunk every bite of your burrito into a personal cup of queso.
The real key aspect of Moe's recipe is the inclusion of finely-diced jalapeños. It gives the queso just the right amount of spice to cut through the luscious three-cheese blend. 
It isn't right if you go to Moe's and fail to purchase a side of queso with whatever you are ordering, if you're even bothering to get anything else at all. It's always good, and once you try it for the first time, you'll likely be always craving it. Trips to Moe's will quickly become part of your regular restaurant routine, even if it's to only get the world-famous cheese dip. 
Chicken Club Quesadilla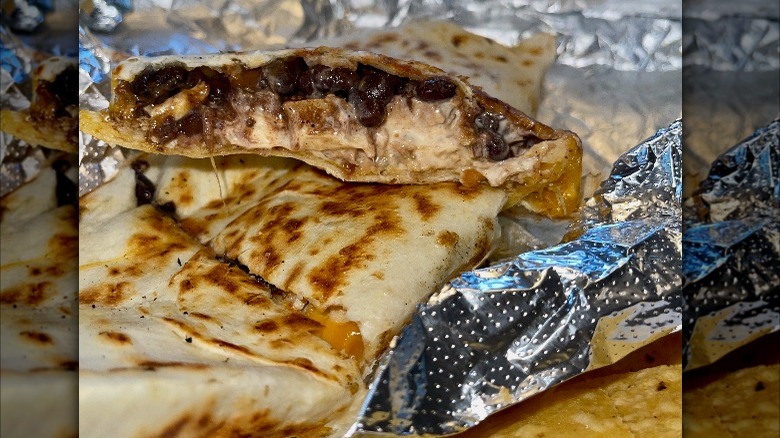 Alex Darus/Mashed
Hands-down the most surprising win on the Moe's menu is its Chicken Club Quesadilla. Typically, the item comes with white meat chicken, bacon, shredded lettuce, shredded cheese, pico de Gallo, and chipotle ranch dressing, which is a pretty good combination. In the spirit of Moe's love of customization, we altered the recipe a bit. We included white meat chicken, black beans, shredded cheese, bacon, and chipotle ranch. 
Bacon is a pretty hit-or-miss ingredient at fast food restaurants. Sometimes, it just doesn't live up to the stuff you fry up on Saturday mornings at home. Moe's bacon totally made us re-appreciate the sometimes overrated topping. The bacon adds a meatiness that pairs well with the chicken. 
Our combination was essentially a chicken, bacon, and ranch quesadilla, flavors that always taste good when you're looking for an indulgent meal. If you're bored of your regular Tex-Mex order, head to Moe's and order this quesadilla immediately. It will quickly become one of your all-time favorites, we promise.