That Time Guy Fieri Almost Set A Restaurant Dining Room On Fire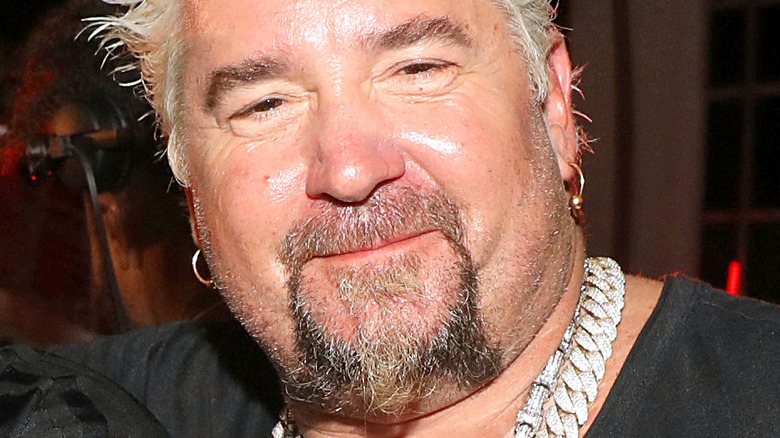 Aaron Davidson/Getty Images
Guy Fieri has traveled to nearly 1,000 restaurants since his hit Food Network show "Diners, Drive-Ins, and Dives" premiered in 2007. In that time, he's saved countless family-owned eateries from losing money or going out of business altogether (via Twin Cities Business).
Throughout his TV travels, the self-declared Mayor of Flavortown has developed a reputation for his hands-on approach and his over-the-top praises of local cooks' recipes, with iconic catchphrases like "off the hook!" This isn't just an act: Fieri only includes dishes he genuinely enjoys on his show, per the Tampa Bay Times.
Fieri is also known for his signature look of spiky hair and sunglasses, which he sometimes wears backward. And although Fieri himself actually hates that meme-worthy flame bowling shirt he's become associated with (via Esquire), he's no stranger to fire. In fact, while working at a restaurant years before he ever appeared on Food Network, he almost set the dining room ablaze in the middle of a busy dinner!
Guy Fieri should've called Flavortown's fire department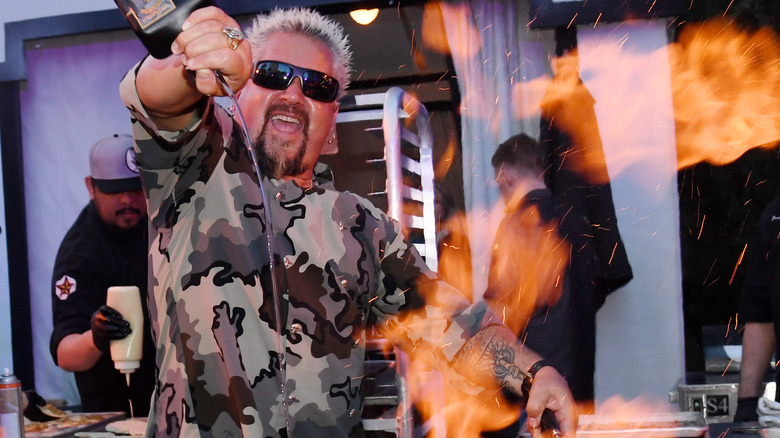 Ethan Miller/Getty Images
In a Food Network video compiling chefs' stories of their worst cooking disasters, Guy Fieri shared a harrowing memory from a former job as a flambé captain. As an eye-popping finishing effect, Fieri would impress diners by deglazing the pan tableside with brandy, so the dish finished in a fragrant burst of flame before Fieri plated it in front of them. One time, though, things didn't go exactly as planned on Fieri's flambé cart.
"The flaming liquid comes out of my pan and goes over the side of my cart," Fieri said in the video. "As I'm cooking and trying to plate the dishes, I notice that the flames are tickling up." But he had to complete the effect, so he served the dish and tried to make it back to the kitchen as quickly as possible.
"My cart's on fire, and I'm pushing it through the dining room — completely on fire," he continued. "Burned the cart, burned the dining room table, and almost got fired."
Good thing this incident didn't dissuade Fieri from continuing to pursue a career in food — although maybe he shouldn't follow the internet's imagination of him as James Bond, aka "Flames Bond," since he might not be as subtle a secret agent as the classic 007.