Inside Buddy Valastro's Relationship With His Daughter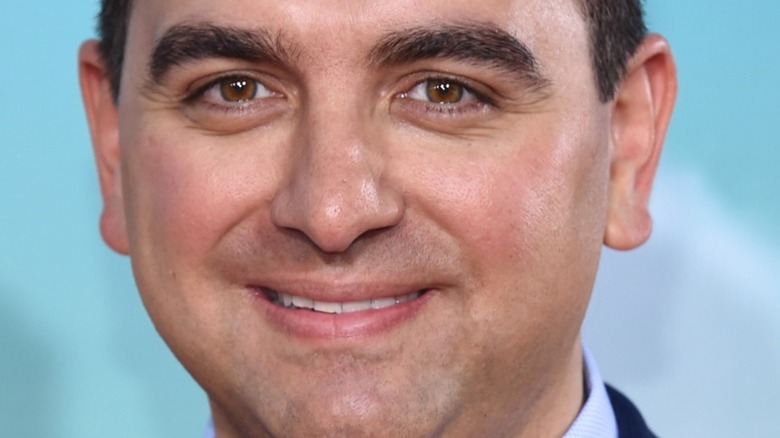 DFree/Shutterstock
Buddy Valastro's big Italian family is prominently featured in the hit TLC series "Cake Boss." His sisters and brothers-in-law have worked alongside him since the very beginning and although they argue at times, like they did in the very first episode of the show, Buddy wouldn't have it any other way. "If I weren't doing this everyday with my family around me, I don't know that I could work this hard for someone else," Valastro told Entrepreneur. "It works for us because of the love and the passion, and we were born into it."
The baker's four children, Sofia, Buddy Jr., Marco, and Carlo, also make appearances in the bakery to help out. In fact, Valastro recently shared a video on Instagram of 19-year-old Sofia designing the Easter cookies for Carlo's Bakery. The "Cake Boss" was beaming with pride at her creations and said, "These look beautiful, I'm really proud of you baby," as he kissed her on the head. This isn't the first time the proud father has gushed about his eldest daughter. His Instagram is filled with sweet posts about their special relationship.
He's supportive of her endeavors
Acclaimed pastry chef Buddy Valastro recently went through an experience that every parent dreads, dropping their child off at college. His eldest daughter, Sofia, began her college journey at the University of Delaware in the summer of 2021, and her dad made a sweet Twitter post to commemorate the occasion. "Just left a piece of my heart at @UDelaware," Valastro tweeted. "We are so proud on [sp] how far you've come and we have faith in how far you can go. Thank you for filling our hearts with pride and joy. We love and miss you already."
Since the Valastro family resides in Montville, New Jersey, visiting their daughter is not too long of a trip. A couple of months ago, the "Cake Boss" posted a sweet photo of him visiting Sofia at college on Instagram, kissing her on the cheek. "Visiting my @fiav_21 These are the important things in life, so happy to spend the weekend with you," Valastro said in the caption. Although having a dad that frequently posts about you on social media sounds annoying, especially for a teenager, Sofia returns the love on her own Instagram.
She's proud to be the 'Cake Boss' Daughter'
Sometimes children of celebrities shy away from fame, but Sofia Valastro proudly declares that she is the "Cake Boss' Daughter" in her Instagram bio. The Valastros are big on birthday Instagram posts, which you can tell from scrolling through Sofia and Buddy's feeds, and Sofia always has a sweet message for her dad. She posted this adorable throwback of her and her dad at the bakery a couple of months ago, and the caption reads: "Happy birthday to the best dad in the world!! Thank you for always being there for me! Love your little bear."
Although a lot of teenagers are striving for that curated look on their Instagram, Sofia seems to never miss a birthday post for her parents. She made a collage of photos in honor of her dad last year and the year before that was a photo from her birthday party. In all of her posts, she declares Buddy is "the best dad in the world," and in the teenager world, that's extremely high praise.