Buddy Valastro's Family Made Him A Birthday Cake And Instagram Is Loving It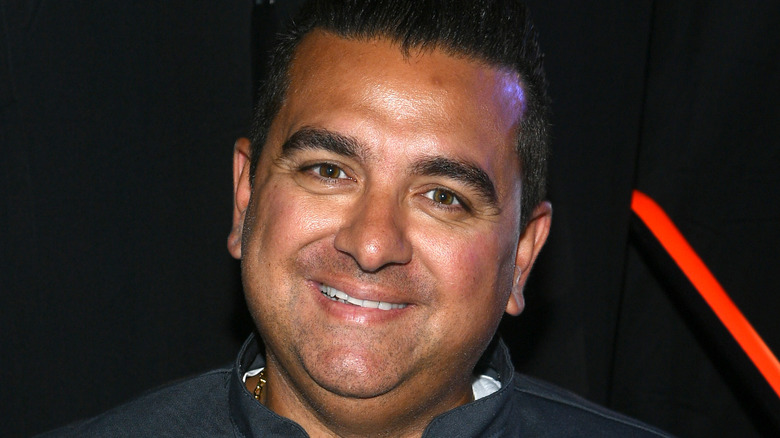 Dave Kotinsky/Getty Images
For other people's birthdays, Buddy Valastro has sent out sweet messages on social media, like his birthday shoutout to Guy Fieri on Instagram. Fans of the "Cake Boss" host also loved the birthday cake he made for Gigi Hadid's daughter on her first birthday (via Twitter). But recently, it was Valastro's birthday, and it was his turn to get birthday messages as well as a special dessert. According to a recent Instagram post, for his birthday, Valastro celebrated with a cake that was made by Lisa, his wife, and his kids.
Valastro received plenty of love from other celebrity chefs and fans on his Instagram post, which received more than 200,000 likes. Chef Anne Burrell wrote, "Big FAT happy birthday Buddy!!!" with heart and cake emojis, and Zoë François, Cat Cora, and Guga Rocha also wrote him birthday wishes. One fan wrote that Valastro's wife, Lisa, "did a great job" with his cake, and another fan said, "One of the few people on earth who can have his cake and eat it too! Enjoy your special day."
What did Buddy Valastro's family put on his birthday cake?
If you're making a cake for the "Cake Boss," you're going to want to take this cake to the next level, and Valastro's wife and kids definitely put their time and energy into making this cake special. According to Valastro's Instagram caption, this cake has "all the nostalgic treats that [he] grew up with," and he called the birthday cake "amazing and thoughtful."
Based on the photos on Instagram, this dessert has multiple layers and is topped with treats like Twinkies, Ring Dings, Yodels, Devil Dogs, and Wise potato chips. There's also blue frosting that says, "Happy Birthday Dad." Besides the snapshot of him smiling with the special celebratory food, Valastro also posted photos of elaborate balloon displays. There was even a replica of him made with balloons, complete with a chef's hat with his name written on it. While there's a lot you might not know about the Cake Boss' family, it's clear from this birthday celebration that his wife and kids wanted Valastro to have an extra special day.