Why Fans Think They Spotted Rachael Ray On The Masked Singer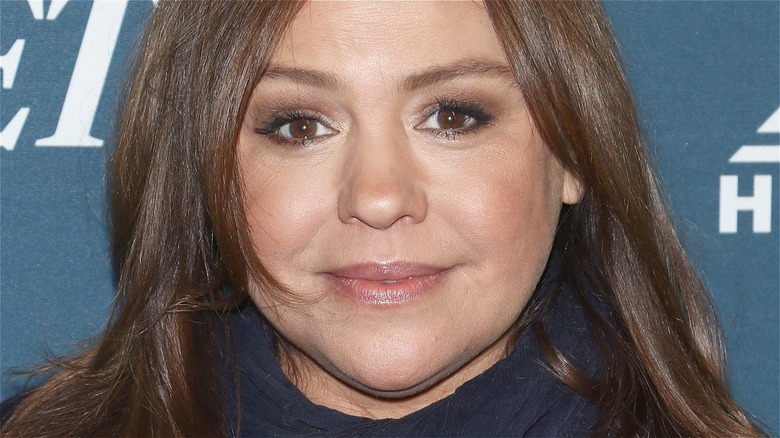 Jim Spellman/Getty
"The Masked Singer" has a new cast of characters, and there are those who believe celebrity cook Rachael Ray may be one of them. That's right, suspicions have arisen that the "30 Minute Meal" diva joined her peer Duff Goldman, who dedicated his appearance to his daughter (and who's already been eliminated), as part of this season's cast (via Daily Mail). 
Newsweek recently reported that the wildly popular singing competition show, which places celebrities in big, head-to-toe costumes and dribbles out clues to a panel of judges to help them guess who is behind the mask, just started round three. While the Jack in the Box was recently unmasked to reveal Rudy Giuliani, viewers are still trying to piece together who is decked out as a Baby Mammoth, Prince, Queen Cobra, and Space Bunny. Theories abound, and Baby Mammoth especially seems to be an audience favorite. Could this be Ray?
Per Talent Recap, there are fans of the reality show that believe Ray may be hiding out behind the pink fluffy Baby Mammoth costume, including judge Robin Thicke. But based on Ray's past comments, you probably shouldn't be placing any bets on this one, and here's why.
Is it really Ray? She has a fear of those costumes
If you are among the group that believes Rachael Ray is the super cute Baby Mammoth, maybe don't hold your breath. Back in 2019, some thought Ray was the Christmas Tree (via Twitter), but as we now know, she was not. And then there was the time Ray shared in an interview with Joey Fatone that she has a phobia when it comes to those giant costumes they wear on the show.
Per the Rachael Ray Show, Fatone went on to ask Ray about the rumor mill that pegged her as the Raven on the show. Ray was hilariously quick on her feet and said, "Not only [are people suggesting that I would] put on that creepy costume, which scares the hell out me, but that I would go on television with this goofy voice and sing anything!" But she didn't stop there. Ray emphatically declared, "I would never do that show in 10,000 years for any amount of money." She also chalked it up to not having the bravery to do so. However, if you are looking for a glimmer of hope, she did concede to Fatone, "It looks like a blast." So is the Baby Mammoth Ray? Only time will tell.