Traditional Green Bean Casserole Recipe
Erin Johnson/Mashed
Green bean casserole is one of the most popular side dishes when the family gathers around the table for Thanksgiving dinner, but it's certainly not limited to just one holiday. Many people bake this dish in a casserole pan and pop it in the oven, but the method for this recipe is a little more traditional. You cook most of the ingredients in an oven-proof skillet before transferring the skillet to your oven to complete baking. Top the casserole with some crispy onions, and you have a side dish that people will rave about for days to come.
Recipe developer Erin Johnson came up with this tasty green bean casserole recipe that makes us feel totally nostalgic. "Green bean casserole was always one of my favorite family dinner side dishes growing up, but it has felt lackluster as an adult," Johnson explains. "This is the traditional, amplified [version] and is so worth the effort." Another plus is that you can use the sauce in other ways. "The creamy mushroom sauce also goes well poured over grilled pork chops and can be used in place of cream of mushroom soup in any recipe," Johnson notes. 
Gather the ingredients for green bean casserole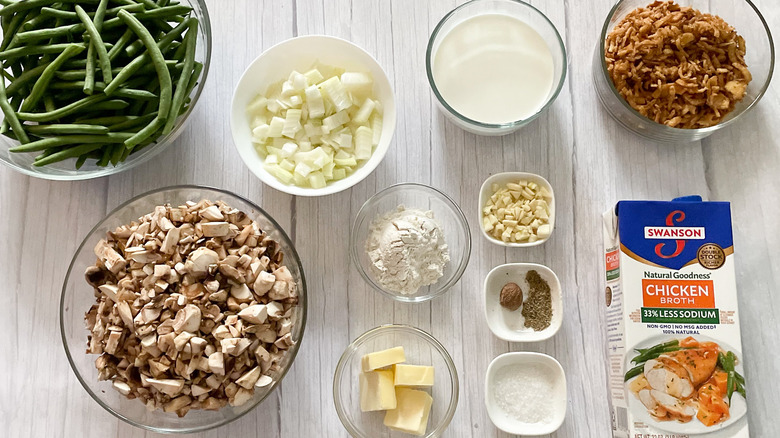 Erin Johnson/Mashed
Before you do anything else, you will need to gather all the necessary ingredients to whip up this tasty side. Pick up butter, onion, garlic, mushrooms, flour, half and half, chicken broth, nutmeg, salt, pepper, fresh green beans, and crispy fried onions.
Preheat the oven and saute onion and garlic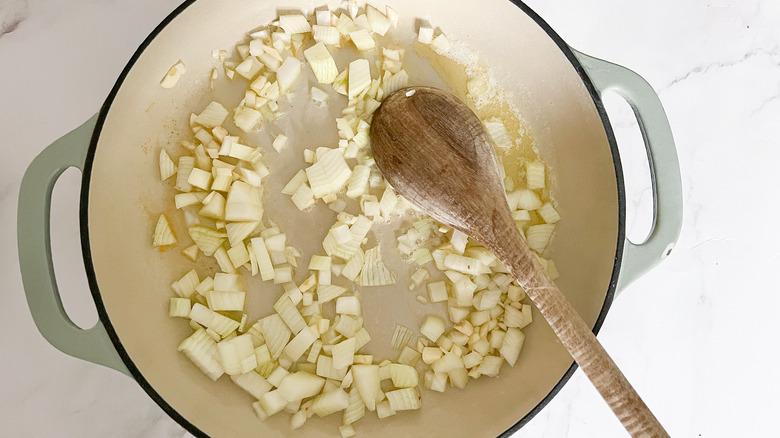 Erin Johnson/Mashed
This recipe requires an oven, so go ahead and preheat it to 350 F. Next, grab an oven-proof skillet and place it on your range. Melt 3 tablespoons of butter and add the garlic and onion that you chopped ahead of time. Sauté these ingredients until they become fragrant, which should only take a minute or two.
Add the mushrooms and flour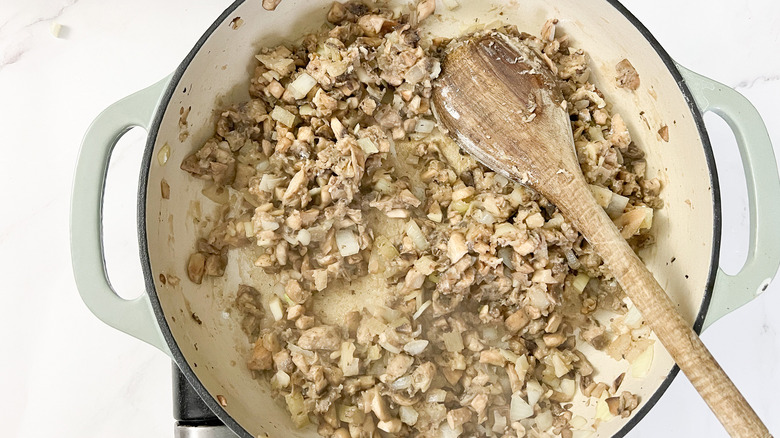 Erin Johnson/Mashed
Toss in the mushrooms with the onion and garlic and cook for about 5 minutes. Then, add the remaining tablespoon of butter to the pan, followed by the flour. Be sure to stir to distribute the butter and flour with all the other ingredients. Allow everything to cook together for about 2 minutes or so.
Add the half and half, chicken stock, seasoning, and green beans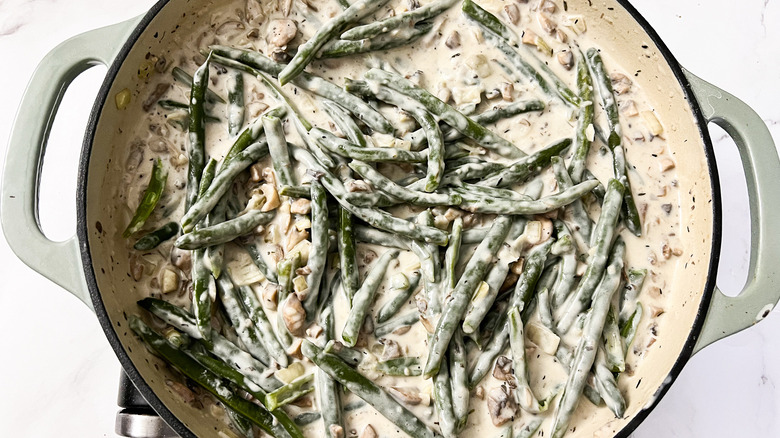 Erin Johnson/Mashed
Ready to add a little bit of liquid to the mix? Just pour in the half and half and chicken stock with the other ingredients. Then, season with salt and pepper, based on your preferences.
Last but not least, it's time for the green beans to go in, and Johnson recommends using blanched ones. "Blanching the green beans means cooking them in boiling water for a few minutes to tenderize them and helps to preserve their vibrant green color," Johnson notes. "It's not absolutely necessary, especially if you like crisp green beans. You could also sub in cooked frozen or canned green beans if you want the casserole to be more reminiscent of the traditional."
Bake the green bean casserole and enjoy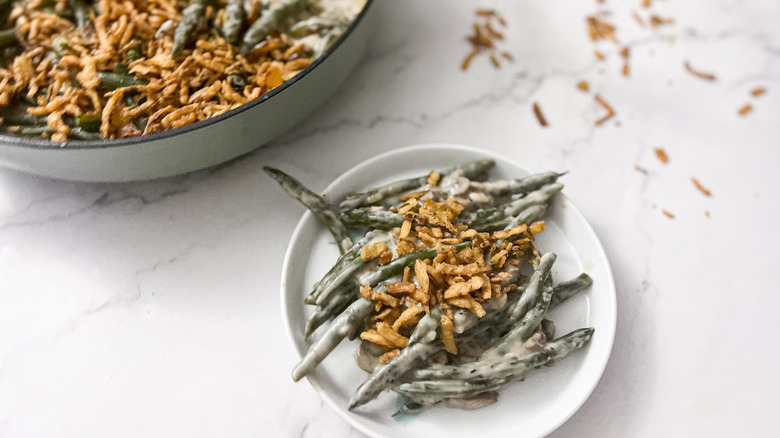 Erin Johnson/Mashed
Put the skillet into your preheated oven and cook for 20 minutes. Once your timer goes off, add the fried onions and pop the skillet back in for an additional 10 minutes. Once you remove the green bean casserole, you can serve it as a side. "This pairs well with baked chicken or roast beef. It really can work with almost any grilled or roasted protein. It should absolutely make its way into holiday meals, too," Johnson says. If you have anything leftover, you can easily store them for up to three days.
Traditional Green Bean Casserole Recipe
Who doesn't love a good green bean casserole? With this traditional recipe, you'll enjoy an abundance of flavors that makes for a perfect side dish.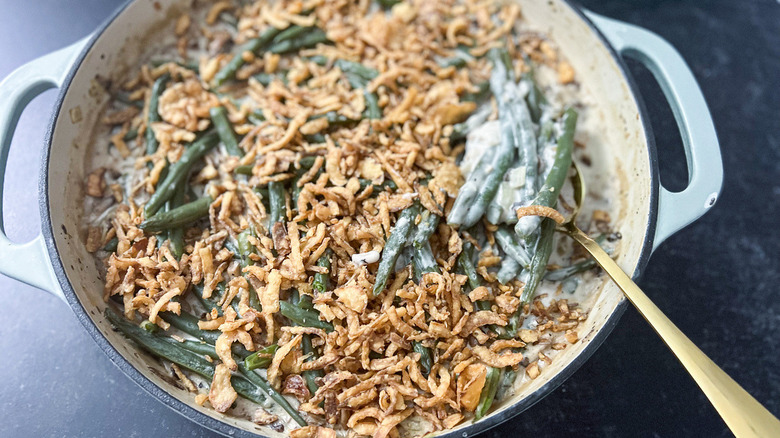 Ingredients
4 tablespoons butter, divided
1 onion, chopped
3 cloves garlic, minced
16 ounces mushrooms, chopped
¼ cup flour
1 cup half and half
1 cup chicken broth
⅛ teaspoon nutmeg
salt, to taste
pepper, to taste
1 ½ pounds fresh green beans, blanched
1 ½ cups crispy fried onions
Directions
Preheat the oven to 350 F.
In an oven-proof skillet, melt 3 tablespoons of butter and sauté the onion and garlic until fragrant.
Add the mushrooms and cook for 5 minutes.
Add the remaining tablespoon of butter to the pan and add the flour, stirring to distribute. Allow to cook for 2 minutes.
Pour in the half and half and chicken stock.
Season with salt, pepper, and nutmeg.
Add the green beans into the sauce, and stir to coat all the beans.
Bake the casserole for 20 minutes.
Sprinkle on the crispy fried onions, then bake for 10 more minutes
Serve as a side dish and enjoy.
Nutrition
| | |
| --- | --- |
| Calories per Serving | 366 |
| Total Fat | 21.4 g |
| Saturated Fat | 10.6 g |
| Trans Fat | 0.3 g |
| Cholesterol | 36.5 mg |
| | |
| --- | --- |
| Total Carbohydrates | 38.0 g |
| Dietary Fiber | 5.7 g |
| Total Sugars | 8.5 g |
| Sodium | 847.1 mg |
| Protein | 9.5 g |