Juicy Grilled Pork Chops Recipe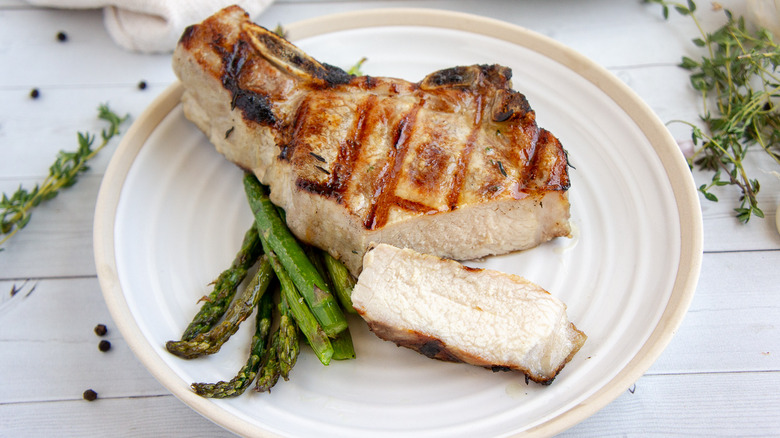 Mikayla Marin/Mashed
A tender, well-seasoned pork chop caramelized over a bed of hot coals or a gas flame is pretty hard to beat during the summer grilling season. The trick that most home cooks struggle with is how to keep them juicy every single time. If we have your attention when talking about scrumptiously delicious grilled pork chops that you can easily make for dinner tonight, you will want to read on to learn how to prepare this juicy grilled pork chop recipe.
We think you should ditch the dry, tough pork chops for good, so we're sharing this dish from recipe developer Mikayla Marin over at The Flour Handprint. Read on to learn the key steps to cooking up juicy grilled pork chops every single time you make them. With a simple brining technique and just as simple grilling method we'll be sharing today, you'll know just how to achieve that perfect medium, juicy chop on your grill.
Our brine is easy and delicious, but we'll also be giving you helpful hints on how to customize it. Creating a grilling menu centered around a couple of juicy pork chops will be easy, fun, and of course, absolutely delicious!
What ingredients you'll need to successfully prepare these juicy grilled pork chops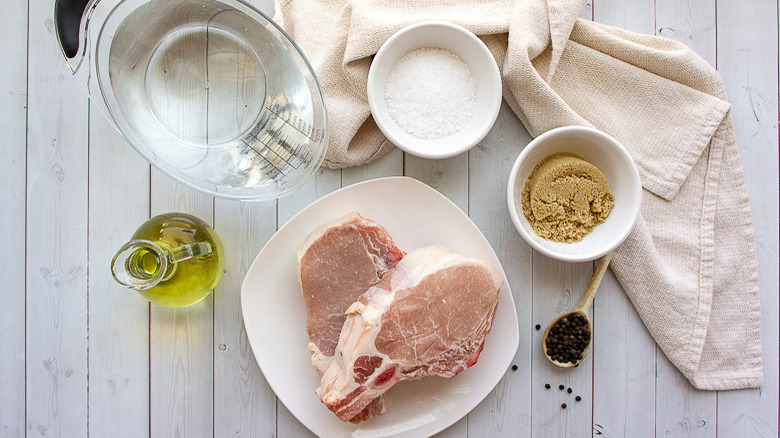 Mikayla Marin/Mashed
The beauty of this juicy grilled pork chop recipe is its pure simplicity. You will only need five ingredients — pork chops included — in order to make a perfectly seasoned, perfectly cooked chop every time.
You'll be starting with a simple brine of 4 cups of water, ¼ cup of sugar, ¼ cup of salt, and just ½ tablespoon of peppercorns. We recommend using a good kosher salt instead of table salt for the very best flavor. And although we're using brown sugar, feel free to use white or even an alternative like honey or agave instead. Whole black peppercorns are the finishing touch, but you can use whatever color peppercorns you have on hand.
Aside from the brine, all you need are two bone-in pork chops, about 3 tablespoons of high heat oil, and a hot grill to get going. You'll already have most of what you need right in your kitchen, so let's get started!
Select your pork chops with care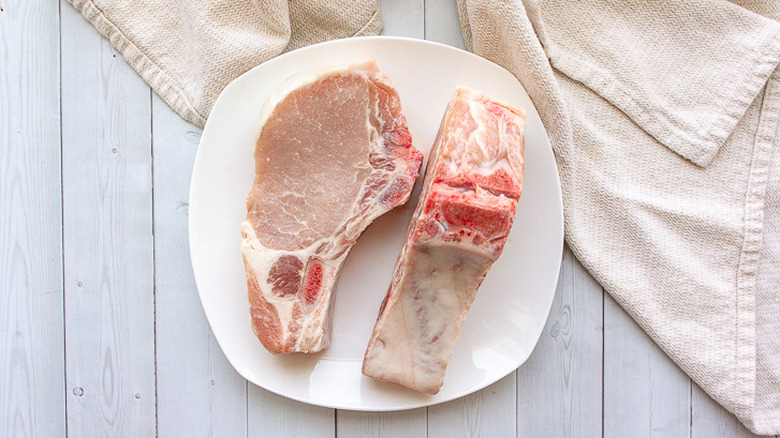 Mikayla Marin/Mashed
When it comes to grilling — especially with pork chops — the cut does matter. Thinly sliced boneless pork chops are a recipe for frustration on a hot grill when you're after juicy and tender. Instead, opt for bone-in chops that are at least 1 inch thick. You can use boneless if you prefer, but choose only the nice thick ones. The thickness ensures you'll be able to properly sear both sides and get it to the correct internal temperature without overcooking it (which is when things get dry).
Rib chops or loin chops will both work, but we'll be using rib chops that are 1 ½ inches thick. You can use what you're able to pick up or whatever is your preference.
Optional ingredients can customize the brine or the grill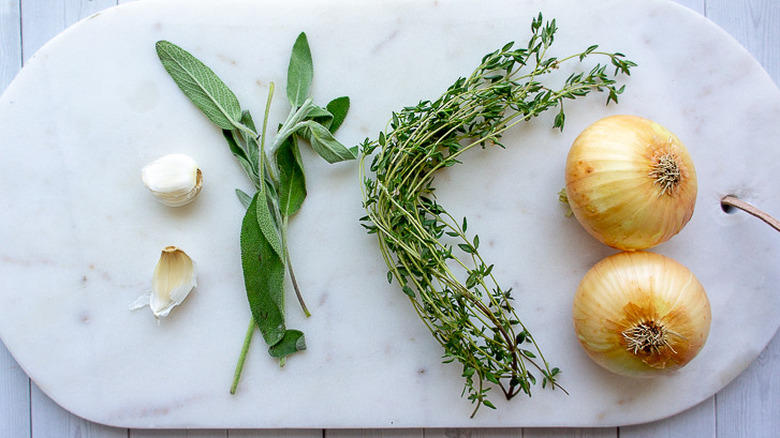 Mikayla Marin/Mashed
Think of both pork chops and a brine like blank canvases. A basic brine is just water and salt, anything else you add is for flavor. We're adding sugar and peppercorns to balance the salt out and create a flavorful juicy chop, but it doesn't always have to end there. You could add additional whole spices like cumin, coriander, or mustard seeds that have been slightly crushed to release their flavors. Or, go for aromatics like garlic or onion for a familiar flavor infusion. 
Likewise, herbs can be lightly crushed to release their oils and added to a brine as well. But if a herb infused chop sounds like too much herb for you, or you forgot but still want to add the flavor, you can add it to the chop after the brine. We'll show you exactly how to do that on the grill. Have fun with any recipe and personalize it for your family. They're going to love it whatever you decide to add.
Make the brine by dissolving the sugar and salt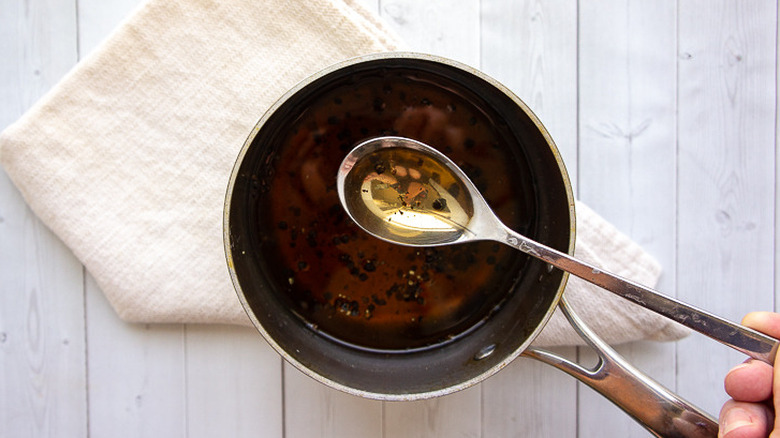 Mikayla Marin/Mashed
Before we can use the brine to make our pork chops delicious, first we have to make it. This is really easy to get done quickly. First, add half of the water into a saucepan with the salt, sugar, and peppercorns. We recommend crushing the peppercorns a bit to help their flavor release into the water.
Place the pan over medium heat until the sugar and salt have both dissolved. Note that there's no need to boil it — in fact, it's better that you don't! We'll need to cool this back down before we can put the chops in it, and that's much easier to do when the water is only warmed up enough to dissolve the salt and sugar. Stirring while it heats up can make the salt and sugar dissolve even faster, so start stirring.
Chill down the brine before adding the meat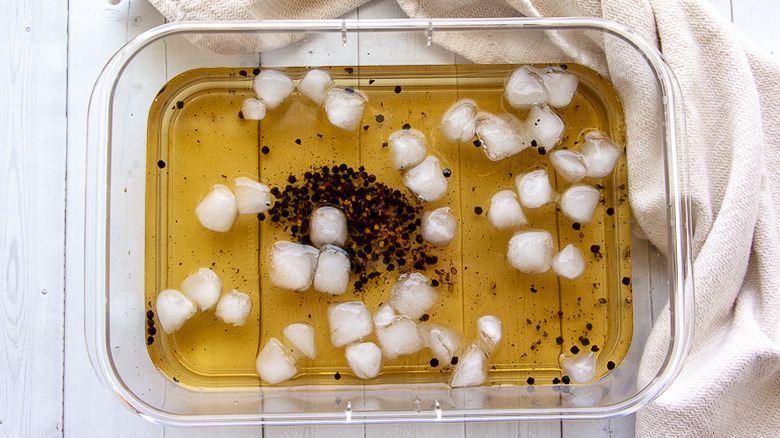 Mikayla Marin/Mashed
Once the salt and sugar have dissolved, take the pot off the heat and fill your 2-cup measuring cup with ice, then add enough water to reach the 2-cup line. Pour it into a wide, sealable container that is big enough to hold your pork chops, but small enough to make sure the chops are submerged.
Add the hot brine to the ice water, and stir until the ice cubes have dissolved. The brine should now be cooled to room temperature. If it still feels warm, add a few more ice cubes, or just let it cool for another 10 minutes or so.
If you're really not into heating it up, you can make a brine without heat. Simply combine all the ingredients for the brine into your container, and let it sit until the sugar and water have dissolved, stirring occasionally. This takes a lot longer with cool water, so it's best to do this in the morning long before you're ready to soak your chops. Give yourself enough time to go through the steps — you won't be disappointed.
Add the chops, and let them chill for four hours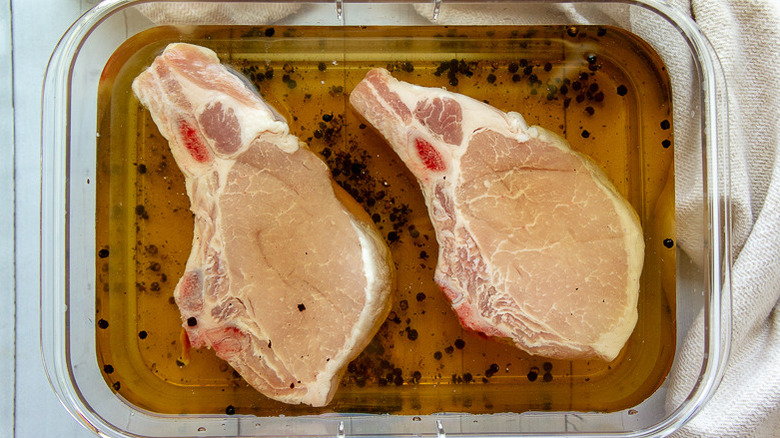 Mikayla Marin/Mashed
A brine is going to be most effective the longer the meat sits in it. We tested it at different increments, and a four-hour brine produces the juiciest and best flavored grilled chop without a doubt. In a pinch, one to two hours is still better than nothing, but be careful not to let it go much past four hours. Too long in a brine, and your meat will get pretty salty, and way too long in a brine can even turn your chops to mush!
Just submerge the chops in the brine, seal the container, and pop it in the fridge for three and a half hours. Then, pull them back out for the last 30 minutes so they can start to come back closer to room temperature. Putting cold meat in a hot pan or on a hot grill can lead to uneven cooking in the middle, so just bring them out long enough to let the chill of the fridge lift a little while you get your grill prepped.
Pat dry and coat the pork chops with oil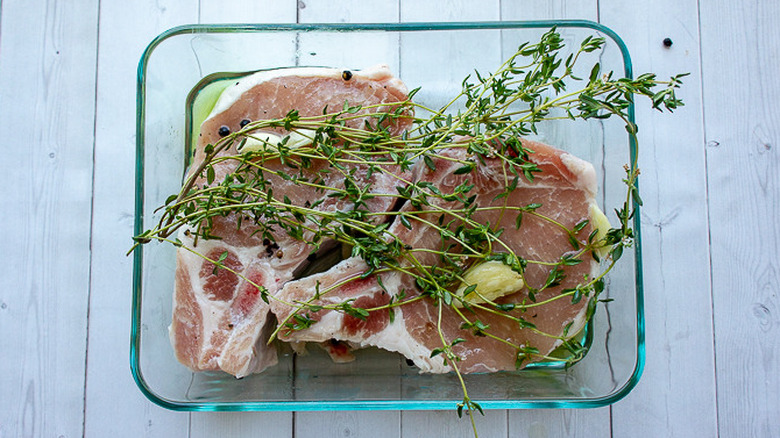 Mikayla Marin/Mashed
At the four-hour mark, pour off the brine, and remove the pork chops to a paper towel-lined plate. Pat them dry thoroughly, but do not rinse them off. That will remove the precious brine you so patiently dressed them with.
Once they're patted off, it's time to oil them. Remember how we said it wouldn't be too late to add flavor if you didn't add it to the brine? Now is the time to do it.
We smashed a few garlic cloves to release the flavorful oils inside, then rubbed the pork chops with them. You could easily do the same with onions. Next, we coated them in oil. Then, once oiled, we placed a few sprigs of thyme on top that will hang out with the chops on the grill and share just enough of the herbaceous, fresh flavor we like.
Get your grill hot and ready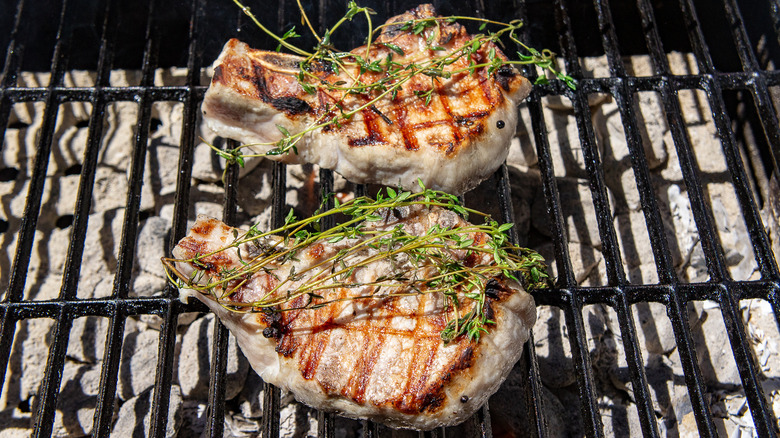 Mikayla Marin/Mashed
Be excited, because it's time to grill — and we're pretty certain your crew is hungry for your delicious dinner. The key to perfectly juicy, grilled pork chops is using a direct heat source that will sear and caramelize the outsides of your pork chops and cook them to a tender medium all at once.
If you are using a gas grill, go for a medium-high heat. For a charcoal grill like we used, build a bed of hot coals wide enough to place both chops over it, about 6 inches from the bottom of the grill grate. Once your grill is hot and ready, your chops can go on and start cooking.
Grill the pork chops for seven minutes on each side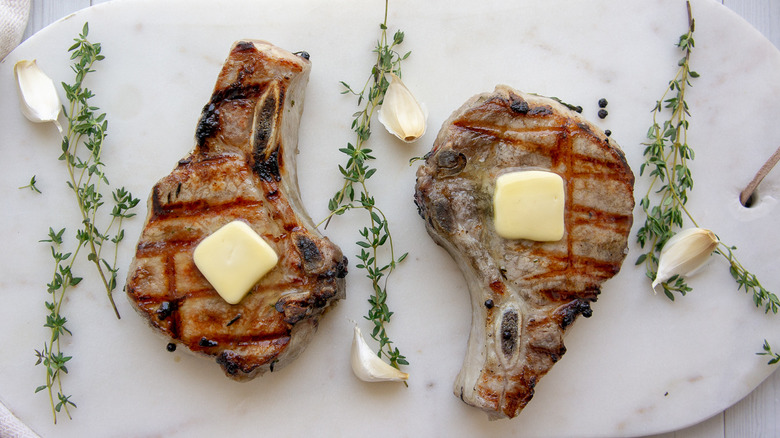 Mikayla Marin/Mashed
For our 1 ½-inch thick, bone-in rib chops, we cooked them over the direct heat for seven minutes on each side. For larger chops, you may need to add a few minutes, and for thinner, reduce the cook time.
Keep an eye on things, if the flames get too big and are lapping at the underside of the chop, lower the grill grate or momentarily move the chop. (Little inconsistent flareups are no big deal.) Cook them until they're beautifully caramelized on both sides and have reached the internal temperature of 145 F. We prefer to pull them from the grill as soon as they reach 140 F and let them finish coming up to temperature while they rest. (We also love to add a dab of butter on top for extra deliciousness!)
After the resting period — about 10 minutes or so — slice into your juicy chops, and enjoy well-seasoned, tender pork fresh from the grill. If there happen to be any leftovers, store them sealed in the fridge for up to three days, and make the best sliced pork sandwiches for lunch the next day. There are so many delicious sides you can make to complement this dish, too. Consider a side salad, corn, or fresh potato salad. The meal will look amazing, and you will have lots of happy eaters around the table.
Juicy Grilled Pork Chops Recipe
A tender, well-seasoned pork chop caramelized over a bed of hot coals or a gas flame is pretty hard to beat during the summer grilling season.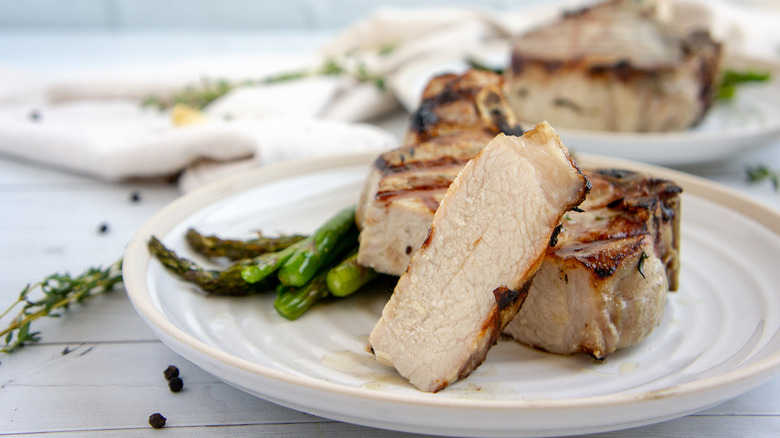 Ingredients
4 cups water
¼ cup brown sugar
¼ cup kosher salt
½ tablespoon whole black pepper, crushed lightly
2 (1 to 2-inch-thick) bone-in pork chops
3 tablespoons oil
Optional Ingredients
3 cloves garlic
½ small onion
3 to 4 sprigs fresh herbs
Directions
Heat 2 cups of water in a saucepan with the sugar, salt, and crushed peppercorns just until the sugar and salt have dissolved.
Fill a 2-cup measuring cup with ice, then with water, and pour into a large sealable container. Pour the hot brine into the ice water, and stir until the ice is melted.
When the brine is cooled to room temperature, place in the two pork chops so they're submerged, and cover tightly. Place in the fridge for 3 ½ hours.
After 3 ½ hours, pull the pork chops from the fridge, and let them stand in the brine at room temperature while you prep the grill.
Build a bed of coals, or light your grill so you can place both chops over a direct heat source with medium-high heat.
Remove the chops from the brine, and gently pat off excess liquid. Rub with crushed garlic cloves or half an onion, if using, then coat with the oil.
Place on the heat topped with any herbs, if desired. Keep an eye on flareups. Small flickering flames are okay, big fire is not. For large flames, move the chops, or lower your coals away from the grate if your grill allows.
Let them cook over direct heat for 7 minutes on each side, or until your chops reach an internal temperature of 140 F.
Let them rest for 10 minutes, and serve hot with a dab of butter.
Nutrition
| | |
| --- | --- |
| Calories per Serving | 597 |
| Total Fat | 39.0 g |
| Saturated Fat | 7.5 g |
| Trans Fat | 0.3 g |
| Cholesterol | 137.3 mg |
| | |
| --- | --- |
| Total Carbohydrates | 18.9 g |
| Dietary Fiber | 0.4 g |
| Total Sugars | 17.6 g |
| Sodium | 1,660.0 mg |
| Protein | 41.4 g |