How Green Bean Casserole Was Really Invented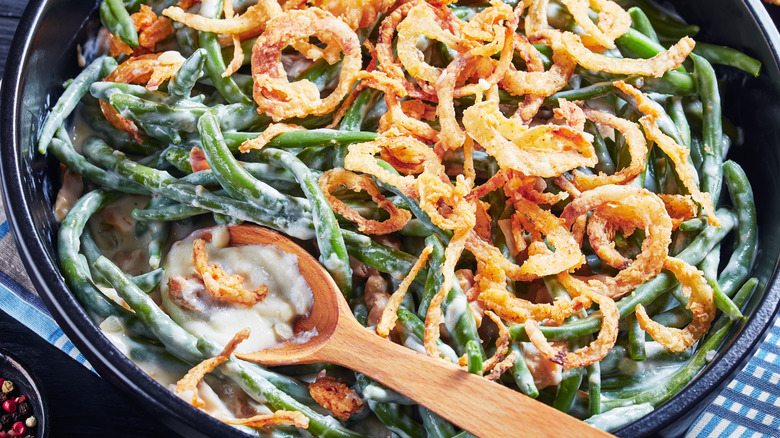 from my point of view/Shutterstock
For many of us, Thanksgiving is as much about the side dishes as it as about the roasted turkey. There's the stuffing — or dressing, depending on where you live — filled with savory, herbed deliciousness. There are the mashed potatoes, whipped to perfection and drowning in a sea of glistening gravy. There are the fluffy rolls hot out of the oven, dripping with melted butter. There's the cranberry sauce, with its chunky, tangy flavor perfect for offsetting hunks of turkey. And then, on many Americans' tables, there's the green bean casserole.
Typically made with string beans, cream of mushroom soup, and crispy fried onions, green bean casserole is a classic Thanksgiving side dish. However, it's not the most popular — a recent survey by Harris Poll found that a quarter of people say green bean casserole is their least favorite Thanksgiving side (via It's a Southern Thing). Regardless of how you feel about it, the dish has an interesting past. Here's how the traditional holiday food came to be.
A Campbell's employee came up with the idea for green bean casserole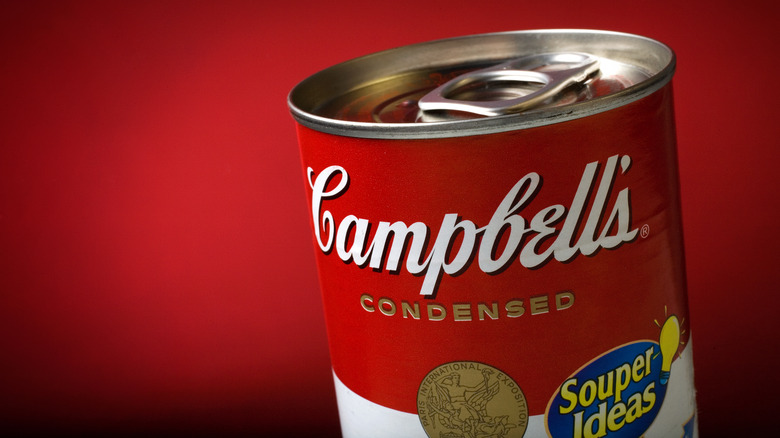 Velho Junior/Shutterstock
While you might be using Grandma's recipe for green bean casserole for your own Thanksgiving dinner, sorry to break it to you but she isn't the one who invented the classic holiday side dish. That credit goes to Dorcas Reilly, a former Campbell's employee (via Mental Floss). During her time working as a test kitchen supervisor at the popular brand in the 1950s, she was tasked with creating recipes to publish on the back of Campbell's soup cans. According to the official website, Reilly was one of the first full-time members of the company's Home Economics department. 
Her recipe, originally titled "Green Bean Bake," consisted of just six ingredients and it was seen on Campbell's condensed cream of mushroom soup cans, where it still appears today. The online version is viewed 4 million times on Thanksgiving Day, per Campbell's. The ingredients include green beans (fresh, not frozen), cream of mushroom soup, soy sauce, milk, black pepper, and fried onions. If you want to see Dorcas' original recipe card for green bean casserole, it now lives in the National Inventor's Hall of Fame in Akron, Ohio, says Campbell's.