23% Said This Steakhouse Has The Worst Side Dishes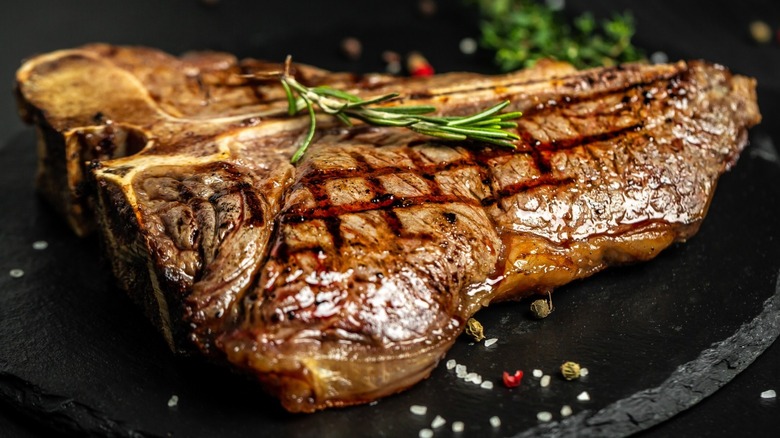 sweet marshmallow/Shutterstock
Often reserved for date nights, special occasions, and celebrations, steakhouses bring to mind one thing: thick, juicy steaks. T-bones, ribeyes, filets, New York strips — no matter what cut of steak you prefer or how you like it cooked, it's a meal meant to savor and enjoy. However, anyone who's ever ordered a nice steak dinner knows that what's served on the side can sometimes be just as important as the sizzling hunk of meat itself. One of the most popular accompaniments to a steak is a potato of some form, whether it be baked or mashed (a tradition that dates back to the 19th century, according to Restaurant-ing Through History).
However, steakhouses across the country offer a dizzying array of other side dishes to complement their beef, whether it's the mac and cheese at LongHorn Steakhouse or the roasted wild mushrooms at The Capital Grille. To find out which of the popular steakhouse chains has the worst side dishes, Mashed polled 562 people in the U.S. on their least favorite. Here's which restaurant nearly a quarter of respondents placed at the bottom of the list.
The sides at Outback aren't a favorite for many respondents
We can't say whether any of our respondents had plans to make reservations at Outback Steakhouse, but a plurality of survey participants might have reservations about the sides. While the national chain is famous for its affordable steaks seasoned with its secret 17-spice blend, its side dishes don't stack up to what's offered at other places on the list, according to Mashed's poll results. Some 23.49% of respondents said it has the worst sides of all the popular steakhouses. There's a wide variety, however. Outback's menu boasts everything from baked and mashed potatoes to steamed veggies and broccoli to steakhouse mac and cheese and seasoned rice. You can also opt for Aussie fries, which are covered in cheese and bacon bits.
How did other steakhouses compare to Outback in terms of the quality of their side dishes? Texas Roadhouse was a close second-least favorite, earning 18.86% of the votes, followed by Ruth's Chris with 13.7% and LongHorn Steakhouse with 12.99%. Morton's and Fleming's were neck and neck, each garnering 10.85% and 10.5% respectively. Lastly, with the best side dishes of those listed, was The Capital Grille, which only 9.61% of people dubbed the worst.