Instagram Is Raining Hearts On Joanna Gaines' Adorable 'I Spy' Moment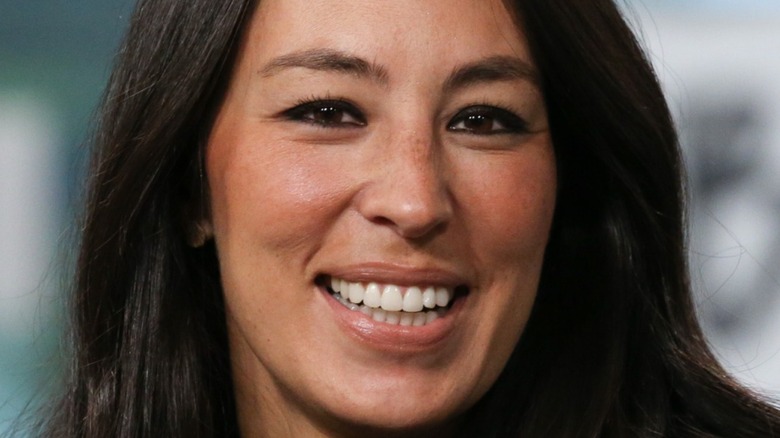 Rob Kim/Getty Images
Joanna Gaines wears many hats, and that's not a fashion statement. You may know her best as the host of the HGTV reality series "Fixer Upper." Maybe you're familiar with the six boutique shops she personally selected and help develop at the Magnolia Silos in Texas. Or perhaps you know her from the Magnolia Network that she launched with her husband Chip and which will soon have a new home at HBO, per Variety. But Gaines also proudly wears the mom hat for her 5 beautiful children, and right now that hat is especially visible. 
May is all about Mom – yeah, we know it's really just a day, but it should be an entire month – and a recent Instagram post by Gaines has us feeling all kinds of maternal vibes. The star of that post is her son Crew, who has actually become a little bit of a celeb himself. Gaines has previously posted adorable videos of the sweet way he talks to plants and a precious moment with her son that had Instagram ready for the Christmas season. Now the Magnolia momma is sharing a photo that has Instagram raining hearts, yet again. At first glance, it might just look like a breathtaking garden. But that's not what has IGers talking. Instead, they are joining Gaines for an "I spy" moment, and it's pretty adorable.
The garden allows Gaines to connect with her kids
If you look closely at Joanna Gaines' Instagram post that's racked up over 42,000 likes and counting, you might spy her little guy. She captioned the picture, "I spy with my little eye..." along with a cute little boy emoji. Hidden behind bushy flowers and wooden posts, eagle-eyed fans can make out Gaines's son near what the account fresheggsdaily identified as a chicken coop. And they are absolutely loving it.
One follower let Gaines know they had spotted Crew, writing, "This is SO cute! I love seeing Crew waaaaaaaay in the back." A different commenter saw a kind of like-mother-like-son moment, observing, "Crew! So sweet that he loves this space as much as you do." Of course, plenty of Gaines admirers couldn't let the beauty of the flowers slip by unnoticed, with one sharing, "And I also spy yarrow and phlox! he's living his best life right there in the garden!" 
Even observing the beauty of the flowers could be seen as a mom moment for Gaines. Back in 2019, she shared with Southern Living how important her garden has been in her life and that of her family: "I'd spend a day pulling weeds, and the children would come out and help. Soon, they started loving it too. Nurturing plants together does something, and it was a simple way to connect with my kids."