The Latest Cheese Board Trend Is Made For Laid-Back Summer Nights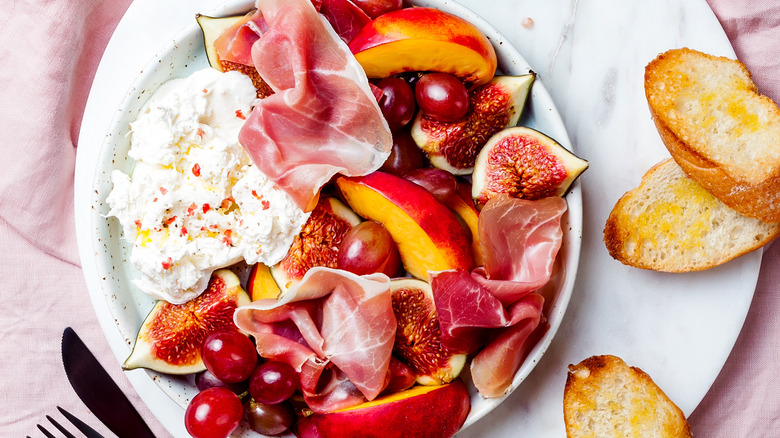 zarzamora/Shutterstock
There's no denying that cheese-and-meat boards are having a moment. Influencers like these 17 best charcuterie Instagram accounts are flooding our feeds with colorful snacking trays, and while the trend seems tailor-made for social media, building the perfect charcuterie board is actually easy enough for anything from a casual date night to a big ballroom bash.
And the newest charcuterie trend — the burrata board — will have you sitting on the porch sipping rosé in as little time as possible, all because it bends the No. 1 rule of cheese boards. For most boards, you'll want to include a variety of cheese textures, styles, and milk types (via Home Made Simple). But, as the name implies, the burrata board features just one variety of cheese: the impossibly luscious, sweet-and-salty Italian burrata. (If you've never tried burrata, prepare to have your life changed for the better.)
So, what exactly is a burrata board, and, most importantly, how do you make one?
The secrets to a Instagram-perfect burrata board
The key to the trendy burrata board is — you guessed it! — burrata cheese. Burrata comes in balls like fresh mozzarella, but the real treat is hidden inside the familiar hand-pulled firm exterior (via The Kitchn). Cut into a ball of burrata to reveal a burst of stracciatella, or a blend of stretched curd and sweet cream, per Culture Cheese Magazine.
Because of its fresh, bright flavors, burrata pairs beautifully with sweet and savory summer produce like ripe peaches, figs, heirloom tomatoes, cucumbers, basil, and more (via Food & Wine). So, to make your own burrata board, Taste of Home recommends starting with a few balls of cheese and surrounding them with seasonal fruits, vegetables, and herbs. Then, add in salty meats like prosciutto and salami, and drizzle with olive oil or balsamic glaze. Since burrata is so creamy, you'll also want to include crostini or other sturdy crackers for guests to dig in. 
And don't forget to pour a nice light wine like rosé or high-acid whites, like pinot grigio or Austrian grüner veltliner, which pair well with burrata, per Eat This, Not That!. After your laid-back night enjoying the burrata board with friends and family, we can't imagine you'll have any cheese leftover. But just in case, burrata is also perfect for the nectarine, sweet corn, and burrata toast that Food Network chef Giada de Laurentiis makes almost daily in the summer. Buon appetito!