The Summer Burrata Recipe Giada De Laurentiis Makes Almost Daily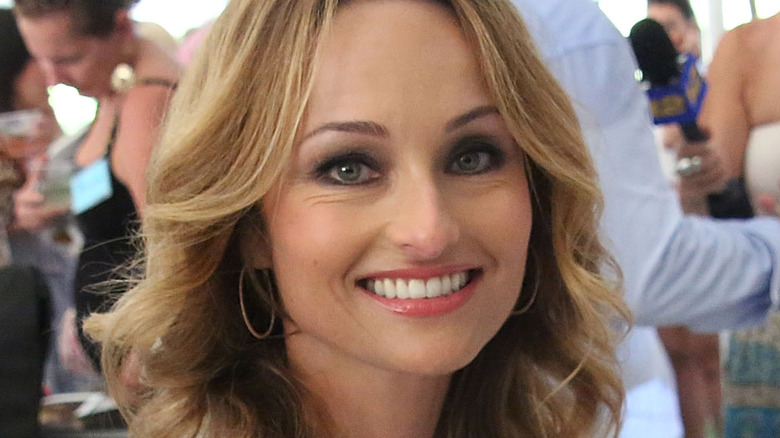 Sonia Moskowitz/Getty Images
If you're looking for a new way to serve burrata, Giada De Laurentiis' recipe just might be exactly what you're looking for to get creative with the cheese. Instead of pairing it with the Italian table basics of olive oil, balsamic vinegar, and basil, De Laurentiis brightens the flavors up by adding three bold and rather unusual ingredients: sweet corn, fresh nectarines, and Fresno chile. 
The mixture makes for the perfect summer appetizer, one that De Laurentiis says she could easily make a whole meal out of every single day. "I like it so much, I'd make it my lunch and dinner," the celebrity chef wrote in a Giadzy blog post. "It's everything I love about summer food."
Anyone who's watched De Laurentiis' Food Network shows knows that she embraces seasonal ingredients whenever possible. Her appreciation of fresh, local produce is evident in all her recipes, and her summer burrata is no different. As she explained in a post on Twitter, this recipe is best prepared "during that short period when both nectarines and corn are in season at the same time."
Giada De Laurentiis' recipe is the sweetest way to eat burrata
To cut through the rich creaminess of the burrata, Giada De Laurentiis employs the natural sweetness of the corn and nectarines. "Sometimes the corn is so sweet, I don't even cook it; otherwise I grill it briefly to bring the sugars to the surface," she wrote on Giadzy.
The sweet notes created by the corn and nectarines also serve to enhance the flavor profile of the balsamic vinegar. Instead of regular balsamic vinegar, however, De Laurentiis uses the white variety. Bon Appétit describes the flavor of white balsamic vinegar as "floral and fruity with a sweet finish." It's slightly more syrupy and sweeter than the regular kind, more milder in acidity, and — according to De Laurentiis — is a great way to dress up burrata. 
To add even more contrast, the chef also adds fresh Fresno or serrano chile peppers. The result is a unique flavor combination that allows you to experience burrata in a whole new way. Just make sure to enjoy it while you can — before corn and nectarines go out of season.