Giada Shared Her Chocolatey Weekend Plans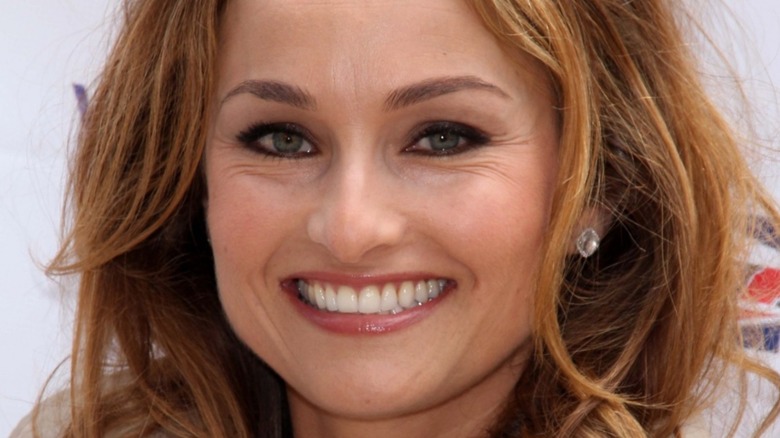 s_bukley/Shutterstock
Research published in the Journal of Nutrition shows chocolate remains the most common food craving in North America. In fact, here in the U.S., we love it so much that according to a survey by Lily's Sweets, 50% of us are willing to temporarily give up social media for the chance to guarantee our chocolate fix for a year.
One celebrity who might shamelessly admit to contributing to those stats is Giada De Laurentiis. Anyone who follows the chef knows that she is a self-proclaimed chocoholic (via Bon Appetit). Years ago, when De Laurentiis was learning how to make chocolate croissants at Le Cordon Bleu, she would eat the dark chocolate bars from inside the dough. And her love of chocolate didn't end when her education did. 
Since joining Food Network, the "Everyday Italian" star has taken every opportunity to showcase her appreciation for all things chocolate. On the Food Network website, she boasts 144 entries that feature the ingredient, including chocolate Tiramisu, cinnamon-chocolate fudge, and even a chocolate dessert salami (yes, seriously.)  She's also admitted to pouring melted chocolate on top of spaghetti, a la Buddy the Elf, and said if she could have her choice, she would opt for a chocolate cake as her last meal. 
Though some might deem it excessive, we appreciate De Laurentiis' take that chocolate makes every day a bit better. It's also why we're absolutely salivating over her recent Instagram story, which features another amazing chocolatey creation. 
Giada's Torta Caprese is the perfect dessert for chocoholics
Giada De Laurentiis posted a photo of a scrumptious-looking slice of chocolate cake to her Instagram story with the overlay text "Weekend plans: torta caprese." Don't let the name confuse you — there are no tomatoes or mozzarella to be found in a Torta Caprese. According to her blog, the chocolatey treat is a "quintessential dessert in Capri," and one of her favorites. 
The dessert was originally featured on an episode of her Food Network series "Giada In Italy. Episode: Sweet Capri." Described by the chef as "light, airy," "fudgy," and "so chocolatey," the dessert is built using a simple combination of ingredients; bittersweet chocolate, butter, sugar, salt, vanilla, whipped egg whites, and yolks. Giada adds that it's "traditionally made with almond flour – sometimes even hazelnut flour," which makes it "naturally gluten-free."

Although the TV Personality didn't mention in her post whether she was making the Torta Caprese for a special occasion, she did post the link to her more recipe-driven account, @thegiadzy, which shares the cake's step-by-step process. 
With bittersweet chocolate as the primary ingredient, it might be a good option for those who prefer less-sugary desserts. And based on the many five-star reviews for the recipe, including one who dubbed it "chocolate heaven," it sounds like it's guaranteed to be a hit with the chocolate lovers in your life.