The Unexpected Number Of Pop Songs That Reference Taco Bell
Taco Bell is one of the most beloved fast food chains in the United States. The Mexican food-inspired quick service restaurant serves up menu items we love like the Crunchwrap Supreme, Nacho Fries, and the fan-favorite Mexican Pizza. Fans are so excited about this last item that they may even feel compelled to pen a love song to this fried tortilla with so many layers and toppings, but they won't be the first nor will they be the last to turn to music to express their feelings for Taco Bell.
In fact, per the Washington Post, Taco Bell enlisted the talents of Dolly Parton and Doja Cat for a musical entitled "Mexican Pizza: The Musical." Doja Cat wrote her own billet doux set to song about this fast food, making her the perfect star (via TikTok). Cue the excitement. However, Taco Bell is so iconic that it has received a nod in the songs of several recording artists that you can listen to on Spotify while you chow down on your much anticipated Mexican pizza. Do you think you can name some of them?
Gone Hollywood by Super Tramp
London rock band, Super Tramp mentions Taco Bell in their song "Gone Hollywood," which is featured on their "Breakfast in America" album. However, the mention of the Mexican food purveyor isn't necessarily meant to be one expressing affection for the eatery. The lyrics are, "I'm in this dumb motel near the Taco Bell/Without a hope in hell." What does this poetry mean? 
As music critic Jim DeRogatis explained in a 2002 article, the band moved to Los Angeles to make their album at Village Recorder, but making it big was not quite as awesome as they imagined it would be. DeRogatis suggests that the band is actually painting a vivid image where they are juxtaposing their vision of what they thought it would be like with how their experience actually was. That said, maybe they never tried the Doritos Cheesy Gordita Crunch or a Mountain Dew Baja Blast. We bet they would be singing a different tune if that were the case.
G-L-A-M-O-R-O-U-S
Per Variety, Fergie released "Glamorous" featuring American rapper Ludacris in 2007. Through the lyrics of the hit song, Fergie reveals that despite all the privileges celebrity has provided her, she's remained grounded. In fact, her lines in the song about the Mexican fast food chain are to remind her fans that she is still the same person she was before all the money and fame. Fergie sings, "I still go to Taco Bell/Drive-thru, raw as Hell/I don't care, I'm still real/No matter how many records I sell." 
Does the music artist really eat at Taco Bell? The answer is a definite yes. According to the Daily Mail, Fergie made a stop to a California franchise in 2020 during the pandemic. What does she order? We are not sure, but per Female First, the pop star said in an interview, "When I'm in a Taco Bell, all I'm thinking about is how many hot sauces I can grab." She continued, "In that situation I'm, like primal. That's how serious I am about fast food."
"Glamorous" is such an iconic song in music history, rapper Jack Harlow recently released sampled the chorus in his song, "First Class," but Harlow skipped over any reference to the Bell (via Variety).
Gone by Kanye West
Kanye West's love of fast food has been well documented in the media, per GQ. The man can't order a McDonald's Big Mac without a camera snapping. But West is also a fan of Taco Bell and the chain earned a shout out in his song "Gone" from his "Late Registration" album. The song lyrics go, "My dog worked at Taco Bell, hooked us up plural/Fired a week later/the manager count the churros." West appears to be reflecting on life before making it big because the song goes on to talk about visiting Europe and spending Euros. 
Of course, making it big hasn't curtailed West's love for this fast food chain. Per E! News, he and Kim Kardashian made a run for tacos after an airport pick-up back in 2015, proving even when you have your own clothing label or reality television show, Taco Bell's burritos and quesadillas are as Lionel Richie would croon, an "Endless Love."
Posse on Broadway by Sir Mix-A-Lot
Most of us are familiar with Sir Mix-A-Lot's hit song "Baby Got Back," but that's not the song that has us humming when we are headed to Taco Bell. The fast food chain is many things to many people, and for some, it is the food stop you might be compelled to make after a late night of partying. No judgment. Such is the case with Sir Mix-A-Lot's "Posse On Broadway." This 1993 rap song follows the group on a night out that should end at Taco Bell. 
The group raps, "Now the posse's gettin' hungry, and Mix-a-Lot's treatin'/We stopped at Taco Bell, for some Mexican eatin." We did say should. Unfortunately, the quick service restaurant is closed forcing the posse to go elsewhere. We can't divine the meaning of these lyrics, but perhaps this was the rapper's way of telling Taco Bell they need to stay open later? We, personally think that is the best time to try some of Taco Bell's secret menu items.
Bombs Over Baghdad by Outkast
One of our favorite rap songs that embraces the Liz Lemon "I want to go to there" love for Taco Bell is "Bombs Over Baghdad" by Outkast. To borrow from Taylor Swift, you will want to get down to the sick beat of this song while you chow down on some Doritos locos tacos. The tempo of this rap is fast and the lyrics are pretty direct, "Yo quiero Taco Bell, then I hit the border. " We love the simplicity because we want Taco Bell, too.
What does Taco Bell have to do with bombs and Baghdad? We are not quite sure, and while the song's title sounds political, it was not intended to be so. Outkast rapper Big Boi told the Los Angeles Times, "There were lots of people making music, but there was nothing real about it. We were like saying, make music that has something to say or just get out of the way."
Long Burns the Fire by Beastie Boys
The Beastie Boys are best known for their songs like "Brass Monkey" and "Intergalatic," but these rappers also have a song that contains an homage to Taco Bell. If you've never heard the 2011 song by the rap group called, "Long Burns the Fire," you may want to fire up YouTube and watch it. The lyrics of this Beastie Boys song talks about their greatness. 
They mention their number being hoisted to the rafters like that of an NBA superstar and compare their careers to that of legendary singer Elton John and NBA superstar Willis Reed. They also mention, "Running wild like rats in the Taco Bell," which isn't the greatest image, but it may be referencing the video that went viral in 2007. Per CNBC, video footage was taken of a franchise in Greenwich Village showcasing a dozen or so rats having their run of the Tex-Mex eatery. 
Other songs that have a Taco Bell connection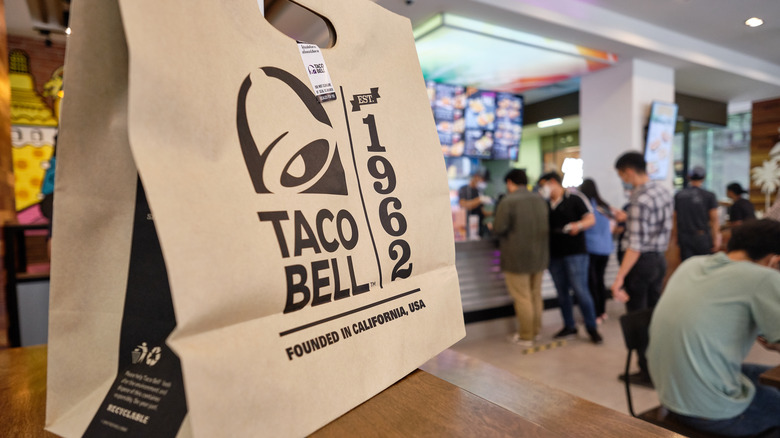 KULLAPONG PARCHERAT/Shutterstock
Of course, there are plenty of other songs that pay homage to Taco Bell. Rehab raps about the fast food chain and a "Taco Bell Crunch Wrap Supreme smashed all in the cushions" of a couch in their 2012 song "Why Do I Do." The Band of Skulls makes mention of the food joint in their 2009 song "I Know What I Am," and "Wynona's Big Brown Beaver" by Primus raps about a beaver eating Taco Bell. 
But what makes Taco Bell so perfect to put into verse? It's definitely worth a ponder. Maybe it's easy to find words that rhyme with "bell." Maybe it's the yummy chalupa or sweet cinnamon twists on the menu. Or, perhaps, it is as simple as we just really love the Mexican-inspired fast food. But whatever the reason, Taco Bell is definitely a muse that keeps us singing.