The Sweet Role Bobby Flay's Daughter Played In His New Cookbook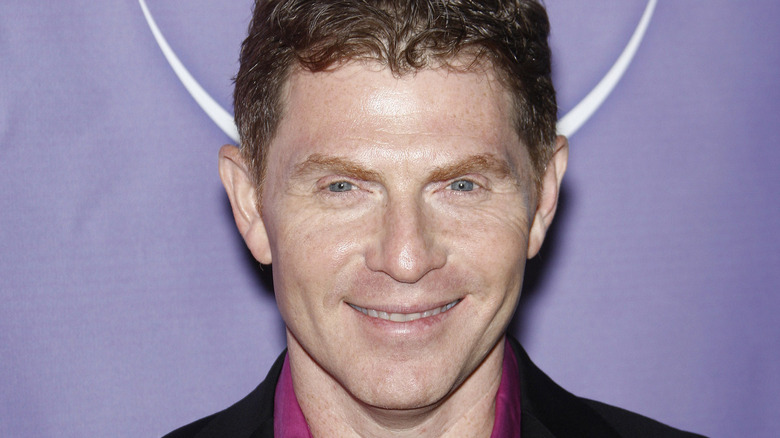 Joe Seer/Shutterstock
Bobby Flay can bro-out behind a barbecue with the best of them. The Iron Chef and native New Yorker could easily be mistaken for a real tough guy, with his penchant for bourbon and "the horses," and that Big Apple accent that no amount of TV time has softened in the slightest (via Esquire). But pay close attention and you'll see that, like a good steak, Flay is more of a crusty-on-the-outside, tender-on-the-inside type. His love of Maine Coon cats is well-documented, and he has a female bestie in the form of human ray of sunshine Giada De Laurentiis. Then, there's the fact that his closest confidant, sometimes-collaborator, and (in his words, from his website) the "most important person in my life" is none other than his daughter, Sophie Flay.
Though Sophie has shared the spotlight with her dad a handful of times over the years (like on the "The Rachael Ray Show") the young Flay will be the first to tell you that she never planned on going into the family business. "Mr. Flay has a twenty-something daughter, Sophie," reads the chef description on the website for Flay's (now-defunct) restaurant, Gato, "who does NOT want to be a chef." Instead, Sophie studied broadcast journalism at USC, and then set her sights on ABC7, a local news station in California where she currently works as a "community journalist." But surely a local news reporter can still do a little part-time muse work on the side, right? Right.
Cooking and booking with the Flays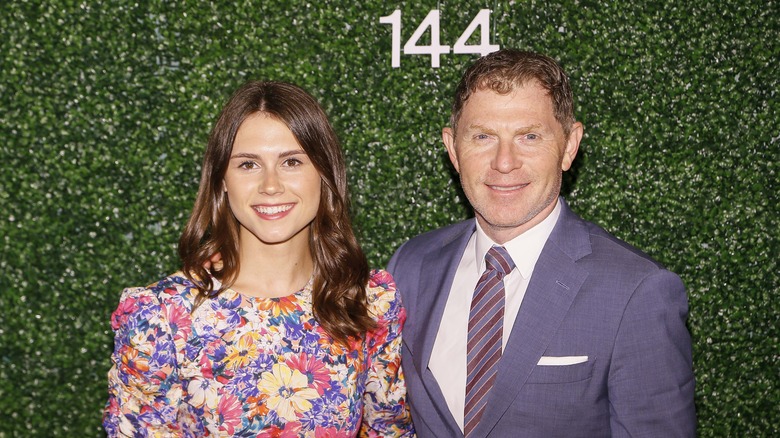 Paul Morigi/Getty Images
If you're Sophie Flay, reporting the news and inspiring your celebrity chef dad's latest cookbook is all in a day's work. "Sundays with Sophie," Bobby Flay's newest cookbook, will debut in October 2022 (via BobbyFlay.com); and the good news is, it doesn't have to be Sunday (and you don't have to be a Sophie) to enjoy the recipes. The spirit behind the cookbook is "easy-to-create dishes ... whether it's a weeknight or the end of a tough week." Flay's focus for the book was family and friends, with a particular eye towards stuff his daughter loves. Whether it's a mafaldine with shrimp, foods cooked piccata-style, or that chicken salad Flay says he always makes before Sophie comes to visit, the chef's love for his daughter (and their favorite foods) is on every page.
As for Sophie, she seems excited to share their family favorites with the world. In her Instagram announcement of "Sundays with Sophie," she calls the cookbook "A beautiful mix of my favorite meals and recipes." And while Sophie might not have any culinary aspirations herself, the time she has spent co-hosting Food Network's "The Flay List" and the podcast "Always Hungry" with her dad means that the pair have had plenty of time to figure out which recipes to include in the cookbook (via Penguin Random House). "Do not sleep on the shrimp pasta," Sophie advises in her Instagram post, doing tough-guy just like dear old dad taught her.