Classic Spinach Quiche Recipe
Christina Musgrave/Mashed
There is no brunch dish more classic than a spinach quiche. This one comes together in a flash due to the secret ingredient: a prepared refrigerated pie crust. Recipe developer Christina Musgrave loves including a premade crust because, as she puts it, "it makes the recipe so much easier!" We love looking for simple shortcuts in the kitchen to help us prepare impressive recipes without spending endless time and effort. 
This quiche recipe is ideal for a celebratory brunch, bridal shower, or baby shower. Quiches are elevated morning meals that are filling and delicious, but more importantly for a host, they can be made in advance and served warm.
Since this recipe will keep in an airtight container in the fridge for up to three days, it makes for a great meal-prepped breakfast option. Prepare it over the weekend and eat it for breakfast during the work week. When ready to reheat, Musgrave recommends using the "microwave or heat on low in the oven until warm."
Gather your ingredients for classic spinach quiche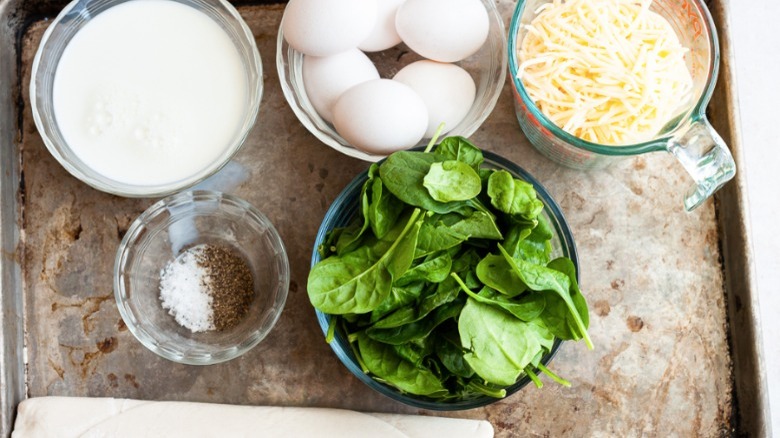 Christina Musgrave/Mashed
To make this spinach quiche, you will need a refrigerated pie crust, shredded Gruyere cheese, fresh spinach, eggs, milk, salt, and pepper.
Bake the store-bought crust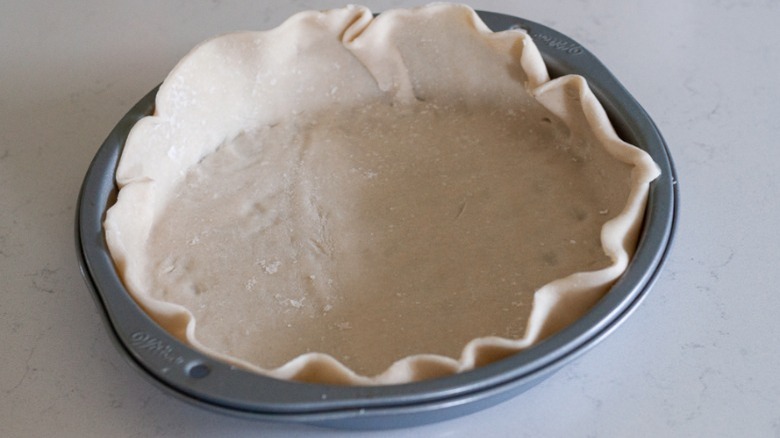 Christina Musgrave/Mashed
Before you get started, preheat your oven to 400 F. Grease a pie pan with nonstick cooking spray and press the crust into the pan. Use a fork to poke several holes in the crust. Once the oven is preheated, bake the crust for 10 minutes, then remove from the oven.
Create the cheesy spinach egg mixture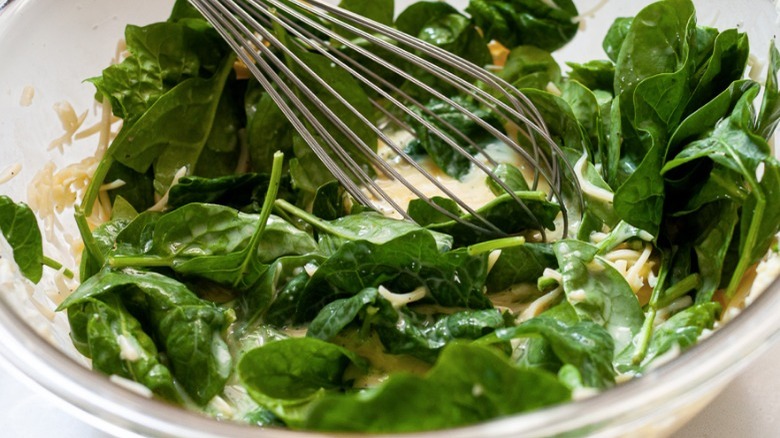 Christina Musgrave/Mashed
While the crust is baking, you can prepare the egg mixture. In a large bowl, add the Gruyere cheese, spinach, eggs, milk, salt, and pepper. Whisk well, ensuring that the eggs are thoroughly mixed in and that they coat the spinach evenly.
Pour the filling into the crust and bake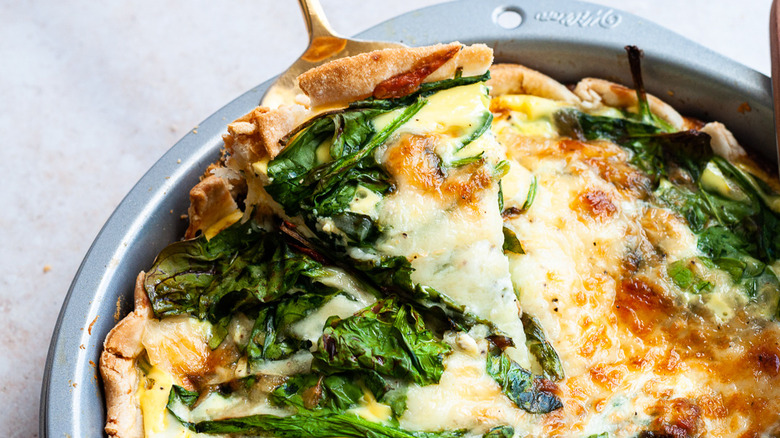 Christina Musgrave/Mashed
Now, you can pour the egg mixture into the prepared crust. Cover the enter quiche with foil, then return the pie pan to the oven and bake for 40 minutes. After the 40 minutes are up, take the pie pan out of the oven and remove the foil. Then return the quiche to the oven to bake for an additional 5 minutes in order for the top to get a nice golden brown. Musgrave recommends serving this alongside "a light green salad and some bacon" for a complete meal. We'd even recommend including a creamy fruit salad and some pastries for a balanced spread.
Classic Spinach Quiche Recipe
If you want to make the perfect brunch entree, you can't go wrong with this classic spinach quiche.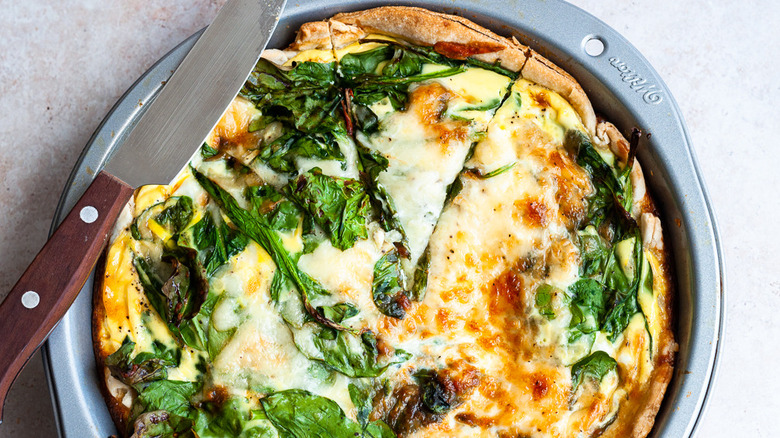 Ingredients
1 refrigerated pie crust
2 cups shredded gruyere cheese
3 cups fresh spinach
6 eggs
1 cup milk
½ teaspoon salt
1 teaspoon black pepper
Directions
Preheat the oven to 400 F.
Press the pie crust into a greased pie pan. Bake crust for 10 minutes, then remove from oven.
Combine 2 cups of shredded gruyere, 3 cups of fresh spinach, 6 eggs, 1 cup of milk, ½ teaspoon of salt, and 1 teaspoon of black pepper in a large bowl. Whisk well until combined.
Pour the egg mixture into the crust. Cover with foil and bake for 40 minutes. Remove foil and bake for an additional 5 minutes.
Slice and serve.
Nutrition
| | |
| --- | --- |
| Calories per Serving | 409 |
| Total Fat | 26.8 g |
| Saturated Fat | 12.6 g |
| Trans Fat | 0.0 g |
| Cholesterol | 203.6 mg |
| | |
| --- | --- |
| Total Carbohydrates | 22.8 g |
| Dietary Fiber | 1.1 g |
| Total Sugars | 2.4 g |
| Sodium | 503.6 mg |
| Protein | 19.0 g |