A Fan-Favorite Sweet And Spicy Crisp Is Back At Trader Joe's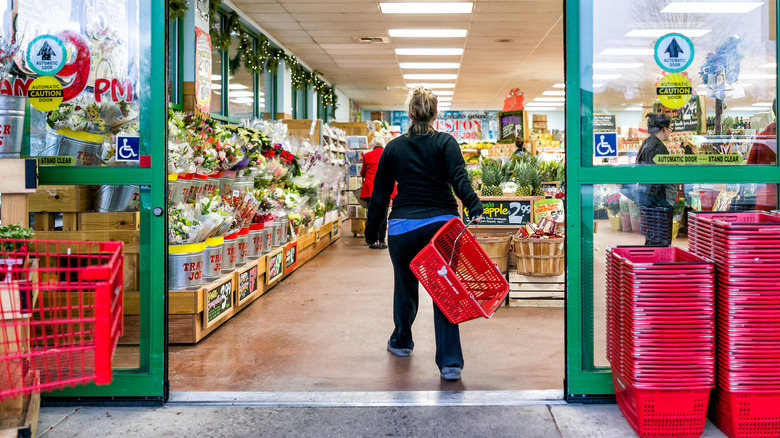 Kristi Blokhin/Shutterstock
Of all the things you should know before shopping at Trader Joe's, one of the biggest to keep in mind is that you must never ever shop there while hungry. Although this is, of course, a fundamental rule of grocery shopping as a general matter, it might be of the utmost importance at TJ's because while perusing the aisles for their usual staples and everyday items, shoppers will be hit with an almost unfathomable array of unique products that seem to have been curated for the sole purpose of creating cravings they never knew they had. Would a hungry customer be a match for the allure of such strange temptations as blood orange cake mix and icing and crunchy puffs in inspired flavors such as cacio e pepe and bamba?
Not that there's anything wrong with the occasional supermarket impulse purchase. It's just that if a shopper doesn't go in with some sort of system in place, they could easily miss out on some of the more obscure but highly inspired items TJ's has to offer. Fortunately, social media accounts like Instagram's Trader Joe's List are doing some of the legwork. Take, for example, its recent post about a sweet and spicy crisp that's "back" on Trader Joe's shelves, suggesting not only that it's a fan favorite but also that it's here only temporarily. 
Within this seeming mild-mannered pink box is a sweet and spicy symphony
The fan-favorite sweet and spicy crisps that Instagram's Trader Joe's List is saying is back on Trader Joe's shelves (for now) is its private-label Strawberry & Jalapeño crisps (via Instagram). "I sampled these last year and fell in love," the fan behind the account said of these sweet and spicy crackers featuring real dried strawberries and real dried jalapeño peppers. "They're light and crispy with a fresh strawberry flavor and a kick at the end from the jalapeño!" Plus, they also feature the tang of buttermilk. 
Nevertheless, its pale pink box might be easy to miss. Someone who passed by it might not realize that these sweet and spicy crisps bear a nutrition profile that might actually seem surprising for a food that's pretty much all about taste and crunch. At the same time, it even managed to score five stars from both the "he" and the "she" reviewers behind Sweet on Trader Joe's. From the fan response in the comments section of Trader Joe's List's post, fans of all things crispy and spicy – such as those who couldn't wait to get their hands on Planters' new sweet and spicy dry roasted peanuts as soon as they launched, will want to keep the distractions to a minimum and their eyes on this prize.