The Unexpected Ingredient Guy Fieri Uses In Margaritas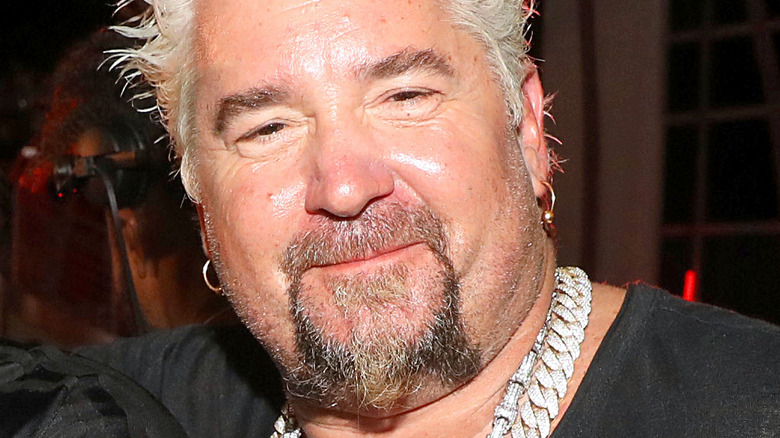 Aaron Davidson/Getty Images
These days, it seems like Guy Fieri does far more hosting than actual cooking on the Food Network. His IMDb page can certainly attest to that notion. However, that's not to say the spiky-haired television personality doesn't know his way around the kitchen just well as some of the chefs and restaurateurs he spotlights on "Tournament of Champions," "Guy's Grocery Games," and "Diners, Drive-Ins, and Dives."
Per Food Network, Fieri opened his first restaurant, Johnny Garlic's, shortly after graduating college in 1996, which is just one of the 70-plus restaurants that have been attached to Fieri's name throughout his career. Just a decade later in 2006, the chef landed his first Food Network show, "Guy's Big Bite," following his season two win of "Food Network Star." The program, which ran for 10 years, saw Fieri prove time and time again that he is, in fact, the Mayor of Flavortown as he whipped up some seriously imaginative dishes, including his fan-favorite Dragon's Breath Chili.
Fieri's skills aren't limited to the kitchen, either. The cookbook author also knows how to concoct a mean cocktail — though considering Fieri teamed up with rockstar Sammy Hagar to create a tequila brand, that may not come as too much of a surprise. What may come as a surprise, however, are the Fiery Fieri Margaritas he whips up using the spirit, which features an ingredient you don't typically see behind the bar.
Guy Fieri's Fiery Fieri Margaritas call for a surprising condiment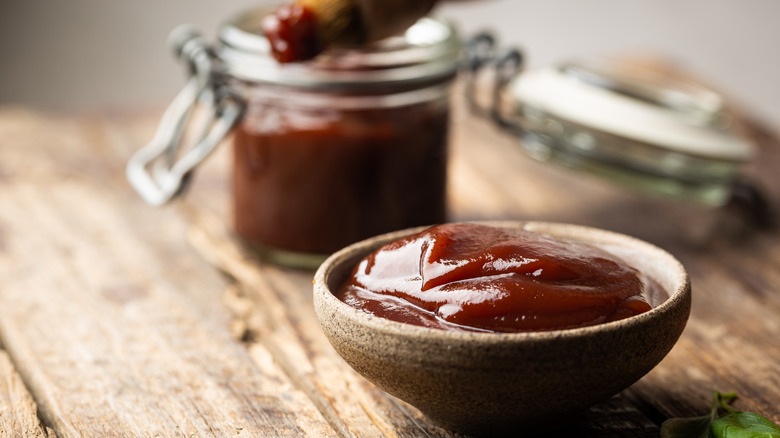 Goskova Tatiana/Shutterstock
Guy Fieri is far from shy about getting creative in the kitchen — remember when he created the Apple Pie Hot Dog for MLB's Field of Dreams game in 2021? Similarly, it seems his cocktail recipes know no bounds, which is how we got Fiery Fieri Margaritas: the Mayor of Flavortown's unique take on everybody's favorite poolside cocktail that calls for a flavorful, chipotle chili-sugar rim and one slightly bizarre ingredient that may come as a bit of a surprise. 
Per Food Network, the boozy beverage requires many of the traditional fixings of a classic margarita, including tequila, lime juice, ice, and agave, as well as the addition of Angostura bitters — but that's not all. The final ingredient in Fieri's one-of-a-kind tequila drink? Bourbon brown sugar BBQ sauce, which, apparently, is the cocktail enhancement we've been missing all along.
"The liquid shines as its smoky notes blend with the sweetness of the brown sugar and spicy hint of chipotle," 30Seconds Food said of the Fiery Fieri Margarita. Barbecue sauce is also a go-to drink additive for actor Joel McHale, who claimed it is the secret ingredient in his version of a margarita, as well as his Bloody Marys.