What Andrew Zimmern Admires About Guy Fieri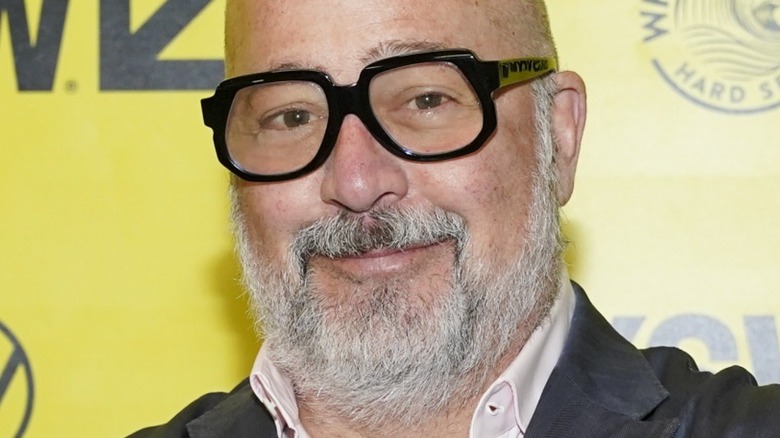 Amy E. Price/Getty
Of all the celebrity chefs on TV, few are as instantly recognizable as Guy Fieri. The charismatic giant has an incredibly distinctive style, from his flamboyant shirts to the iconic frosted spikes of his bleached hair. But what's really given Fieri his success is a boisterous personality that makes him seem larger than life, popping from the screen in his shows like the flagship "Diners, Drive-Ins, and Dives." If you've spent any amount of time watching cooking television, you likely know who Guy Fieri is.
Also a polarizing figure, Fieri has galvanized both fans and critics. After he opened Guy's American Kitchen & Bar in New York City in 2012, it quickly received a scathing review from The New York Times, which wondered if Guy had ever even tried any of the food at the establishment. The late Anthony Bourdain never seemed to be a fan. Citing an Adweek interview, E! News reported that Bourdain called him "worthy of a solid and maybe relentless mocking" and said the Triple D host's NYC restaurant "hurts me. It offends me." But Fieri does have his supporters, including his friend and fellow celebrity chef Andrew Zimmern. He spoke up in defense of Fieri following The New York Times Review, saying, "He's a friend of mine ... He's a great dude" (via YouTube). This isn't the only time Zimmern defended his friend and expressed admiration.
Guy Fieri's best quality, according to Andrew Zimmern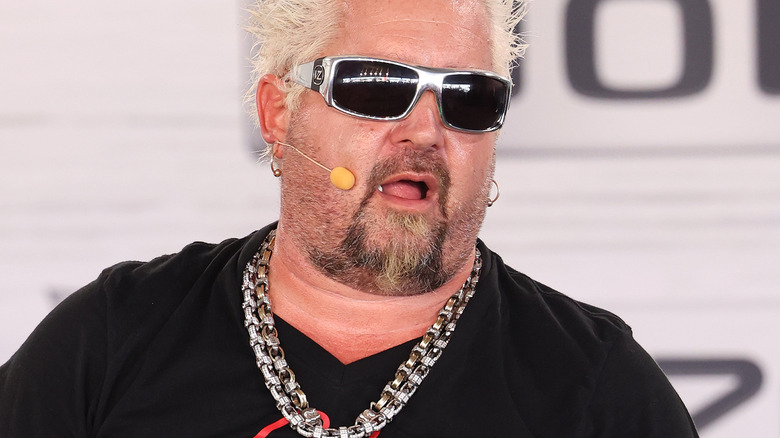 Alexander Tamargo/Getty Images
On his podcast, "Go Fork Yourself," Andrew Zimmern and Guy Fieri discussed how people mistake the Mayor of Flavortown's on-air persona for the real Fieri: a guy who wears bowling shirts and speaks in catchphrases. Zimmern said he appreciates how Fieri "lives by [his] own compass." Fieri explained that he doesn't let misconceptions based on his television persona bother him. The people closest to him understood him, and that was enough, which is something Zimmern appreciates. For a recent New York Times article about Fieri's struggles and successes, Zimmern said of his buddy, "He seeks to understand rather than be understood, which I think is as high a compliment as I can give." That quality is arguably on display in "Diners, Drive-Ins, and Dives."
The show that made Fieri a household name is not really focused on him, despite his boisterous personality. The Conde Nest Traveler notes that the spiky-haired host finds small restaurants and uses this platform to tell the stories of the people behind the food. Additionally, when the pandemic began harming restaurants, Fieri swiftly created a relief fund to aid them. It's easy to look at Fieri's persona and get lost in the catchphrases and frosted blonde tips, but friends like Zimmern can see the person underneath.