The Unexpected Ingredient Guy Fieri Uses In Brownies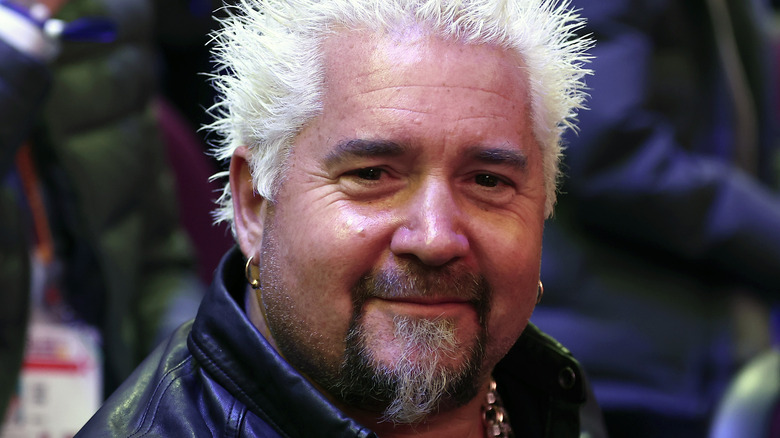 Arturo Holmes/Getty Images
Guy Fieri certainly has a knack for whipping up unique dishes, not to mention showcasing beloved meals at humble eateries across the country. The Mayor of Flavortown is best known as the quirky, animated host of Food Network's "Diners, Drive-Ins and Dives," "Guy's Grocery Games," and "Guy's Big Bite," to name a few. Fieri is also a renowned restaurateur, cookbook author, and philanthropist.
Hand in hand with his vivid personality, many of Fieri's "off the charts" recipes contain unorthodox ingredients. For one, his famous Fiery Fieri Margarita infuses barbecue sauce into the drink's standard components of tequila and lime juice. When he prepares mashed potatoes, he never forgets the wasabi powder. There's also, of course, his famous Dragon's Breath Chili that drew rave reviews from internet users. But next time you're craving a batch of freshly baked brownies, you may want to borrow a page from Fieri and add a tart-flavored vegetable into the mix.
Guy Fieri's brownie recipe calls for rhubarb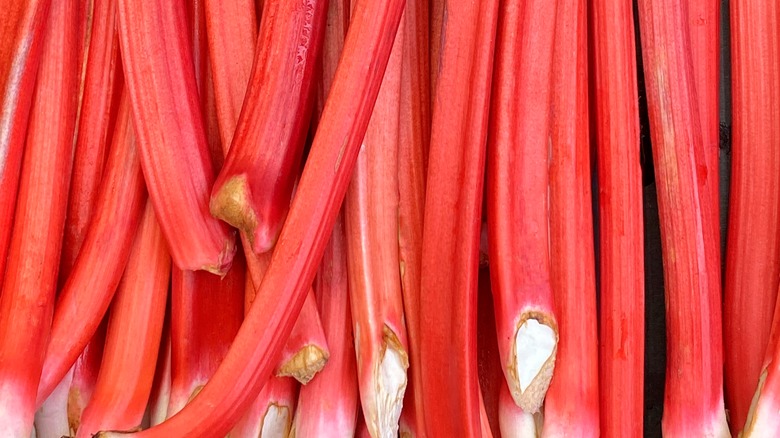 Steve Allen/Shutterstock
Guy Fieri's recipe for one of the most popular desserts of all time calls for rhubarb stalks. Rhubarb, which is commonly mistaken for celery's reddish-pink cousin, is a perennial stalk vegetable often incorporated into sweet dishes, such as pies, crumbles, and tarts. It possesses a subtly sweet, slightly sour flavor which, as many would agree, becomes more palatable when cooked.
So, why does Fieri use rhubarb in his brownies? A BuzzFeed staffer reviewed four celebrities' go-to brownie recipes, including Fieri's, and found the rhubarb-chocolate combo to be surprisingly delicious. "HECK YEAH BATMAN, IT WAS GOOD!! ... The rhubarb not only gave them a nice tart flavor, but it made them super fudgy and kept them moist." There you have it, folks.
To make Fieri's Mexican rhubarb chocolate chunk brownies, you'll need several ingredients, including rhubarb, sugar, flour, baking powder, New Mexico chile powder (which is not the same as chili powder!), ground cinnamon, kosher salt, bittersweet chocolate, unsweetened chocolate, butter, eggs, vanilla extract, dark rum, and chopped walnuts.