The Internet Can't Stop Laughing At This Chef Boyardee-Linked Arrest
While many of us would like to think that food brings people together, this isn't always the case. In fact, just as often as food is used as a peace offering, it's used as a weapon –- and we aren't just talking about cafeteria food fights between schoolchildren.
As it turns out, with enough imagination, pretty much any kind of food can be weaponized. According to TopTenz, crimes involving food have included a man throwing an entire raw chicken at a friend, an inmate creating a shiv from a pork bone to stab another inmate, and a thief using frozen sausages as nunchucks in an attack on a cyclist.
All of these, of course, can seriously injure a person, but they're nowhere near the same level of danger as canned goods being used as projectiles. We know creamed corn isn't everyone's favorite, but come on, people, you can still turn canned foods into a delicious meal.
Canned ravioli was this man's weapon of choice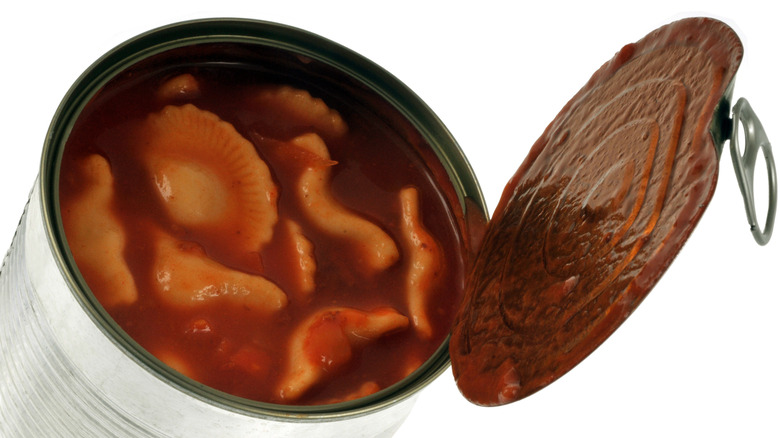 RVillalon/Shutterstock
One Ohio man went viral after being arrested for assault, but it was his choice of weapon that caught the internet's attention. Per The Scioto Post, Johnnie Lee Diehl was arguing with a friend when he hit him in the head with a can of Chef Boyardee beef ravioli, causing a cut above the friend's left eye. Diehl was charged with first-degree misdemeanor assault (via Ross County Jail).
Although assault is never a laughing matter, Facebook can't help but giggle over Diehl's weapon of choice being Chef Boyardee. One Facebook user commented, "The good Chef would be saddened to see his culinary delights used in an act of senseless violence. I hope this news does not reach him at his home in Italy." Another person joked, "That's using your noodle!" while another user commented, "Chef Throwardee."
All jokes aside, many Facebook users pointed out the fact that the two men were arguing over a can of ravioli. More than 38 million Americans face food insecurity each year, according to the USDA, and food shortages are causing yet another crisis. That's nothing to laugh about.