Gross Canned Foods You Can Turn Into A Delicious Meal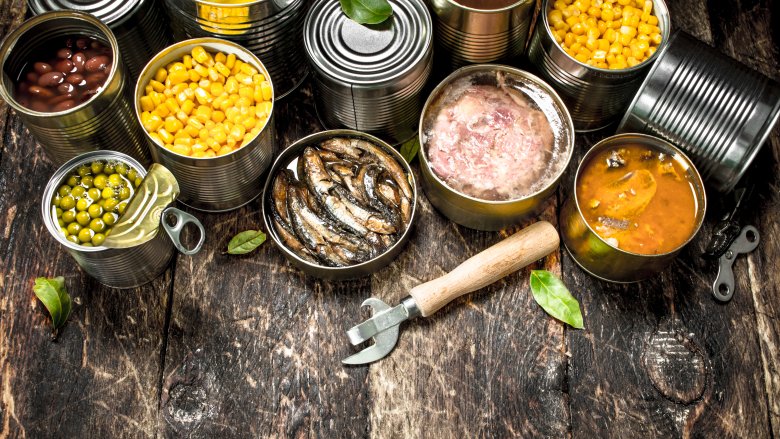 Shutterstock
Let's be honest. Opening a can of literally anything isn't how any of your favorite meal ideas start... usually. Cans are the stuff of chicken soup when you were home sick from school, the stuff of a quick Chef Boyardee lunch when you were in college, and they're definitely not the stuff of eating fresh, eating healthy, and putting a balanced meal on the table. Are they?
Probably not, because every can you've ever opened... well, you can tell the contents came out of a can, right? The fish is suspiciously fishy, the veg is a little too wet, and everything is really, really salty. But somehow, you probably still have some cans of something sitting around your kitchen, and if you think you're never going to use them? Well, we need to talk.
We can absolutely change your dread of even the most disgusting canned foods (canned sauerkraut, anyone?), and along the way we'll also help you get rid of some of those cans that have been sitting in your kitchen cabinet forever. You're welcome.
Mushroom soup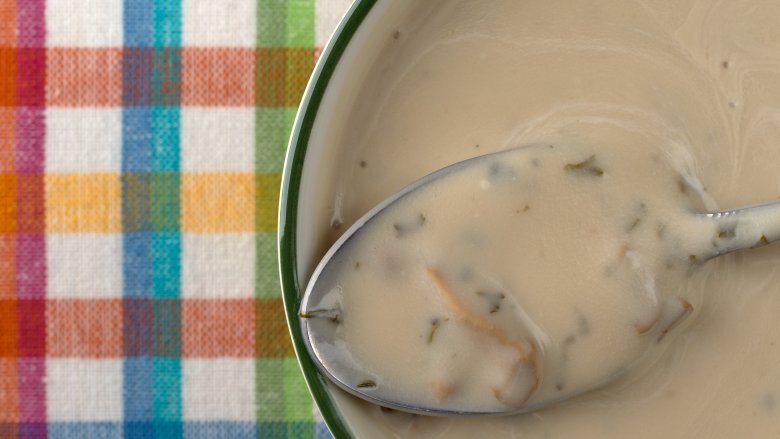 Shutterstock
Who loves mushroom soup out of the can? No one since your grandfather, that's who. It's weird stuff: The bits of mushroom are a strange texture, it's salty and woody at the same time, and it's just not good. But, with the help of a Crock Pot, you can not only make it great, but you can whip up a delicious meal in no time at all.
All you'll need to do is get out your slow cooker and start by pouring in a can of mushroom soup, a 1/4 cup of flour, and dashes of Dijon mustard and brown sugar, to taste. Stir, and once you've got that blended, add in your pork chops (with the fat trimmed off). Season the entire thing to taste (we'd recommend adding things like parsley, garlic, Creole, or BBQ seasoning), and if you'd like, throw in an onion and carrot cut into thick slices. Set it to low, and cook for between 6 and 7 hours (depending on just how thick your pork is). While you're waiting for it to finish, fry up some potatoes and fresh mushrooms. Serve in a bowl with the pork and the potatoes covered with the soup, which should be thickened to something nearing the consistency of a lovely mushroom gravy — and thanks to your seasonings, no one will ever know it came right from the can.
Tomato soup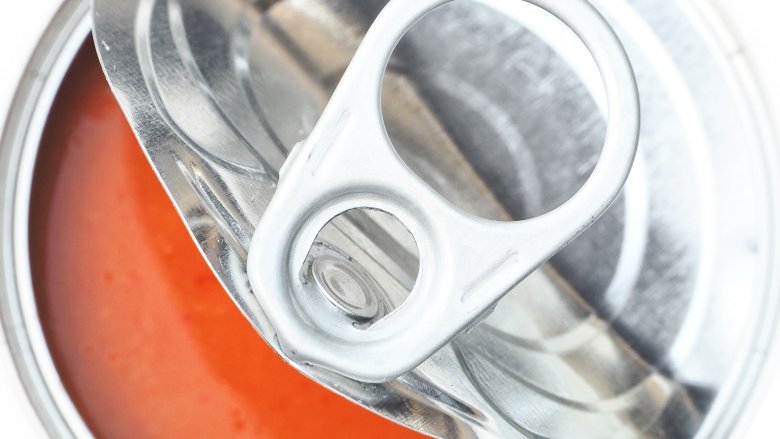 Shutterstock
Tomato soup is... eh. It's okay with crackers and a ton of hot sauce, maybe, but canned tomato soup is a weird approximation of what you think a tomato should taste like. So, switch it up.
Grab that slow cooker, and use a can of tomato soup as a base for a hearty, lasagna-inspired stew. Who doesn't love lasagna, after all? It's a ton of work, though, so here's how to make it easier: Mix that can of tomato soup with a can of diced tomatoes and a can of tomato sauce in your slow cooker. Then, add all your favorite lasagna seasonings: basil, oregano, garlic powder, salt, and pepper. Throw in a few chicken and a few beef bouillon cubes, then break up raw lasagna noodles and add enough water to cover. Keep it meatless or add some raw beef, and voila! After 8 hours cooking on low you'll have a rich and hearty stew you can top with mozzarella.
Canned Vienna sausages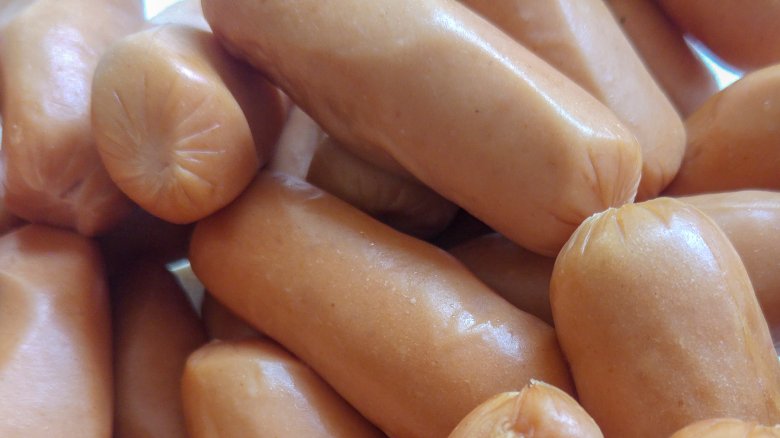 Shutterstock
Vienna sausages are definitely one of those love or hate things, and if you ask anyone who was throwing parties in 1972, they'll probably say they loved them. They might seem like something you'd serve with the latest and greatest disco hit playing in the background, but they don't have to be.
Let's talk breakfast, and a super easy way to start your day off right. Take your can of Vienna sausages, slice them into hunks, and add them to whisked eggs. Then, just pick your other ingredients. We'd suggest things like sweet or hot peppers, red onion, fire-roasted tomatoes, shredded cheese or scallions, and keep stirring as you add a dash of milk or water. Then, just cook them up into a quick omelet or scrambled eggs. Serve right on the plate or — even better — use that as the filling of a delicious breakfast burrito. Who doesn't love a breakfast burrito? Just add hot sauce to taste, and you might just find yourself having these not just for breakfast, but for a quick and easy dinner on one of those nights.
Canned sauerkraut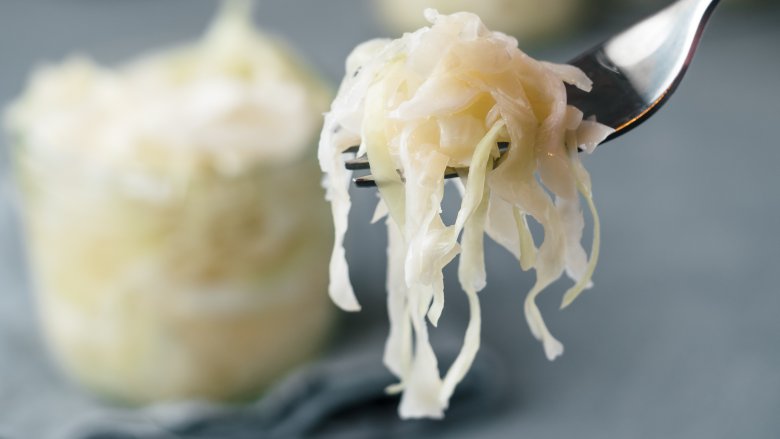 Shutterstock
Canned sauerkraut is one of those things you can smell just by hearing a mention of it, isn't it? That ultra-fermented stink, that strong odor that stays in the house for days... that stuff. But according to Healthline, it's really, really good for you. It comes with all kinds of benefits: It's been found to help improve digestion, boost your immune system, and it's believed to help protect against certain types of cancers. So you should definitely eat more of it, and fortunately, there's a super simple way to make that can of sauerkraut much more palatable — it's called haluski.
Haluski hails from the Old Country, so there's a lot of different ways to make it. Some are more traditional than others, but if you want to use that can of sauerkraut in a way that your family will love, let's talk Polish haluski. Put some butter in a pan, and start by caramelizing some onions. Cook whatever pasta you'd like while that magical process is happening, and add the cooked pasta to your onions. Then, just add sauerkraut, bring everything up to an even temperature, plate, and serve. It's a great side dish, or if you want to make it a one-plate meal, add some bacon or Polish sausage just before you plate it up.
Pro tip: Save your sauerkraut juice. It's a great ingredient for all kinds of salad dressings. You're welcome.
Canned sardines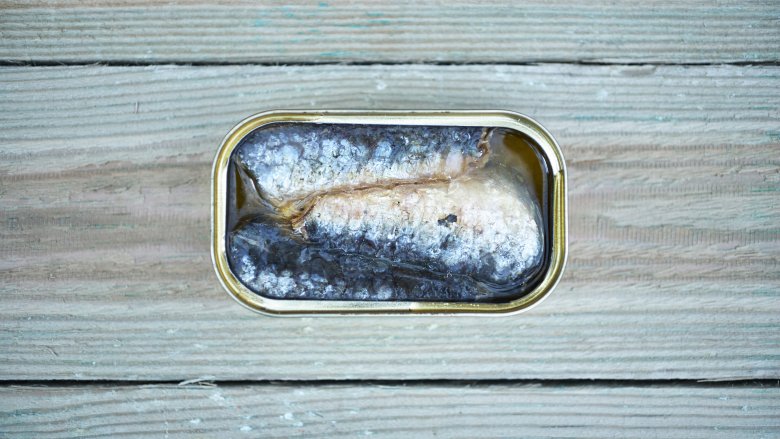 Shutterstock
No, really! It's entirely possible to make canned sardines into a delicious meal that's not creepy in the least and definitely isn't going to be looking back at you. Because that's the hard part, isn't it? There's the saltiness, the smell, and those eyes... but sardines are brilliantly good for you, and they just happen to be a great ingredient to use in a light, healthy salad that's perfect for hot summer evenings.
The key here is to pair them with other ingredients that will let them work their magic. The most important? Avocado.
Start with your bed of greens, and we don't need to tell you how to make a salad. We will tell you how to make those sardines palatable, and there's a few options. You can boil them in a mix of white wine vinegar, cloves, bay leaves, and a dash of white wine until they break down to make the dressing for your salad, or you could take your oil-packed sardines, mash them, season with lime juice, cilantro (if you like it — if not, use dill), and a dash of mayo to make a topping almost the consistency of tuna salad. Slice your avocado in half, take out the pit, replace with the sardines, and serve on a bed of greens. Trust us — it's the avocado that makes all the difference in the world with this one, so don't swear off sardines until you try this.
Canned cranberry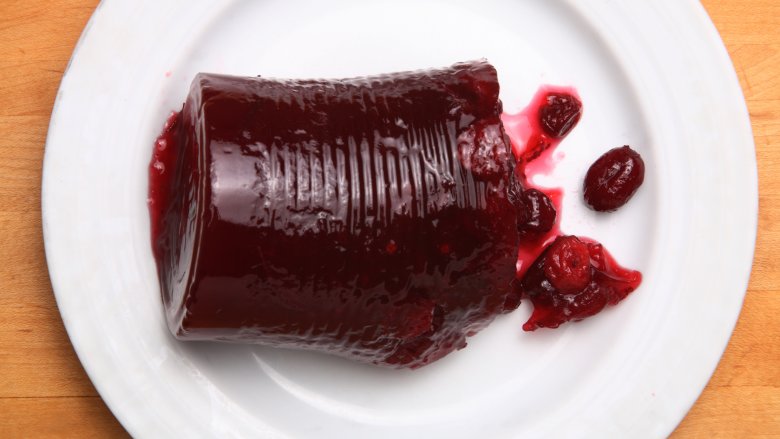 Shutterstock
Leftover canned cranberry is pretty much a guaranteed byproduct of every Thanksgiving dinner, and sure, you can squish a scoop of it on the next day's turkey sandwich just to get rid of it, but let's talk about a fun idea that's so good, you'll be opening that can because you want to, not just because there's that one weird aunt who insists you have it... even though no one else touches the stuff.
What is it that you love as much as you hate that canned cranberry? (Hint: It's pizza.)
Get your dough ready — you can either make it yourself (it's easier than you think, just flour, salt, yeast, and sugar), pick some up from the store, or grab some naan bread. Spread the cranberry sauce on the crust, just like you would spread tomato sauce in a more traditional pizza. Then, slice a pear (or pears, depending on how big your pizza is), and layer over the cranberry. Top with small chunks of brie, then bake until the crust is browned and cooked through. That's it. It's a tasty pizza that's perfect for those evenings when you're craving something that's equal parts light, refreshing, different, and delicious.
Canned chili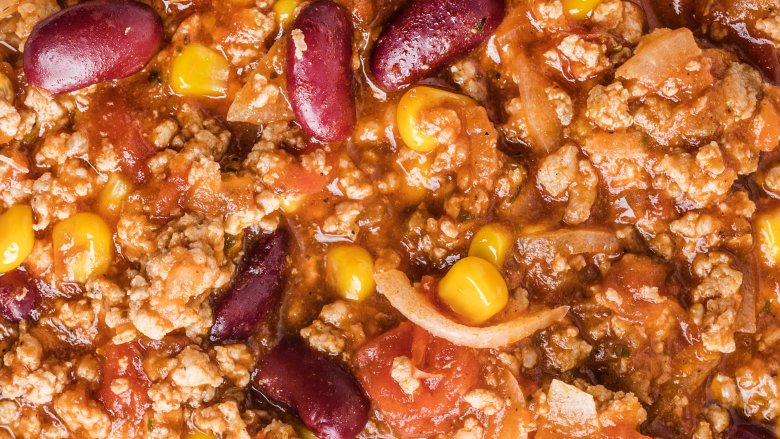 Shutterstock
Canned chili can be hit or miss, and let's get one thing out of the way: A can of chili mixed with Velveeta and then eaten on the couch in front of Netflix with a bag of nachos is never a bad thing.
Ever.
But if you're looking for something a little less reminiscent of college study groups, you're still in luck. That canned chili is a brilliant base for making some spicy stuffed peppers, and all you'll need to do is put your own spin on it by adding a few things to kick the flavor up a notch. Start by browning beef or turkey (because those cans never, ever have enough meat), then adding your canned chili and seasonings to taste. That's stuff like garlic, onion powder, salt, pepper, cayenne, or paprika. Then, add some cheese to help hold it all together, and let it simmer away while you prep your peppers. That can be either sweet peppers with their tops cut off and their seeds removed, or it could also be poblano peppers cut lengthwise and cored. Fill with your chili-meat mix, then pop in the oven and broil until the skin blisters. Top with cheese, let it broil for another minute or so, and there you have it: Super simple, super delicious stuffed peppers no one will believe started in a can.
Canned salmon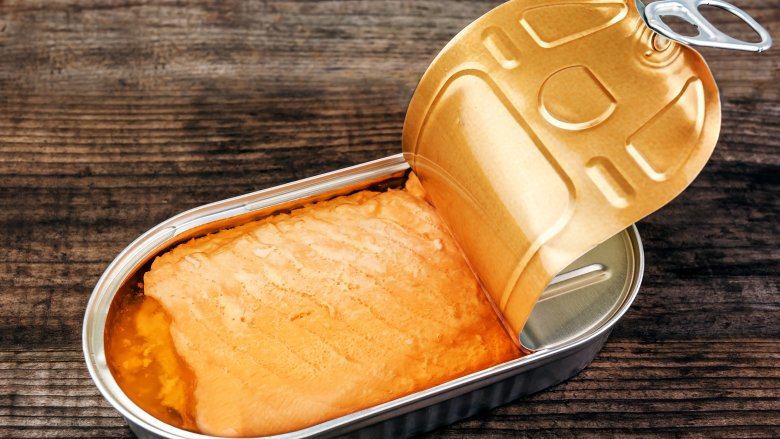 Shutterstock
It's no secret that fresh salmon is one of the most popular fish around, but what about the canned stuff? Why would you opt for something that's been sitting around in its own juices like that? Because a can or two can help you whip together a super simple, healthy meal in minutes, and it's easy.
We're talking about salmon casserole, and the great thing about this idea is that it's perfect for those nights before you go grocery shopping again because you can use pretty much anything. The basics are simply a can of salmon and whatever pasta you have on hand, spread into a casserole dish. Then, top. Use a can of diced tomatoes or pasta sauce, reach for a can of mushroom soup, or — if you want to get super creative — this also works well with instant mashed potatoes. Really. You can also make a super cheesy, pasta-free version by mixing salmon, frozen veg, cheese, and bread crumbs, then baking that in your casserole dish. Want to win the kids over? Cover the top with a crust of crushed Doritos or potato chips, and they'll never know there's something good for them lurking underneath.
Canned pumpkin puree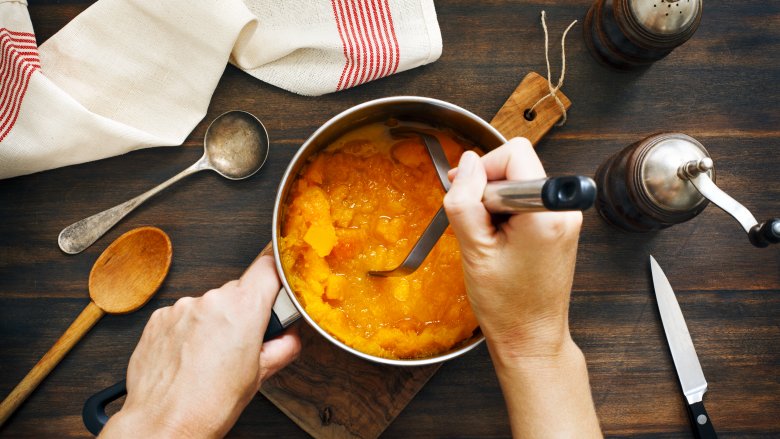 Shutterstock
Right, so let's talk breakfast. This isn't a rushing-out-the-door breakfast, this is a Sunday morning, nothing-else-to-do sort of breakfast. It's also the kind of breakfast that's worth it, especially if you spend all those late summer months looking forward to a reason to make pumpkin pie.
What if we told you that you could satisfy that craving with some pumpkin French toast?
And it's way easier than you think. Use Texas toast (or any other kind of thick-sliced bread), and when it comes time to whip up your egg mixture, use eggs, milk, pumpkin puree, brown sugar, vanilla, and as much (or as little) pumpkin pie spice as you'd like. Dredge your bread, transfer to the pan, and cook as you would cook any other French toast.
And here's the brilliant thing: If you didn't use all of that can of pumpkin puree, you can use it to whip up a latte to go along with your French toast. Just heat a few tablespoons of puree, milk, vanilla, and pumpkin pie spice until the milk begins to let off some steam. Blend in a blender or use a frother, then add to a cup of coffee or espresso. Pumpkin spice cravings, satisfied.
Canned tuna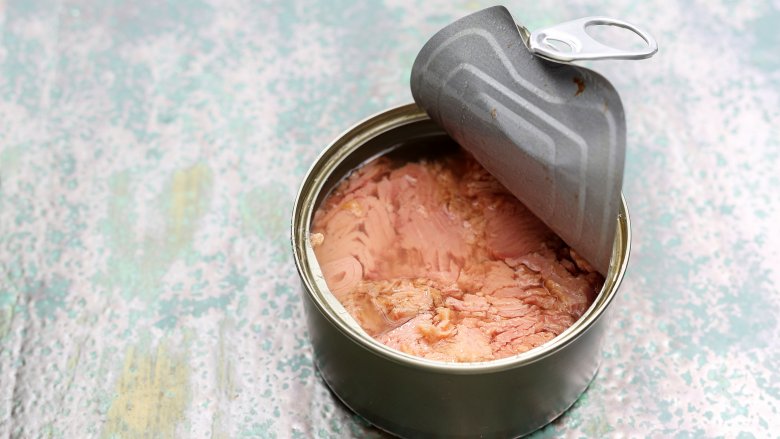 Shutterstock
Canned tuna is another one of those things that we know is good for us, but it's so boring. There's only so many times you can load it up with mayo (which, let's be honest, might make it taste better but is in no way good for us) and slather it on some bread — so let's talk about how to turn that can into a delicious and healthier lunch.
We'll start but turning it not into a mayo-heavy sandwich, but into a melt. Just take your drained tuna, add onion, capers, a dash of lemon juice, and seasonings to taste (like a dash of salt, pepper, oregano, or garlic). Then, put bread on a baking sheet, spread on a little butter, top with your tuna mix, and cover with a slice of tomato and a slice of the cheese of your choice. Broil, and you're done.
But, you might say, that doesn't make a meal. How about a quick soup to use the rest of that tuna? Just pull out a saucepan, and use it to sauté some garlic, onions, and cubed zucchini. Add stewed tomatoes, chicken broth, and season to taste with oregano and basil. Boil, then add the drained tuna and either pasta, beans, or rice. Cook until those are done, and serve with your tuna melt. Easy!
Creamed corn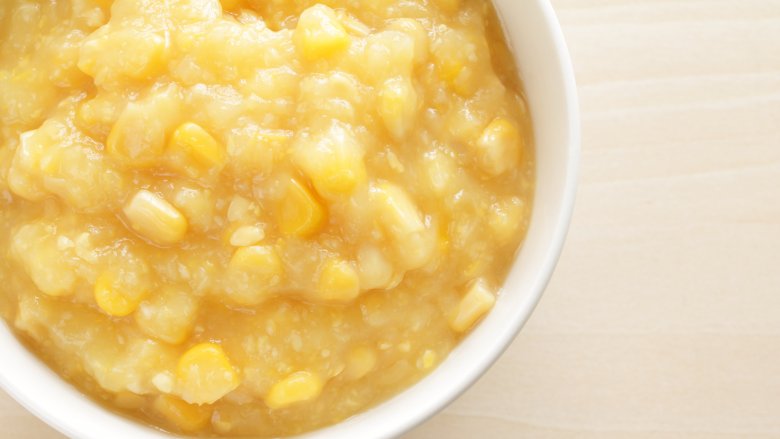 Shutterstock
Creamed corn is a weird thing, and it's kind of like corn's vaguely unsettling cousin, the one who showed up around 1960 and who no one ever told he needed to leave. It's the strange side dish that no one's going to take seconds of, but there is something super easy and super delicious you can use it for: frittatas.
It's not only easy, but it's an idea that you can make suit whatever you happen to have on hand. For starters, mix a can of creamed corn and a dozen eggs. Then, add your goodness. That can be almost anything — try bacon and cheese, mushrooms and spinach, cherry tomatoes and spring onions, Swiss chard and jalapeños... the combinations are pretty endless. Whisk everything together, pour into a nonstick pan, and bake until the mixture is firmly set in the middle. (Time can vary based on what other ingredients you used, so you'll have to keep an eye on it, and you can also make smaller, individual-sized frittatas if you need to mix up ingredients for the picky eaters in the family.) Creamed corn will give your frittatas a texture that can't be beat, and you'll never go back.
Refried beans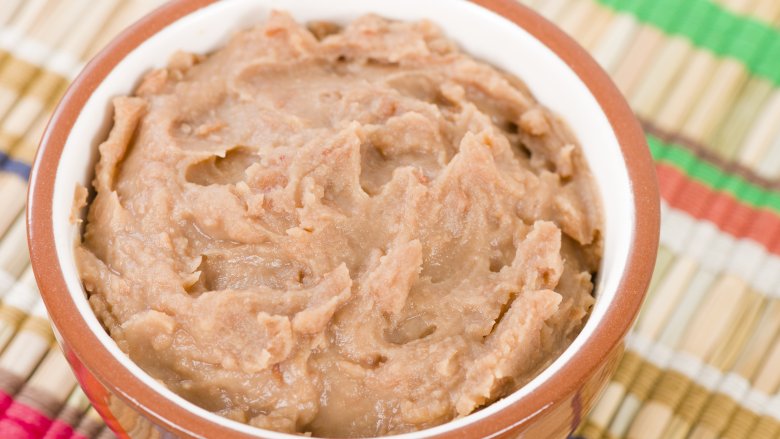 Shutterstock
Here's a tough one: refried beans. They can be horribly bland, and chances are pretty good all you've ever used them for is smearing on a taco or reluctantly dabbing on some nachos. But there's something else that's absolutely amazing that you can do with them. But first, a disclaimer: This is by no means healthy, but it is the sort of dinner you'll love to have when you're sitting on the couch in front of a movie you're been waiting forever to see.
Start with fries, preferably something large and bulky, like lattice chips. Throw them in the oven, and you're going to want to bake them until they're super crispy. While they're cooking, mix up your topping: a can of refried beans, cumin, taco seasoning, cayenne powder, and whatever else you happen to have in the fridge that sounds good. Use leftover chicken or turkey, crumble up that leftover burger no one wants to eat, slice up the last onion, dice up some hot peppers. Once the fries are done, plate them up. Spread the bean mixture over the top, cover with cheese, and bake again just long enough to heat the beans through and melt the cheese. Then top. Use sour cream, salsa, queso fresco, and all the hot sauce you want. Just make sure you take a spoon with you.
Canned artichoke hearts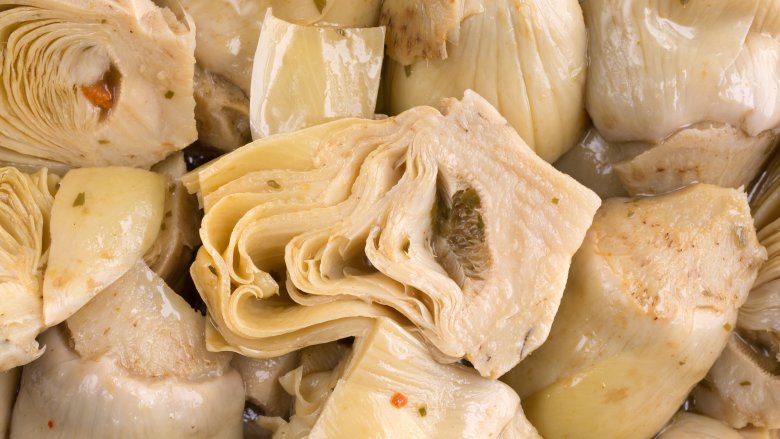 Shutterstock
You know you should be eating more artichoke, right? But it's such a pain, and the canned ones... they're not great, are they? Here's two easy dishes that make for a meal that'll change your mind about them forever.
First, drain your artichoke hearts, then toss in a mix of red wine vinegar and olive oil. Slice, then add to a caprese platter that also includes fresh basil, sliced mozzarella cheese, and sliced plum tomatoes. Drizzle the whole thing with a vinaigrette dressing, and seriously, that's it. There's your first course. Easy, right? But what could go with that?
We're staying in the same part of the world here, and we're suggesting you go with pizza. Make up your favorite crust (or pick it up at the store, we won't tell), then brush with olive oil. Top with everything that's going to go phenomenally with that platter you're also serving: a thin layer of spinach dip, quartered artichoke hearts, sun-dried tomatoes, red onion, and then cover the whole thing with mozzarella cheese. Bake, and done. Together with the platter, it sounds like the perfect meal for sitting on the porch and watching the sun set, doesn't it?