The Maple Syrup Brand Ina Garten Swears By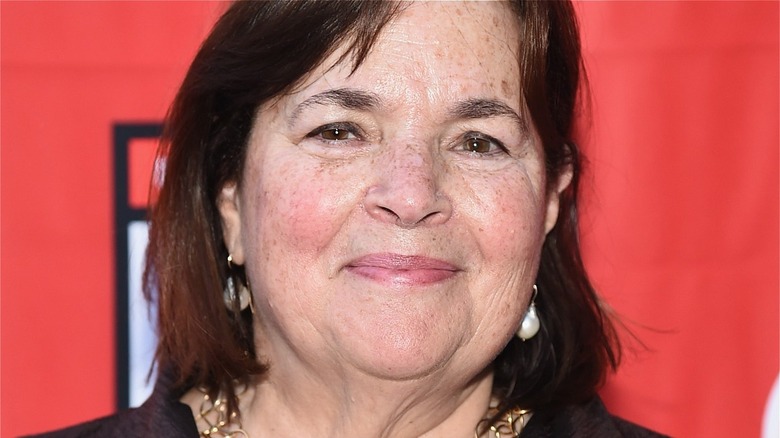 Michael Loccisano/Getty
Ina Garten is more than just a best-selling cookbook author and Food Network TV personality. In 2020, she became a social media sensation after posting her recipe for cosmopolitans made with an entire bottle of vodka (via Mashable), and her love of simple and approachable recipes resonates with even the most novice home cooks. Her engagement roast chicken recipe is such a hit that several high-profile women, including Meghan Markle and Emily Blunt, have gotten engaged after making it for their boyfriends.
If you've ever watched an episode of "Barefoot Contessa," you'd be hard-pressed to find an episode where Garten does not tell you to use a "good" ingredient. It's become one of her signature lovable catchphrases, like "How easy is that" or "Store-bought is fine." For many of her viewers, we don't exactly know what constitutes "good'." Is "good" always synonymous with expensive? That appears to be dependent on which item you need. The Barefoot Contessa website has a list of Garten-approved ingredients, and one of them is the hot sauce Sriracha, which retails for about $3 per bottle.
The Barefoot Contessa has plenty of favorite staple items that make up a "good" pantry. Some of them are grocery store basics, while others are splurge-worthy gourmet items. Here's what Garten reaches for when she needs some maple syrup.
Stonewall Kitchen syrup is worth the high price
According to Ina Garten, Stonewall Kitchen maple syrup is the only maple syrup you need. One 8.5oz bottle costs $17.95 on the brand's website and $30 on Amazon. While it's not the cheapest, Garten swears by its flavor, which she calls "sweet," but "also smoky." Garten told Bon Appetit, "Maple is a great autumn flavor. It goes with pumpkin. It goes great in salads as part of a vinaigrette."
Stonewall Kitchen's maple syrup is harvested from Maine maple trees after the season's frost. You can easily find grocery store syrups for much less money, but many of those syrups do not even contain maple. Instead, these "pancake syrups" are made with high fructose syrup and caramel coloring to imitate real maple syrup.
Fine maple syrup has plenty of other uses besides topping waffles and pancakes. As she mentioned to Bon Appetit, Garten likes to use syrup to make salad dressings. Stonewall suggests using its syrup in both savory and sweet applications. The syrup makes a great flavor enhancer in pecan ice cream, especially in the fall. And if you're a McGriddle fan, add a bit of syrup to scrambled eggs for a smokey, sweet combo that'll tickle your tastebuds.