Balsamic Caprese Pasta Salad Recipe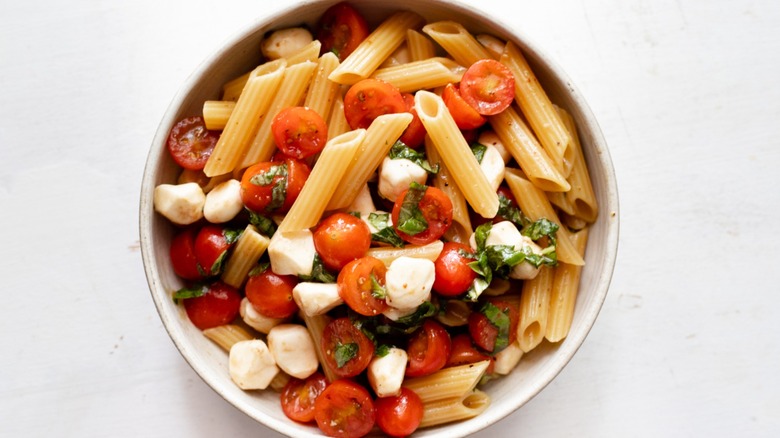 Sher Castellano/Mashed
Is it just us or does nothing say summer quite like Caprese? We love it all, including peach Caprese, avocado Caprese, and even chicken Caprese. Let those summer tomatoes shine with another form of the iconic dish: balsamic Caprese pasta salad!
Recipe developer Sher Castellano recommends serving this dish up with a "summer soup, or a simple piece of meat or fish." May we suggest a quick gazpacho recipe or this 5-ingredient shrimp scampi recipe? In true summertime meal fashion, this dish is quick, easy, and requires minimal cooking time — only boiling water for the pasta.
For those looking to make this a main dish, no need to add meat here. Castellano recommends adding vegetarian sources of protein: "To keep this as true to Caprese as possible, I wouldn't suggest meat. If someone wanted to get protein into this recipe they could add in white beans (1 cup) ... or they can use legume pasta."
Gather the ingredients for balsamic Caprese pasta salad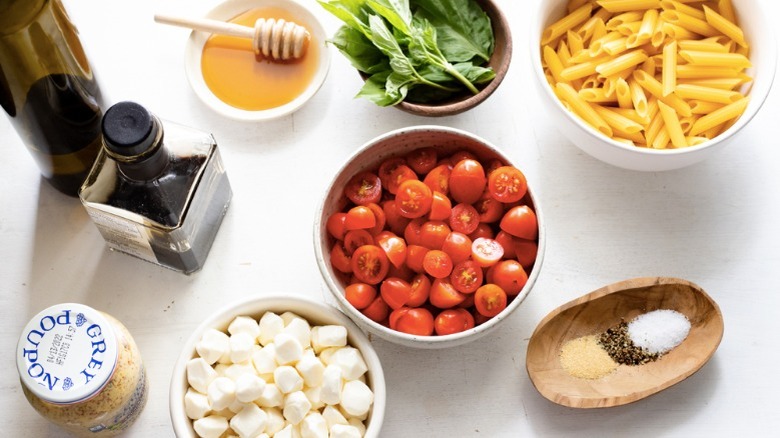 Sher Castellano/Mashed
To make this balsamic caprese pasta salad, you can start by gathering your ingredients. For this recipe, you will need grape tomatoes, balsamic vinegar, fine sea salt, penne pasta, olive oil, honey, dijon mustard, pepper, garlic powder, mozzarella pearls, and basil.
Marinate the grape tomatoes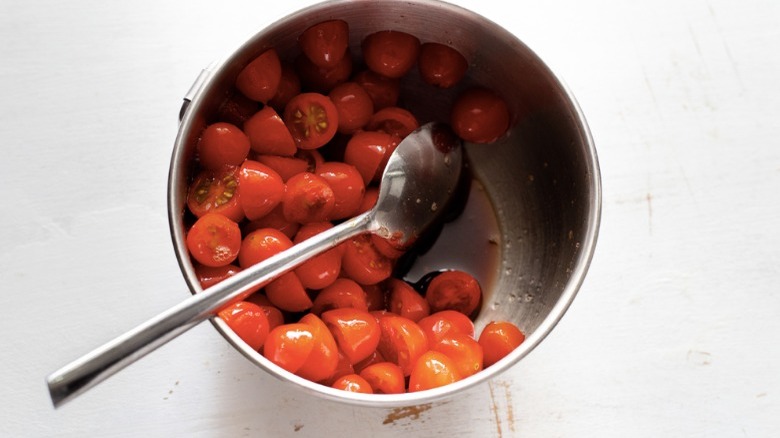 Sher Castellano/Mashed
The first step involves marinating your tomatoes. Halve the grape tomatoes and place them in a bowl with 1 tablespoon of balsamic vinegar and ¼ teaspoon of the salt. Give this mixture a good stir and let sit. Castellano tells us, "The reason why you marinate the tomatoes at the beginning of the recipe is to infuse them with flavor. The salt and the acid helps do this."
Boil the penne pasta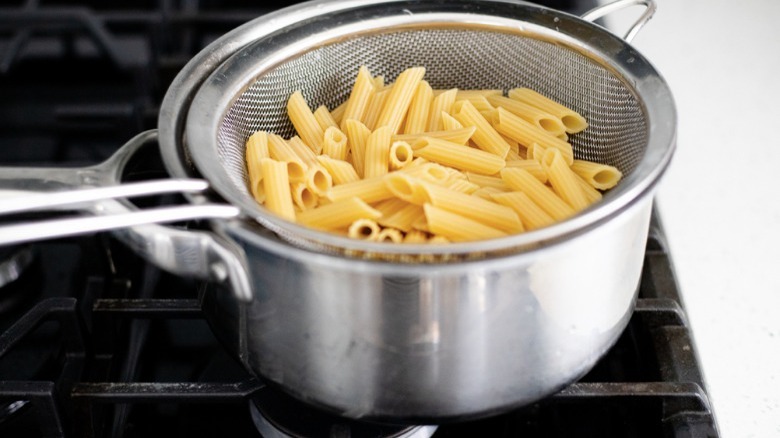 Sher Castellano/Mashed
Next, bring a large pot of water to a boil. Once boiling, add in the penne pasta. Cook according to package directions. Then, drain the pasta and rinse with cool water. Add the cooled pasta to a large bowl and set aside. We will add the other ingredients to this bowl shortly.
Emulsify the dressing and toss to combine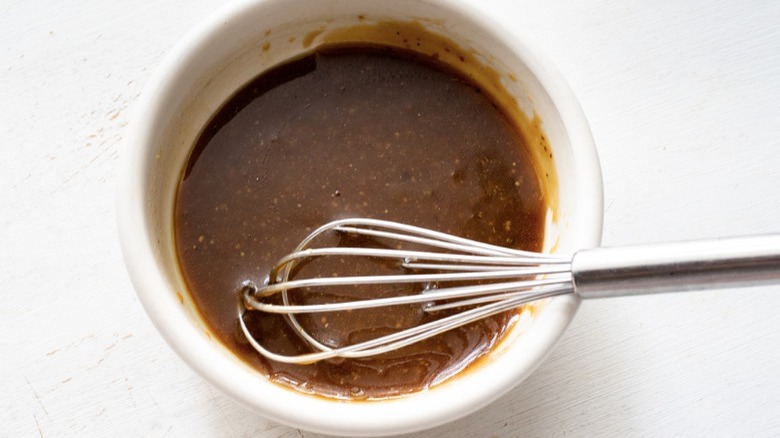 Sher Castellano/Mashed
Lastly, in a small bowl, add the ingredients for the dressing. Into the bowl, add the remaining balsamic vinegar, remaining salt, olive oil, honey, dijon mustard, pepper, and garlic powder. Whisk this combination until the dressing is combined and emulsified. Next, into the large bowl with the pasta, add the juicy marinated tomatoes, mozzarella, basil, and the balsamic dressing. Then, toss the salad to combine. Castellano notes that this salad can be eaten at room temperature or eaten cold, but leftovers can be "refrigerated for up to 72 hours," according to Castellano.
Balsamic Caprese Pasta Salad Recipe
If you love ripe summer tomatoes, learn how to make a balsamic Caprese pasta salad that is a perfect dish to enjoy by itself or paired with gazpacho or meat.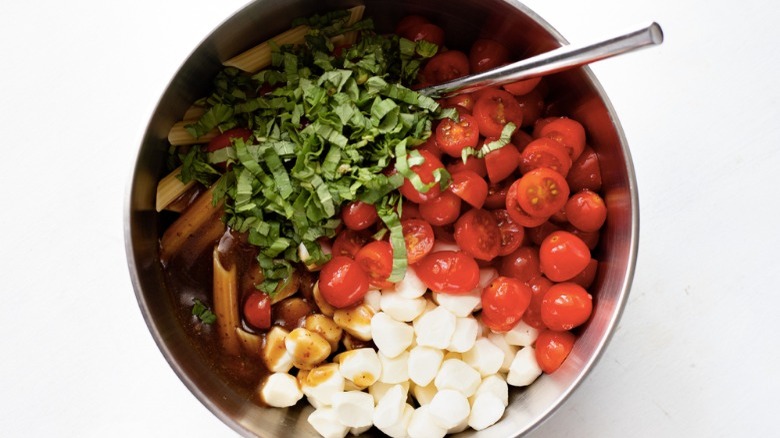 Ingredients
2 cups grape tomatoes
2 tablespoons balsamic vinegar (divided)
½ teaspoon fine sea salt (divided)
6 ounces penne pasta
¼ cup extra-virgin olive oil
1 teaspoon honey
1 teaspoon dijon mustard
¼ teaspoon black pepper
¼ teaspoon garlic powder
8 ounces fresh mozzarella pearls
½ cup fresh basil, julienned
Directions
Cut the grape tomatoes in half. Place them in a bowl and add in 1 tablespoon balsamic vinegar and ¼ teaspoon fine sea salt. Stir and set to the side to marinate for 15 minutes while stirring once halfway through.
Meanwhile, bring a large pot of salted water to a boil and cook the pasta al dente according to its package instructions. Drain, rinse with cool water, and set the pasta to the side.
Combine the remaining 1 tablespoon balsamic vinegar, ¼ teaspoon fine sea salt, extra-virgin olive oil, honey, dijon mustard, pepper, and garlic powder in a small mixing bowl and whisk until emulsified. Then, set it aside.
To a large mixing bowl, add the tomatoes (juices included), pasta, balsamic dressing, mozzarella pearls, and basil. Toss gently to combine well.
Enjoy at room temperature or refrigerate and eat cold.
Nutrition
| | |
| --- | --- |
| Calories per Serving | 319 |
| Total Fat | 18.0 g |
| Saturated Fat | 6.3 g |
| Trans Fat | 0.0 g |
| Cholesterol | 29.9 mg |
| | |
| --- | --- |
| Total Carbohydrates | 26.4 g |
| Dietary Fiber | 1.7 g |
| Total Sugars | 4.5 g |
| Sodium | 332.7 mg |
| Protein | 12.7 g |