Peach Caprese Salad Recipe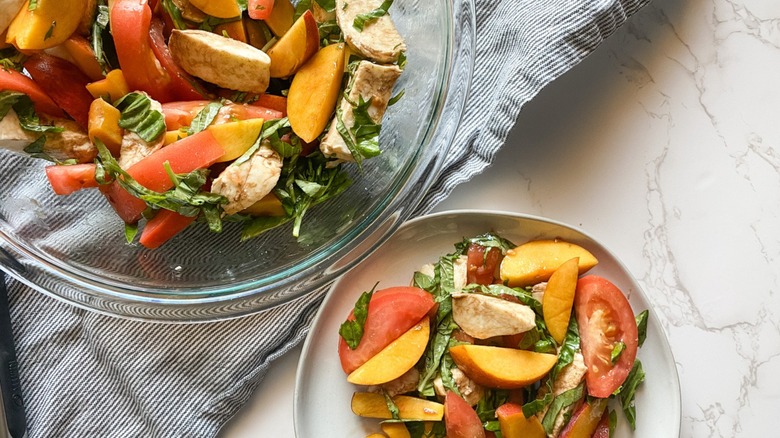 Kristen Carli/Mashed
Caprese salad is an all-time favorite. As is the case with many traditional dishes, the origin of Caprese salad is something that cannot be pinpointed with absolute certainty. Despite the salad having been named after the isle of Capri, The Nibble reported that the dish is native to the entire region of Campania, which encompasses Italy's southwest coast. No matter where it's prepared, a classic Caprese salad has just four ingredients: mozzarella cheese, tomatoes, olive oil, and fresh basil, although balsamic vinegar is considered to be part of the canon at this point (albeit an optional ingredient). The Caprese was popularized by Egypt's King Farouk when he enjoyed the salad in the 1950s during an Italian vacation, although he liked to savor it between two slices of bread in the form of a sandwich (via The Nibble).
Recipe developer Kristin Carli decided to make her Caprese salad extra summery with the addition of peaches, and we are totally here for it. "I love tomatoes and peaches in the summertime. They are my favorite summer produce," she says. While peaches and tomatoes make for an unusual flavor pairing, neither one really overwhelms the other. Instead, both mild flavors play nicely with the equally mild mozzarella while picking up a nice tang from the balsamic vinegar to make for what Carli calls a "bright and refreshing" taste.
Gather the ingredients to prepare this peach Caprese salad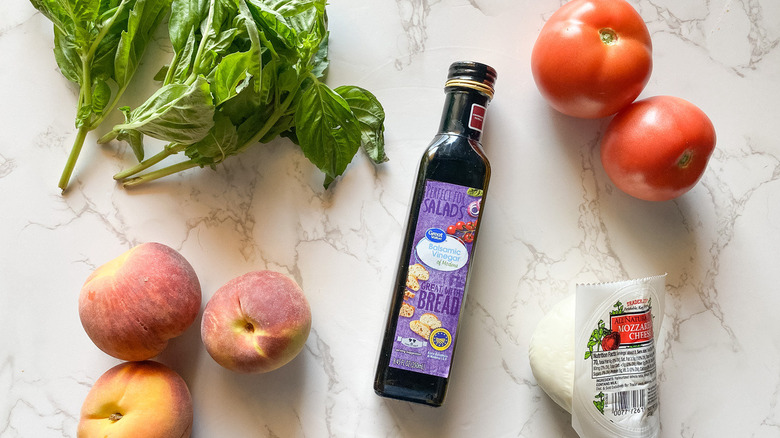 Kristen Carli/Mashed
Before you make the salad, you'll need to start with a trip to the produce section of your nearest supermarket. You won't be needing anything too exotic, so no need to go across town to the big, fancy grocery store or anything. All you're going to need will be a few fresh peaches in addition to some tomatoes (ripe but not overripe, and this goes for the peaches as well) and a small bunch of fresh basil. You'll also need ½ pound of mozzarella. (It's best to buy the chunk kind rather than the shredded or sliced — Carli uses a mozzarella ball in this recipe.) To finish off the salad, a sprinkle of balsamic vinegar is called for, although if you want to be traditional, you could also incorporate a small drizzle of olive oil.
If the peaches you see in the store don't look quite right, it is possible to use another fruit instead. Carli says, "You could easily sub in nectarines or plums," as these will also work well with the tomatoes and mozzarella.
Prep the ingredients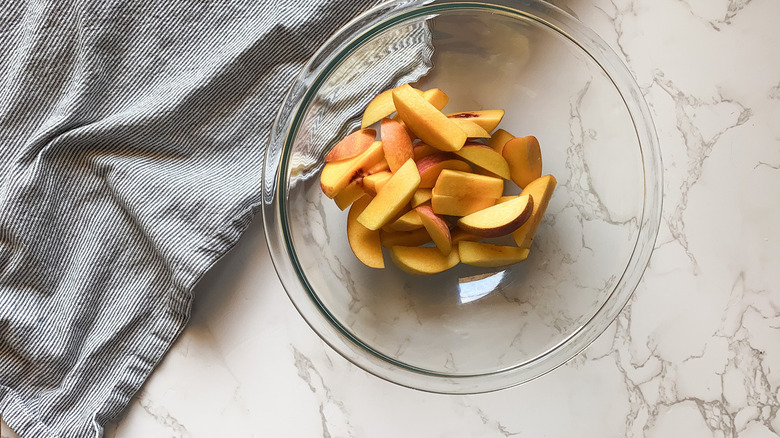 Kristen Carli/Mashed
Begin by washing the peaches and the tomatoes, then pat them dry. Next, slice them into ½ moon shapes small enough to be eaten in a single bite. You want the peach and tomato slices to be roughly the same size. You'll also then need to slice up the mozzarella, again into chunks that are similar in size to the peaches and tomatoes. Finally, julienne the basil, or simply snip it up with scissors, if you'd prefer. A fine chop is what you're going for here.
Build your peach Caprese salad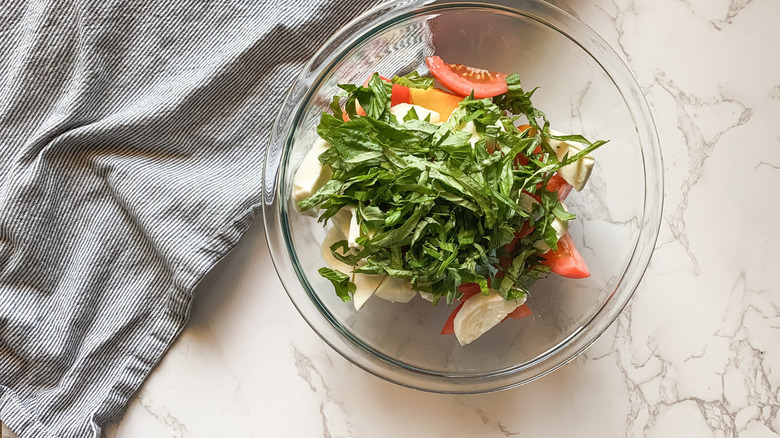 Kristen Carli/Mashed
Find a pretty salad bowl, maybe a cut glass one that will show off the colors of this dish. This is a good-looking salad when it's done, so you want it to look its finest. Layer the tomatoes, the peaches, and the mozzarella chunks in the bowl. You don't need to do so in any particular order, since everything's going to get mixed up before serving. Next, sprinkle the salad with the vinegar, the basil, and ½ teaspoon of salt. Gently toss all ingredients to combine.
This salad makes a perfectly refreshing side dish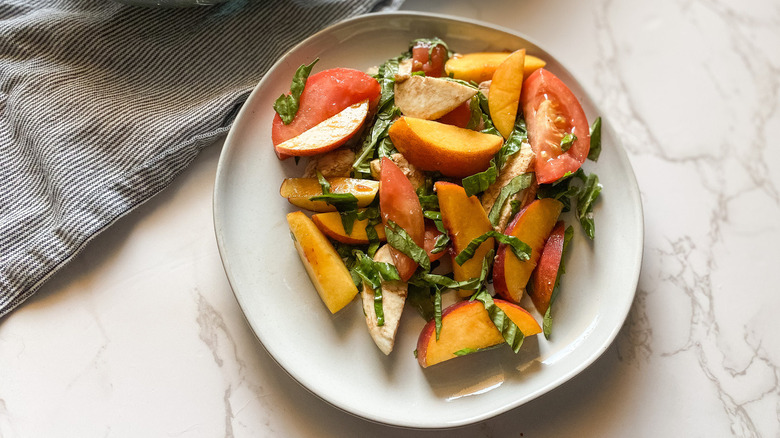 Kristen Carli/Mashed
Now, your peach Caprese salad is all ready to enjoy, but what are you going to serve it with? It does contain protein in the form of cheese, so it's really perfect for a very light meal on its own, or perhaps accompanied with some crusty bread. You could even try it between two bread slices a la King Farouk, or chop the tomatoes, peaches, and mozzarella up into small diced pieces, and scoop the Caprese salad onto crostini to make bruschetta.
More traditionally, you could serve the salad with a main dish of meat. Carli says, "I love this summer salad with a simple roasted chicken or salmon," but don't forget the one meat that goes perfectly with peaches: pork. Grilled pork chops plus this Caprese salad would make for a real peachy pairing! (Pun intended.)
Peach Caprese Salad Recipe
This peach Caprese salad is especially refreshing with the addition of peaches, making it the ultimate appetizer or side dish.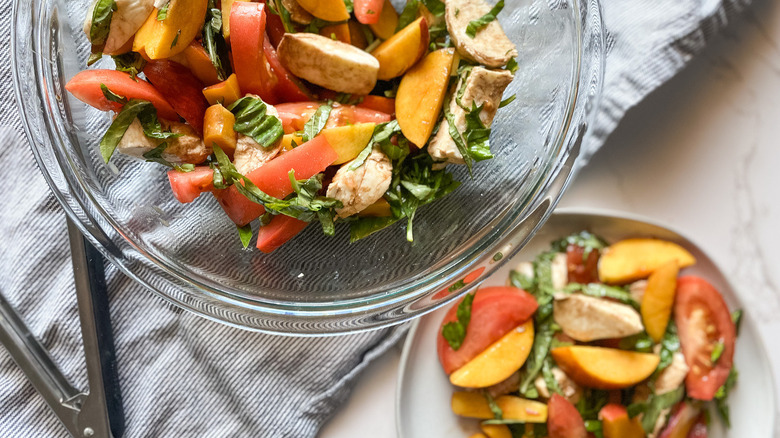 Ingredients
3 peaches, sliced
2 tomatoes, sliced
8 ounces mozzarella, sliced
¼ cup balsamic vinegar
½ teaspoon salt
¼ cup fresh basil, chopped
Directions
Layer the sliced peaches, sliced tomatoes, and sliced mozzarella in a medium-sized bowl.
Sprinkle with the balsamic vinegar, salt, and chopped basil.
Toss all ingredients to combine.
Nutrition
| | |
| --- | --- |
| Calories per Serving | 481 |
| Total Fat | 26.2 g |
| Saturated Fat | 15.0 g |
| Trans Fat | 0.0 g |
| Cholesterol | 89.6 mg |
| | |
| --- | --- |
| Total Carbohydrates | 34.7 g |
| Dietary Fiber | 5.0 g |
| Total Sugars | 28.5 g |
| Sodium | 1,165.1 mg |
| Protein | 28.6 g |