Ina Garten's Secret Hack To Fix A Cramped Dinner Table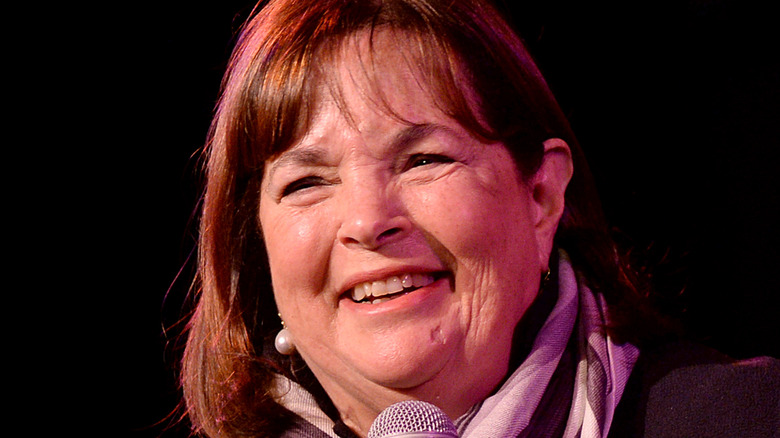 Brad Barket/Getty Images
When it comes to hosting a dinner party, fans of Ina Garten know that she's got plenty of tricks up her sleeve. Garten ensures that all the food she serves is hot by planning carefully, and there is also a specific ingredient that's Garten's secret weapon (per Food Network). But not all dinner party disasters are related to the food and drinks. What happens when you've gone all out with the dishes and decor, leaving you with a crowded table? As always, Garten has a hack for that.
In a recent Instagram post, Garten showed off her dinner party table with a centerpiece of flowers and mint from the garden. Her plates are all numbered and set on woven placemats, and in the caption, Garten explains she put the napkins under the plates to save space on the table since it was a bit too small to fit everything on it. We think that this is a great solution to keeping an intimate feel for the dinner party, and everything looks neat and tidy with the napkins and plates arranged together. Her fans also had positive reactions.
Here's what Instagram thought about Ina Garten's dinner table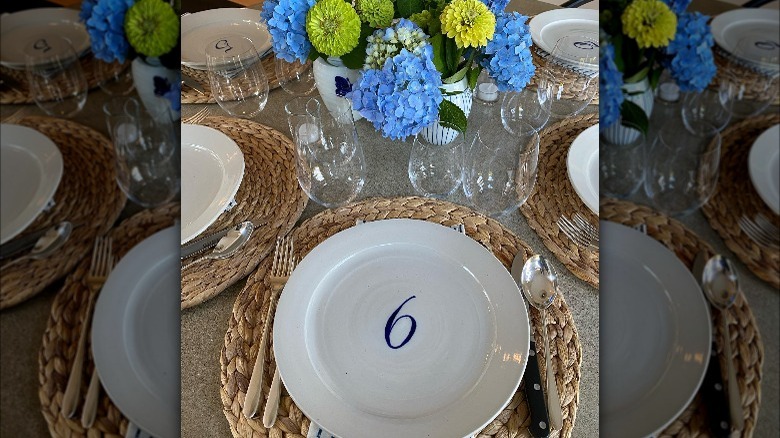 Although the focus of Garten's Instagram post was about her napkins, people had a lot more to say about how she arranged the dinner table. The centerpiece stood out to a few people, and one person commented on the flowers and said, "Love the contrast of the green zinnias with the hydrangeas and mint." The blue hydrangeas also match the blue on Garten's plates and napkins. Another person pointed out the benefits of a small table, and this also goes back to some of Garten's wisdom as a dinner host. This Garten fan wrote, "The round table trick for creating an intimate dinner party is one of my favorite lessons learned from you!"
But what really stood out to Instagram users were the plates. One person begged, "Tell us about those plates! The people need to know!" Instagrammers are also speculating and joking about what the numbers on these plates might mean. A commenter said, "Ok, are the numbers showing what order people can get up to get their food in? Number of cosmos the person must drink? Just whimsically counting off how many guests?"
This just goes to show that a dinner party is all in the details. Dreaming of having a dinner party with celebrities? We know who Ina Garten would invite to her dream dinner party. Of course, the list includes her husband, Jeffrey.