The Return Of The Trader Joe's Cheese Shoppers Are Raving About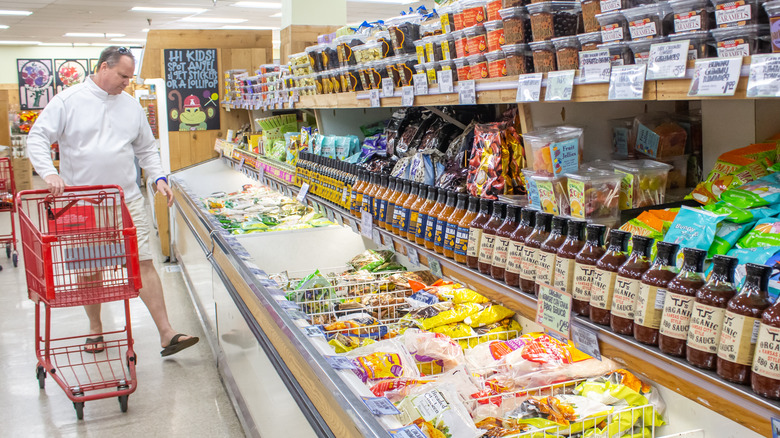 The Image Party/Shutterstock
When new products arrive on the scene, consumers are quick to voice their opinions. This outspokenness is often the result of meeting or exceeding expectations — or falling short. And if you've ever shopped at Trader Joe's, it's easy to fill your cart with items that have received such feedback at one time or another. One Trader Joe's item that was met with applause after it debuted last year can be found on shelves — and charcuterie boards — once again. We're talking about Green Goddess Gouda.
Green Goddess is a popular variety of salad dressing, with a recipe that calls for a creamy base such as mayonnaise, sour cream, or Greek yogurt; a medley of naturally green, fresh herbs like parsley, dill, mint, tarragon, and cilantro; plus lemon juice, garlic, salt, and pepper. The alliterative condiment was reportedly invented a century ago at the Palace Hotel in San Francisco, California, according to Munchery. Now, imagine this flavor combination infused into a wedge of creamy cheese, particularly one with a rich, nutty, subtly sweet palate. To say the least, Trader Joe's customers are stocking up on the colorful gouda.
Shoppers welcome the return of Trader Joe's Green Goddess Gouda
Trader Joe's has cheese lovers grateful for Green Goddess Gouda — and the reasons are clear. Instagram account Trader Joe's List shared a photo of the dairy product that recently made its return to stores. Green Goddess Gouda, which is made with a blend of aromatic herbs and spices such as parsley, basil, chives, scallions, and garlic powder, is now available in TJ's locations across the country. "The flavors of fresh basil, parsley and garlic meld together in a creamy Gouda! This cheese is begging to be melted on a sandwich or used to make homemade mac and cheese," the post's caption reads.
Nearly 200 of the account's 1.8 million followers eagerly agreed, with one person commenting, "One of my top 5 Trader Joe's items of all time. I wish they sold it year round." Others offered recipe ideas using the viridescent fromage, including one commenter who wrote, "I love this stuff!!! Grated over a salad is so good and on sandwiches, grilled cheese, and just on crackers too!!!" If you're in search of more green goddess deliciousness, Trader Joe's also carries Green Goddess dip, seasoning blend, and, of course, salad dressing.