Trader Joe's Fans Are Freaking Out Over Its New Green Goddess Gouda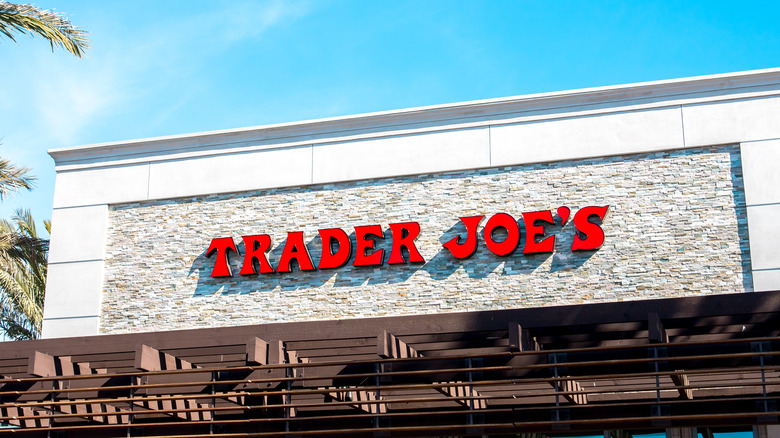 Shutterstock
There's a lot you should know about Trader Joe's before shopping there, like how you can always return a product or that if you hear ringing bells, it's because employees use them to signal to one another in place of a typical intercom. But the biggest appeal of Trader Joe's might just be its unique products.
Checking out Trader Joe's employees' favorite products is a good start for compiling your own shopping list, but social media offers even more delicious updates and cool finds from customers with super fan accounts.
Recently, @traderjoeslist posted a photo of Trader Joe's Green Goddess Gouda on Instagram, and cheese lovers, this product was made for you. According to the photo, the cheese has "zesty parsley, basil, and garlic." In the caption, @traderjoeslist suggests using it to make mac 'n' cheese, craft some fried cheese sticks, or layer it on a sandwich. But regardless of how you consume it one thing is clear: The possibilities are endless for incorporating it into your dishes and snacks at home.
Here's what people have been saying about this tasty cheese
There's a lot of buzz around Trader Joe's Green Goddess Gouda, and it looks like quite a few people are adding this to their list for their next cheese board. One commenter on @traderjoeslist's post explained that it would be a great addition to salads, while another added, "I wanna melt this all over my face," and we really can't think of any greater praise for this cheese.
Even the account that posted a photo of the gouda was pleased with the wedge, "I can't recommend this enough!!" Since there are plenty of positive reviews and so much excitement over this, we'll definitely be adding some Green Goddess Gouda to our shopping carts during our next Trader Joe's trip.
If you want even more green goddess goodness from Trader Joe's, the grocery chain actually has recipes online that feature its Green Goddess salad dressing, like this recipe for grilled corn and another for pasta salad. These are the perfect dishes to whip up for an outdoor summer BBQ, so get out the grill and make something new.